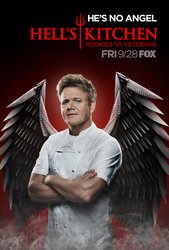 TV Info
---
Episode Premiere
September 29, 2010

Distributor
FOX

Genre
Reality

Show Period
2005 - now

Production Company
Upper Ground Enterprises, A. Smith & Co., Granada


Synopsis
---
With the latest elimination behind them, the contestants head back to the dorms where the guys express their surprise about Curtis being kicked out of the competition. But what's more shocking, they agree, is that Raj is still here. They decide that Trev should be the one to try to "handle" him. On the ladies' side, Jillian expresses her concerns about having Emily on the team.
Well, before it's time to get up, the contestants are awakened by a team of paramedics who give each chef a quick health exam. After they get dressed and head down to the dining room, Chef Ramsay reveals that he's asked the paramedics here because he felt, based on the last service, that the chefs lack energy. But after their medical tests, it's clear that they're all fit and healthy, which means it's a mental issue. Chef Ramsay says that he needs the next winner to be mentally strong.
For the upcoming challenge, each kitchen will have to make breakfast for 50 paramedics. The menu choices will include two options: an egg-white omelet with turkey bacon, roasted tomatoes, and toast or scrambled eggs with French toast, bacon, and sausage. The team that serves its side of the dining room fastest will win.
First, both teams must send out fruit salads, and the guys make their first mistake by forgetting the pineapple, thanks to Rob. As the ladies begin sending food out to several tables, the men struggle to keep up and must remake their first order after overcooking some egg whites.
The ladies run into their own trouble when Sabrina discovers that Emily left the bacon in the oven too long and it's burnt, which means that the team has to remake it. Despite the bacon issue, the Red Team still manages to feed more hungry EMTs . . . unlike the Blue Team, which must once again remake their breakfasts after Chef Ramsay discovers that Raj's eggs are bland, prompting him to lose his cool with the hefty contestant.
As the guys continue to struggle, the ladies reach the finish line and then must help their opponents get the food out to their waiting customers. Chef Ramsay is impressed with the winning Red Kitchen's teamwork and tells them they'll be heading to Santa Monica's Viceroy Hotel with him for the afternoon and getting a special surprise first. The guys get a lecture from Chef Ramsay and are told they must clean the kitchen and polish stemware.
The ladies' surprise turns out to be trapeze school, and as they're enjoying their exciting day, the guys are bickering during their punishment and (surprise, surprise) are quite frustrated with Raj's laziness. That bickering quickly turns to yelling, and soon Raj and Trev are in each other's faces, screaming and swearing.
The next morning the chefs are back in the kitchen, and the men are hoping Raj will turn himself around. In the Red Kitchen, Sabrina shows up late for prep (and admits during confessional that she's not interested in wasting time prepping). Just prior to opening for dinner service, Chef Ramsay reminds every one of their disastrous first two services and encourages Raj to "come back." He also chooses Sabrina and Trev to be in charge of preparing the "culinary cocktails" that both kitchens will be serving tonight.
The orders start rolling in, and Raj and Vinny have trouble coordinating the timing on the appetizer and fish stations to get their first courses out. After Emily goes a little crazy with seasoning appetizers, a table sends back several items for being too salty.
One hour into dinner service, the Blue Team moves on to entrees, but Chef Ramsay isn't happy with Raj and Melissa's respective fish dishes, and he gets even more upset after Raj's second attempt is a failure too. Thanks to Vinny, the Red Team finally gets some fish out to the dining room.
One hour and 45 minutes into dinner service, both teams have many of their entrees out, but no thanks to Emily, who doesn't seem to be cooking much of anything. Meanwhile, Gail seems to be in a daze as her pan catches on fire, prompting Chef Ramsay to tell her that she's clearly "given up."
In the Blue Kitchen, Boris discovers that his beef Wellington is too rare and must start over, while Raj gobbles up the food that doesn't pass Chef Ramsay's quality control test. After Raj cooks three Dover soles too early, he must explain to Chef Ramsay that they've run out of that fish special. Chef Ramsay then makes Raj go out to the dining room and explain to the customers who've ordered the sole that they won't be getting it.
After both teams rally to complete dinner service, Chef Ramsay explains that he simply can't pick a winner since dinner service was so painful, so he refers to the customer comment cards, which rated the Blue Kitchen slightly better than the Red Kitchen, giving the guys the win.
Upstairs, the ladies all agree that Emily should be put on the chopping block and debate whether the second nominee should be Sabrina or Melissa.During elimination, Jillian tells Chef Ramsay that they've nominated Emily since she's not an asset to the team. They've also nominated Sabrina, though Jillian explains that she's not sure why since, in her opinion, the second nominee should be Melissa.
After both Emily and Sabrina step forward, Emily says that she should stay because she's got the drive, but Chef Ramsay expresses his concerns about her lack of stamina. As for Sabrina, she says that she's here to learn and grow and has more determination than anyone else on the team.
Chef Ramsay goes in a completely different direction and tells Raj that he's the one who should go home since he's out of his league. Both Sabrina and Emily live to see another day, and the guys all thank Chef Ramsay for the "reward" of getting rid of Raj.