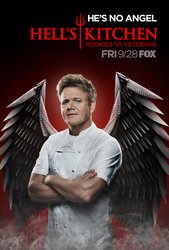 TV Info
---
Episode Premiere
August 10, 2010

Distributor
FOX

Genre
Reality

Show Period
2005 - now

Production Company
Upper Ground Enterprises, A. Smith & Co., Granada


Synopsis
---
After an intense season filled with cut-throat competition and difficult dinner services, only two chefs are left - Boston executive chef Jay, and Holli, a banquet chef from Redlands, California, who surprised everyone by pulling ahead and landing in the final two.
With Ben and Autumn now eliminated, Chef Ramsay tells both Holli and Jay to go upstairs and starting thinking about the menus they'll be creating for their final (and separate) dinner services of the season as they compete for an executive chef position at the Savoy Grill in London.
During confessional Jay admits that he's underestimated Holli, while Holli says she'll do whatever it takes to win. Upstairs in the dorms, the two toast with Champagne and hug. After flirting and joining each other on rewards for the last few episodes, Holli says, "Hey, Jay, we're all alone..." Hmmm.
The next morning Jay and Holli work with sous chefs Scott and Andi to finalize their menus. While Jay says that he's been planning for the finals since day one and wants to incorporate big and bold flavors, Holli admits she's not sure what to make since she never imagined she'd make it this far.
After a day of experimentation and preparation, both chefs have their menus set and are happy with them. Holli explains that her inspiration simply came from things that she loves, using both French and California cuisine techniques.
Sous chef Andi tells them that Chef Ramsay has something special planned for them and that they should go put something nice on. Their limo whisks them to the London West Hollywood, one of Chef Ramsay's restaurants. He takes them to the roof, where they see a crowd of people on the roof deck cheering for them. They then join him onstage where he announces their final challenge: They'll have just one hour to prepare five dishes to be judged by five of Chef Ramsay's executive chefs who have been flown in from London. After an hour of hustling in the kitchen, the contestants go back outside to present their dishes to the judges. While Jay's amuse-bouche and fish course beat out Holli's, she takes the win for both cold appetizer and hot appetizer. With the score tied up, it all comes down to the meat course to be judged by Stuart Gillies, patron chef of the Savoy Grill.
Though Chef Gilles explains that both dishes would be worthy of being added to his restaurant's menu, he gives the win to Jay. There isn't much time to celebrate, however, as the two finalists head back to "Hell's Kitchen," where they're greeted by six of their former competitors - Siobhan, Fran, Autumn, Jason, Nilka, and Benjamin - who will be moving back in for the night and assisting the finalists during tomorrow's big dinner service. (Jay comes clean during confessional that he's a little disappointed there will be others in the dorm tonight as he was hoping to sleep with Holli!)
Jay gets first pick since he won the challenge and goes with Benjamin. After Holli chooses Autumn, Jay then adds Jason to his team. Next, Holli picks Nilka, before Jay rounds out his roster with Fran, leaving Holli with Siobhan. Siobhan says she had a feeling she would be picked last but is just happy she doesn't have to work with Benjamin. Upstairs, Holli shows her menu to her team and starts doling out tasks. During confessional, Autumn says that the service is going to be a lot of work for her, since she'll have to cover for the inexperienced Siobhan. Over on Jay's side, his staffers are impressed with his menu, and the whole team believes Jay can beat Holli. After everyone hits the hay, design crews work overnight transforming "Hell's Kitchen" into two halves - one for each finalist's dinner service.
The next morning, the teams start prepping for the most important dinner service of Jay and Holli's careers. As soon as things get rolling, Holli becomes concerned that Siobhan is moving too slowly. In the Blue Kitchen, Benjamin is talking a mile a minute and prepping just as fast. He really wants Jay to win.
Chef Ramsay calls both finalists up to his office and presents them with some gifts: He's sending them both to Australia on what's sure to be an amazing holiday. Then he gives them executive chef's jackets and wishes them good luck.
When "Hell's Kitchen" opens, Jay's team kicks it into high gear to get their first table's order out. Unfortunately for Holli, Siobhan is moving at a snail's pace and her amuse-bouches aren't up to Holli's standards, which means she must remake them. Jay's team then hits a roadblock when Fran burns a pan of scallops, delaying an order. As Holli waits for the vegetable that accompanies her lobster dish, Siobhan admits that she's forgotten it, prompting Autumn to step in and make it. Despite the Red Team's sluggish start, Holli maintains her standards (sending back Nilka's brioche at one point), and her appetizers slowly make their way out to the dining room, pleasing her customers.
Jason appears to be the Blue Team's weak link when he sends undercooked meat up to the pass a couple of times in a row, leaving a customer hungry. Jason manages to redeem himself after a little coaching from Jay, and the order gets completed. Meanwhile, Holli's team has picked up the pace, and she's ready to move on to entrees, but she once again runs into trouble when Nilka overcooks her venison and must remake it.
With Benjamin's stepping up as the Blue Team sous chef, the Blue Kitchen takes the opportunity to pull ahead and is able to get half their entrees, as Holli's team slows down. Though Nilka has now perfected the venison, Autumn has too much going on and doesn't have her garnish ready in time. Holli insists Autumn takes some help if she needs it.
Two hours into dinner service, both kitchens have overcome their setbacks, and now each have just three tickets left, which means it's going to be a true race to the finish. Jay sends the rest of his orders out slightly ahead of Holli, but both get compliments from Chef Ramsay and their own family members (who were among the customers tonight) for a job well done.
Afterward, Holli and Jay thank their teammates, and Chef Ramsay tells them he'll be going through the customer comment cards and making his decision. Upstairs, Jay confesses that he's not sure how he feels about his service, and he and Holli share some wine to calm their nerves. Finally, it's time for the moment of truth.
Holli and Jay head down to Chef Ramsay's office and each stand in front of a door. The chef whose door opens will become the executive chef at the Savoy in London. Both contestants turn their door knobs and... Holli's opens!
She's greeted by cheering friends and family, all celebrating her win. During confessional she says that Jay is a great person and if she hadn't been competing against him, she would have been rooting for him. Jay, in turn, says Holli did a great job and deserved to win. Chef Ramsay toasts Holli as the winner of "Hell's Kitchen" and says he chose her because she's grown more than any other contestant. Congrats, Holli!