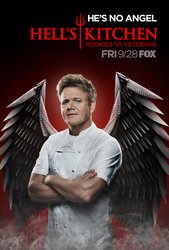 TV Info
---
Episode Premiere
August 03, 2010

Distributor
FOX

Genre
Reality

Show Period
2005 - now

Production Company
Upper Ground Enterprises, A. Smith & Co., Granada


Synopsis
---
Chef Ramsay, thrilled with the most recent dinner service, shocked everyone at the end of the last episode by not eliminating any of the four chefs, which means Autumn, Benjamin, Holli, and Jay all get to remain in the competition.
The next morning, the contestants get an early call from sous chef Andi, who tells them that Chef Ramsay has something very special planned for them and they must dress nicely. The Savoy Hotel (where this season's winner will become head chef) is currently under renovation, so Chef Ramsay is unable to take them there. Instead, he's brought the Savoy Grill to them. They get to enjoy a dish from the restaurant's menu that Chef Ramsay has prepared.
After they're finished, he announces the next challenge: They must re-create what they just ate. To help them out, he places the same meal in the kitchen for them to taste again before they get cooking. Autumn, Holli, and Benjamin are all sure the protein in the dish is venison, but Jay's not so sure, so he decides to cook three different meats to try to figure it out. As for the main ingredient in the puree, everyone has chosen apple except renegade Jay, who goes with pear. Another ingredient three of the four choose is pancetta. Only Autumn goes with bacon.
Chef Ramsay is happy with the way each of their dishes tastes, but who got the ingredients right? Turns out Jay's instinct to use pear was right on, but his decision to use flank steak as the protein was wrong. It was actually venison. Chef Ramsay says he wants to taste Jay's and Holli's dishes again because those were the two he liked best, a statement that nearly brings Autumn to tears.
Chef gives the win to Holli because Benjamin's sauce was slightly watery. During confessional Holli says that though Jay and Benjamin think of themselves as superstars, maybe they're starting to realize that she really can cook. Holli is rewarded with a relaxing day on a yacht, while the losers must stay behind and clean the dorms.
Upstairs, Ben complains to Jay that he should have won, while Jay says he'd be "suicidal" if he had lost to Autumn instead.
Jean-Philippe accompanies Holli to the yacht where her young son and his father are waiting on the boat. While they enjoy their day at sea, Jay is going crazy during punishment, thanks to Autumn's constant complaining. When Holli returns and Benjamin realizes the win would have gotten him precious time with his family, he gets frustrated and continues to rant that he should have won.