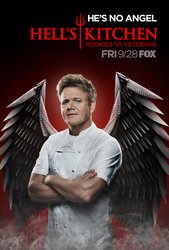 TV Info
---
Episode Premiere
July 20, 2010

Distributor
FOX

Genre
Reality

Show Period
2005 - now

Production Company
Upper Ground Enterprises, A. Smith & Co., Granada


Synopsis
---
6 Chefs Complete
Ed, Autumn, Jay, Jason, Benjamin, and Holli are thrilled to have made it all the way to the final six. After a night of celebrating with Champagne in the dorms, the six chefs, now all on the same team, arrive in the dining room the next morning, ready for their first individual challenge.
Chef Ramsay tells them that for this challenge they'll not only have to create a dish that tastes great but also looks absolutely stunning with a knockout presentation, as it will be photographed by a famous food photographer.
After getting 30 minutes to make their dishes, they head upstairs for the photography session, where each contestant's dish gets photographed separately. As she looks around at the other dishes, Holli admits that hers isn't exactly a work of art.
Later, they go downstairs where the photographs of their plates are hanging in the entryway to "Hell's Kitchen." Chef Ramsay introduces the judges - a group culinary students - who will rank the photographs from best to worst. In the meantime, the six finalists go back to the kitchen to re-create their dishes for tasting.
After the judging is done, Chef Ramsay presents the results. As expected, Holli comes in last. Fifth place goes to Jay (who had earlier announced he'd win the challenge), while fourth place goes to Jason, and third goes to Autumn. That means that Benjamin and Ed's dishes are the top two that will be judged on taste for the win.
Chef Ramsay brings in the editor of food Website Epicurious.com, Tanya Steel, to choose the winner. Ed presents his pan-seared striped bass and Benjamin hands over his pan-seared halibut. Though Tanya really enjoys both of them, she gives the win to Benjamin for having "the total package."
As a reward, Benjamin get a day of pampering, including a facial, haircut, and manicure followed by a photo shoot for Epicurious.com. Meanwhile, the five losers have to polish up the dining room under the watchful eye of maitre d' Jean Phillippe. During the cleaning process, Jay comes clean about his two goals. The first is to win the competition. The second? To sleep with Holli! After a spruced-up Benjamin returns to "Hell's Kitchen," everyone hits the hay and wakes up refreshed for their first dinner service as one team.
Ben's challenge-winning dish is added to the menu and, during prep, he must teach his teammates how to make it. Unfortunately, they all find it overly complicated and frustrating. Before dinner service kicks off, Chef Ramsay announces that he'll be scrutinizing them more than ever as he looks for a leader. He then announces that a VIP guest will be eating at the chef's table in the kitchen tonight.
After the doors open and the orders start rolling in, it becomes clear that Ben's halibut is quite a popular choice. Ed, on the fish station, runs into trouble right away when he sends undercooked scallops to the pass and Chef Ramsay implores him to cook them further.
After many of the appetizers are completed, the team moves on to entrees, but Benjamin clearly isn't in the mood for teamwork. He's reprimanded by Chef Ramsay for not answering Autumn and not communicating well with the other chefs. As he gets worked into a tizzy, he falls and drops an entree; Chef Ramsay warns him he'd better slow down.
Ed makes another series of mistakes on the fish station when he sends out completely raw halibut multiple times. After the halibut arrives at the pass raw a fifth time, Chef Ramsay loses it and after a yelling fit, Ed's teammates try to help him. Next, Benjamin gets in more trouble for serving cold beef, an issue he blames on Ed's tardy fish. Chef Ramsay lets Ben know that he can cook, but he can't lead.
After a burnt batch of scallops comes off the burner, Chef Ramsay reaches his breaking point and kicks Ben and Ed out and reshuffles the stations. Upstairs, Ben says he knows he's going to be up for elimination.
Back in the kitchen, Jay, Jason, Holli, and Autumn get into a rhythm just in time as the VIP customer finally shows up, and it's none other than Whoopi Goldberg and three friends. Thankfully, she's thrilled with her dinner.
After dinner service, Chef Ramsay calls the service pathetic and says the final six have let the dining room and themselves down. He calls out Ed for not knowing how to cook halibut at this point in his career and Ben's lack of communication skills. He asks all six of them to come up with two chefs who don't deserve to stay based on what they've seen so far during the competition.
Benjamin chooses Autumn for "squeaking by" and not having the passion. Jay agrees and says Autumn has been up on the chopping block the most times. Jay then says his second choice would be either Ed or Jason, who has a truly bad temper.
Downstairs, Chef Ramsay asks Autumn for the nominees. She says that the team has nominated both her and Ed. When Chef Ramsay asks Ed why he's a better chef than Autumn, Ed explains he can multi-task and communicate better and has better knowledge. Chef Ramsay asks Autumn why she's been up for nomination five times,and she admits she has a "scarlet letter," but she argues that she's a better chef than Ed because she's been more consistent on the line.
Chef Ramsay's decides that it's Ed who will go home. He's "disintegrating," while Autumn is getting better. After Ed leaves, Chef Ramsay explains that the stronger are now getting stronger and the weaker are getting exposed. It's time to show him why each of them is worthy of still being here.
5 Chefs Complete
With just five chefs left, the pressure is on like never before. Benjamin can't believe Autumn is still here, and (behind her back) he calls her a "deadbeat" and accuses her of getting away with doing as little work as possible.
The next morning, the chefs get ready for their next individual challenge. They're taken to a high-end grocery store where Chef Ramsay tells them that chefs have to be concerned about profits when they're running restaurants. So for this challenge, they're each given just $10 to select the best quality ingredients within their budget. Then they'll get 30 minutes to turn those ingredients into a profitable "fine dining" dish.
Back in "Hell's Kitchen," the chefs whip up their masterpieces and present them to their mentor along with three guest judges, including chef and restaurateur Joaquim Splichal, Saveur magazine deputy editor Dana Bowen, and Vern Lakusta, the general manager of Gordon Ramsay at the London. The judges will taste each dish and give Chef Ramsay a price they'd be willing to pay for the entree. The chef with the highest average price wins.
The judges are impressed Jay's pita-crusted lamb and give it an average price of $28.66. Jason's ravioli dish doesn't go over well, since he bought the raviolis already prepared. His average is only $16.00, and Jason himself admits he should have known better. Benjamin's seared lamb loin dish is criticized by Dana for not being creative, and he ends up with an average of $25.00. The judges truly enjoy Autumn's veal dish and shower her with compliments. Her average price, however, is $27.33, which keeps Jay in the lead. Holli's five-spice ahi tuna might have a bit too much going on, but the judges really like the flavors and give the dish an average price of $29.66, making her the winner.
Holli says she's thrilled that everyone is realizing she's a true contender in the competition. She's rewarded with a day at a poolside cabana at the Peninsula Hotel in Beverly Hills and also gets $1,000 to spend at a kitchen supply store. Holli will be accompanied by not only Jean Phillippe but also a friend of her choosing. She picks Jay. Maybe he's getting closer to reaching that goal of his...
As for Autumn, Benjamin, and Jason, they must spend the day doing laundry, where Benjamin and Jason quickly find themselves annoyed with Autumn's nonstop talking. After Holli and Jay come back from a lovely day, they head for the hot tub, leaving everyone wondering if there is indeed a love connection developing. But third wheel Autumn soon joins them in the tub, ruining any chance of romance.
The next morning, the five of them get going on dinner prep, and Jason proves yet again that he's a few steps behind when it comes to prep. Fifteen minutes before the doors open, Chef Ramsay announces that he's going to have them switch stations constantly throughout the night. That means they'll need to do lots of communicating.
Things start off nicely, but soon Chef Ramsay notices that one of the two scallop portions Jason just brought to the pass are undercooked. Will the fish station cause trouble again? After the first station switcheroo, Jason ends up in hot water again, this time on the meat station, when he takes the beef Wellington out of the oven too early. He doubts Holli has actually cooked the meat for 18 minutes when he arrived on the station, as she told him she did. Chef Ramsay scolds Jason for not telling him there was a delay right away.
The curse of the fish station continues when Benjamin delivers overcooked tuna (Holli's winning dish has been added to tonight's menu as a special), slowing things down more. Next up, Jay stumbles on fish when Chef Ramsay asks him to re-fire the John Dory. While Autumn is able to stay in control to help get food out, Jay starts shutting down, not answering questions and making more mistakes. When it comes time to switch stations again, Autumn gets frustrated with Jay for not explaining more about what was happening on the meat station. Still, she was able to get her entrees out and land a compliment from Chef Ramsay for her perfectly cooked Wellingtons.
With Holli now on the fish station, she gets annoyed with Ben for jumping in and searing his own scallops, which Chef Ramsay soon criticizes. Next, after another switch, a table sends back improperly cooked halibut, and the blame is put on Jason.
When Chef Ramsay steps out of the kitchen for a few minutes, sous chef Scott steps in to expedite. But there are soon too many cooks at the pass when Ben weasels his way in and begins shouting out orders. Scott doesn't appreciate the help and lets him have it with a swear-laced rant, sending Benjamin back to his station... where he belongs.
When Chef Ramsay returns, dinner service finishes up nicely, but he isn't impressed. He asks why, if these are truly the best five, aren't they getting better? Jason says he believes the switch-ups caused problems for Benjamin and Jay, and Chef Ramsay asks all of them to go up to the dorms and nominate two chefs for elimination.
Upstairs, Jay calls out Jason for criticizing him to Chef Ramsay before the five of them hash it out in order to choose their nominees.
Downstairs, Holli presents the nominees to Chef Ramsay. The first nominee is Benjamin, thanks to his communication troubles during service, while the second is Jason for his lack of culinary skills. Chef Ramsay asks Jason why his team isn't confident in him, and Jason explains that he believes his team nominated him for personal reasons. Chef Ramsay then asks Benjamin why he can't cook and talk at the same time. Benjamin admits he over-thinks cooking but feels that he had a good service. Chef Ramsay has his doubts, but ends up eliminating Jason, giving him some nice parting words: "You haven't finished in this industry yet." Before he lets them go upstairs, Chef Ramsay warns the final four that each of them are going to be tested in a completely different way tomorrow. Get ready, guys!