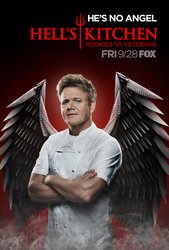 TV Info
---
Episode Premiere
July 06, 2010

Distributor
FOX

Genre
Reality

Show Period
2005 - now

Production Company
Upper Ground Enterprises, A. Smith & Co., Granada


Synopsis
---
8 Chefs Complete
With half of the original 16 contestants remaining, it's time for them to get more serious than ever. After a good night's sleep, the chefs - Benjamin, Fran, Holli, and Nilka on the Red Team and Ed, Autumn, Jay, and Jason on the Blue Team - head downstairs, where Chef Ramsay serves them a chicken gorgonzola dish that he claims is featured on a restaurant brunch menu. Little do they know, it's actually a frozen meal he just heated up in the microwave. When asked what they think of the chicken, they have nothing but glowing things to say about it and are shocked when he reveals the truth. Jay tries to back-pedal by explaining he thought the chicken did, in fact, taste a little watery, but it's too late.
Chef Ramsay explains that the chefs have got to rely on what they're tasting, and then he introduces one of the show's most anticipated challenges: the blind tasting that tests the chefs' palettes. Fran and Autumn are called up to take the first test. After donning blindfolds and soundproof headphones, they taste the first item, and both guess it's cabbage, though it's actually Brussels sprouts. After they both wrongly identify the next two ingredients as well, Autumn finally correctly identifies coconut, landing the Blue Team their first point.
Next up, it's Holli against Ed, and only Holli scores one point out of four (while Ed gets zero) by correctly identifying trout, tying the score 1 to 1. When Benjamin goes up against Jason, both men earn just one point each, keeping the score tied. That means it's up to the final two contestants, Nilka and Jay, to try to land the win for their respective teams. After both scoring another point, it all comes down to the last ingredient, eggplant. Nilka guesses prunes (prunes?), but Jay comes through and says the right answer, giving the Blue Team yet another win. They're rewarded with VIP passes to Sea World, while the Red Team members are forced to accept a day's worth of deliveries, which Nilka decides is the worst punishment ever.
When the Blue Team returns from Sea World, both teams open "mystery packages" sent from Chef Ramsay. Inside are instructions about creating menus for the next dinner service. They'd better do a good job of making the dishes sound enticing because the diners will be choosing which menu they want to order from. As the Red Team tries to come up with ideas, Benjamin pushes a few dishes involving ingredients that Nilka is not familiar with, while the team members continue to shoot down one another's suggestions. The Blue Team, however, is on a much better roll and agrees to keep their menu simple.
Three hours before the dining room doors open, the teams present Chef Ramsay with samples of each of the dishes on their new menus. He finds the Red Team's seared ahi tuna bland, spits out their arugula salad, and calls the roasted chicken entree "just all right." Fran is thrilled that Chef Ramsay is ripping apart the dishes, since they all stemmed Benjamin's ideas. Holli's desserts fare much better, prompting compliments from Chef Ramsay.
The Blue Team gets even more criticism than their competitors did, as Chef Ramsay compares their baby spinach salad to rabbit food, calls the ahi and steak boring, and declares Autumn's berry compote "one of the worst desserts he's ever been served."
While the Blue Team scrambles to revamp their menu, the Red Team doesn't make quite as many changes and banks on the fact the customers will find their menu more appealing. With some parties ordering from different menus at the same table, the kitchens are faced with another obstacle: They must bring food to the pass at the same time, a task that (not surprisingly) causes some trouble initially, before the kitchens are able to get in sync.
Early on, the Red Team is dealt a blow when a diner sends back a pasta dish. Ben causes more trouble when he refuses to communicate with his teammates. Chef Ramsay calls him out on his bad attitude, telling him, "You may not like your team, but that doesn't stop you from talking to them."
The Blue Team's menu adjustments have obviously paid off: 30 minutes into dinner service, appetizer orders are pouring in, while the Red Team has only a few requests. When it's time to move on to entrees, Jay falls behind, thanks to an overwhelming amount of orders. Meanwhile, Fran is scolded by Chef Ramsay for making the chicken portions too small. After Autumn sends raw pork to the pass and then takes too long getting a new one out, Chef loses his temper and forces her to explain the situation to the diner who ordered it. After more mess-ups by Nilka, Jason, Fran, and Autumn (again), Chef Ramsay gets even more frustrated and accuses of Autumn of not caring and having a bad attitude. After a final raw chicken mistake by Fran, Chef Ramsay takes her aside and asks what's going on with her. She explains that she's been trying her best to communicate with her teammates, but no one is communicating back.
The kitchens are in the home stretch and begin sending desserts out, with the star performer being Holli. After the service is over, Chef Ramsay declares both teams losers and tells them to choose one person from each team to be nominated for elimination. Up in the dorms, the Blue Team members accuse Autumn of making the most mistakes, while Fran lashes out at her teammates for having zero communication skills.
Downstairs, Jason explains that the Blue Team has chosen Autumn for having an especially bad service, and Holli calls out Fran for holding back the team with her chicken mistakes. When Chef Ramsay gives them a chance to defend themselves, Autumn says she should stay because she put out plenty of good food tonight, prompting Chef to tell her she's an embarrassment. Ouch!
Fran says she's as good as anyone else but has an issue with her teammates' bad communication skills. That's not a good enough excuse, and Chef Ramsay sends her home. As for Autumn, he notes that ever since she joined the guys' team, she's been on a downward spiral, so she's now back to the Red Team, where she'll have one more chance to prove herself.
There are lots of smiling faces as the teams head back to the dorms. Benjamin is thrilled to have Fran gone once and for all, and Jay is convinced his team will do better without Autumn.
7 Chefs Complete
After eliminations, a teary Autumn hugs her new teammates, a possible sign that they're ready to put the past behind them and will now work together. Benjamin admits Autumn is a step up from Fran, and Autumn says she's glad to be back.
The next morning, Chef Ramsay presents the day's challenge: Each team is given a 10-pound lobster, and both teams must divide it up so that each team member can make his or her own creative dish. Nilka and Benjamin argue over who gets the tail and end up splitting it, and over in the Blue Kitchen, the guys are unsure about Ed's plan to grill his lobster tail. To even up the competition, the Red Team is asked to disqualify their worst dish, and they decide to get rid of Nilka's potato puree with lobster.
Chef Ramsay introduces a panel of guest judges, three chefs who've received Michelin stars, including Michael Cimarusti, Josiah Citrin, and David LeFevre. David LeFevre judges the first round, featuring Holli's butter-poached lobster against Ed's poached and grilled lobster tail medallions. David declares Ed's lobster too rubbery, and Chef Ramsay agrees. The point goes to Holli and the Red Team.
Next up, Michael Cimarusti judges Jason's gigantic lobster tail and polenta along with Autumn's lobster stir fry. Michael decides Autumn's dish just isn't refined enough and gives the Blue Team the point. And finally, with the score tied, it's Josiah Citrin's turn to vote. He calls Benjamin's poached lobster tail with parsnip puree "sloppy" and declares Jay's lobster knuckle raw, ultimately giving neither of them a point.
Chef Ramsay rewards the point to the person with the best dish overall, Holli, which gives the Red Team the win. They're rewarded with a trip to a caviar house for caviar and Champagne followed by a $1000 shopping spree.
Meanwhile, Ed, Jay, and Jason are punished with cleaning the dorms and prepping both kitchens for that night's service. The guys are more than disappointed. But things get worse for them when they take so long prepping the Red Kitchen that they completely fall behind on their own prep. They're in luck, though. Prior to opening the doors, Chef Ramsay announces that they will all be cooking in the Red Kitchen together. Since tonight's diners have tickets to the theater after dinner, the chefs have just two-and-a-half hours to get all of the customers fed and out the door. There will also be a caviar course served table-side by Holli.
Nilka makes the first mistake of the night on the very first table when she undercooks her scallop appetizer. When the chefs move on to entrees, she fumbles once again by undercooking her fish, and she later gets so frazzled she drops a tray of lobster. But the final straw comes when she serves the wrong sauce with an entree and is taken aside by Chef Ramsay. She immediately bursts into tears. He tells her to get a grip and if she can't hack it… she's out. She's got to come back, and it's now or never.
Benjamin is the next target of Chef Ramsay's wrath when he stumbles on the garnish station. Jason, however, is the only chef to earn compliments from Chef for getting his entrees out in a timely manner and cooking them well to boot.
Nilka's night goes further south when she undercooks yet another item: lobster. No one is surprised when Chef Ramsay promptly kicks her out of the kitchen and then asks that she take her jacket off. But Nilka isn't giving up that easily and returns to the kitchen to beg Chef Ramsay to let her stay. As her kitchen meltdown continues, Chef Ramsay insists that she leave and enlists the other contestants to help get her out. She finally accepts her fate. The kitchen starts getting into a groove, and they complete dinner service with time to spare.
Nilka's nightmare continues as she packs her bags between sobs. When she heads outside, Chef Ramsay is waiting by her taxi and gives her a final pep talk. He tells her that though she's not ready for a head chef's job, she can still continue following her dream and that she's done phenomenally well.
Back in the kitchen, he tells the remaining six chefs that it was their best service ever. He notes that Ed had a shaky start but fought back and that Jason cooked every piece of meat to perfection and led the kitchen well. He asks them all to go up to the dorms and come to a consensus on which two chefs to nominate for elimination. As the six of them hash it out, Jason votes for Ed and Autumn, while Autumn and Benjamin agree that Ed and Jason should be put on the chopping block. Jason, of course, disagrees.
The chefs march back into the dining room where Benjamin announces that Ed is the first nominee since he slowed down the service and needed help on his station. As for the second nominee, Benjamin explains they've chosen Autumn because she's the weakest cook. Ed says he'll keep battling back, but Chef Ramsay reminds him he burnt dry pans tonight without even noticing. Autumn explains that she should stay because she bounced back tonight. They both breathe a sigh of relief when Chef Ramsay announces that all of them are staying in the final six and hands out those coveted black jackets. He congratulates them all, but warns it's only going to get harder from here.