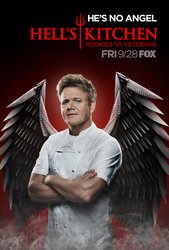 TV Info
---
Episode Premiere
June 15, 2010

Distributor
FOX

Genre
Reality

Show Period
2005 - now

Production Company
Upper Ground Enterprises, A. Smith & Co., Granada


Synopsis
---
14 Chefs Complete
Now that Chef Ramsay has sent Michael (a contestant neither team nominated for elimination) home, both teams head back to the dorms and Jason goes on a swear-laced rant, angry he was put on the chopping block.
The next morning, everyone heads down to the dining room, where Chef Ramsay reminds the remaining 13 contestants that the previous night's dinner service was full of disasters and no communication, so he gives them a challenge focused on teamwork. The teams have 30 minutes to cook a simple lunch menu, including burgers, fries, and salads for a crowd with the dining room split down the middle. The team who serves its half first will win. The ladies quickly get cooking, focused on finally winning their first challenge. The customers literally come marching in, and the contestants discover they'll be serving the USC Marching Band, along with a gaggle of cheerleaders.
The Blue Team quickly falls behind, leaving its half of the diners waiting. Chef Ramsay blows up at Jason for being slow on the salads and not responding to him and Scott for sending a raw burger to the pass. The Red Team also runs into trouble when Jamie lags on the burger station, but with just a few tables left to serve, the ladies pull ahead and win the challenge. They're rewarded with a day at the beach in Malibu, where they get play a game of soccer against "Team Ramsay," which consists of Chef Ramsay and his wife and kids. Meanwhile, the guys must help the non-profit organization Heal the Bay clean up the Los Angeles River.
The next morning, as both teams prepare for dinner service, Fran is excited to finally get the chance to prove herself since she was kicked out of the kitchen during the first service and spent the second service out on the floor making tuna appetizers. But her time in the kitchen is once again in jeopardy when she spills boiling water on herself and burns her hand. Not wanting to waste a moment, she makes the dangerous decision to keep her injury to herself. Just before dinner service, Chef Ramsay calls upon Holli and Salvatore to assist Jean-Philippe out on the floor as assistant maitre d's. Turns out he chose the wrong guy, since no one can read Salvatore's tickets and the Italian admits he can't really write in English, which causes an early slowdown in the Blue Kitchen. Though Ed offers Scott some unwanted help on his station, he doesn't take it, and Chef Ramsay finds Scott's potatoes unacceptable.
Two hours into dinner service, both teams begin sending entrees out, but when Salvatore brings back a Wellington for not being cooked medium-well, the problem turns out to be his own fault since he didn't write the temperature on the ticket, and Chef Ramsay lets him have it. Frustrated, Salvatore heads out of the restaurant, but Jean-Philippe persuades him to come back. In the Red Kitchen, as Fran struggles with her burn, she continues to mess up her steak temperatures and ends up getting scolded by Chef Ramsay. Trouble continues to brew on the ladies' side as Jamie makes errors on her garnish and though Siobhan steps in to help, Chef Ramsay sends her back to her own station. Turns out he was right as usual: Siobhan was so busy helping Jamie, she undercooked the halibut at her own station. After another meat station mix-up, Fran tells Autumn about her burn, who in turn shares the information with Chef Ramsay. He insists she see a medic, Fran is soon able to return to the kitchen just as dinner service is wrapping up.
Afterward, Chef Ramsay announces the Blue Kitchen has won, mostly thanks to Ben, who kept things running smoothly. The Red Team must report back with two nominees for elimination. Fran is a definite, thanks to her multiple refires, but the ladies debate about who else should be put on the chopping block. Downstairs, they reveal that they've chosen Jamie since she burned several items that night. Jamie insists she should stay because she's a team player, while Fran explains she has a drive like no one else. Though he expresses concern about teaching "an old dog new tricks" (ouch!), Chef Ramsay says he believes Fran can fight back and instead eliminates Jamie since she had passion but was lacking in creativity and leadership qualities.
13 Chefs Complete
With the teams evened out again now that Jamie has been eliminated, the remaining dozen contestants head up to the dorms, but Chef Ramsay asks Salvatore to stay behind. Chef Ramsay explains that he hasn't given up on Salvatore, but the sensitive contestant can't simply "disintegrate" every time Chef Ramsay criticizes him. He implores Salvatore to fight back.
Early the next morning Scott and Salvatore get up while the rest of their teammates are sleeping and go over strategy for winning the competition. Later, both teams line up downstairs ready for Chef Ramsay to give them their next challenge. He says he wants to find out how creative they can be and wants to test their abilities to think on their feet. Each contestant will get a chance to roll a die with letters on it. Then he or she will have 10 seconds to come up with an ingredient that starts with that letter and his or her team will have to use that ingredient for one combined dish. The guys quickly come up with halibut, endive, salsify, crab, peas, and bacon -- a rather nice combination -- and Chef Ramsay admits the dish already sounds delicious. When it's the ladies' turn to roll, Fran freezes when she gets a "B" but finally chooses beets. After Nilka and Autumn choose shallots and mango, Chef Ramsay is wary. The remaining ladies choose ham, turnips, and duck, and it's clear they have their work cut out for them.
As they get cooking, Autumn goes back into bossy mode and tries advise Nilka on how to cut a duck. Over in the Blue Kitchen, Salvatore has a hard time finding something to do. Chef Ramsay is happy with the Blue Team's halibut dish but finds their salsify chips too bitter. And though he's impressed with the ladies' duck dish, he finds there to be a bit too much fat.
It's a tough decision, but Chef Ramsay decides the men are the winners because of the Red Team's dish's excess fat, an error blamed on Nilka. The ladies must clean the restaurant's entry hall and prep both kitchens for dinner service as their punishment, while the guys get an adventurous reward: They're going skydiving! Everyone's excited except for Jason, who explains he doesn't fly because he's not a bird. When they arrive at their destination, Jason's happy to discover they'll just be "skydiving" in a wind tunnel -- not jumping out of a plane. Phew.
Back in "Hell's Kitchen" the clock is ticking, and the ladies haven't finished prepping yet. The pressure gets to Maria and she breaks down in tears, prompting sous chef Andi to give her some advice: Stop being so emotional. Just before dinner service, Chef Ramsay announces the kitchens will be serving special guests at chef's tables in both kitchens with "Entertainment Tonight" host Kevin Frazier and his wife in the Red Kitchen and "Entourage" star Debi Mazar and her husband (who happens to be a chef) in the Blue Kitchen. Will the pressure of extra eyes watching the teams in the kitchen knock them off their games?
As the dinner service gets going, Jay gets frustrated with Scott for being condescending and during confessional, admits he'd beat him up if he bumped into an alley. How's that for honesty? Jason earns a compliment from Chef Ramsay for delivering perfect appetizers, but Chef doesn't have kind words for Siobhan, who accidentally added the wrong shellfish to her pasta. Meanwhile, Salvatore is rather clumsy in the Blue Kitchen and gets into a panic, prompting Debi Mazar to note that the poor guy looks like he's about to have an aneurysm.
Back in the Red Kitchen, Siobhan makes the same mistake again by putting lobster in capellini. Though she tries to blame the container's label, Chef Ramsay isn't having it. After the appetizers are out, it's up to Nilka and Salvatore to get their respective entrees to the pass. Both of them are thrilled when Chef Ramsay says Nilka's meat and Salvatore's fish are cooked perfectly. But Chef Ramsay's good mood soon fades when he realizes Ed's potatoes are rock hard, which delays his team's entrees getting out to the dining room.