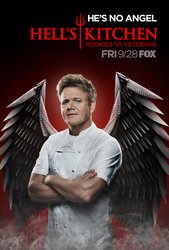 TV Info
---
Episode Premiere
June 08, 2010

Distributor
FOX

Genre
Reality

Show Period
2005 - now

Production Company
Upper Ground Enterprises, A. Smith & Co., Granada


Synopsis
---
With one dinner service under their belts, the remaining 15 contestants head back to the dorms, where Autumn gives her teammates some unwanted advice. Nearby, the Blue Team also has a pow-wow. During confessional, Andrew says he doesn't think the food served in "Hell's Kitchen" is all that good, and Jason says he believes Mikey is the team's weak link. Face to face, however, the guys decide that they've got to communicate better and support one another.
The next morning, sous chefs Scott and Andi blast an alarm clock through the dorm's P.A. system, and the contestants rush into "Hell's Kitchen" (while still in their jammies!), where Chef Ramsay is waiting. Since they made a lot of basic mistakes the previous night, it's time for a back-to-basics challenge. And what's more basic than eggs? Each team is divided into pairs, and each must cook four egg dishes -- poached, soft-boiled, sunny-side-up, and scrambled -- in just five minutes. Each pair has a chance to score up to four points, and the team with the most points at the end wins.
Though Siobhan must work alone since the ladies have an odd number of players, Autumn tells her she'll make the rest of Siobhan's eggs if Siobhan will just handle the poached ones. In the Blue Kitchen, Scott and Mikey end up spending more time coaching Salvatore than they do making their own egg dishes.
Nilka and Maria impress Chef Ramsay right away and score a perfect four. Though he isn't pleased with the scrambled and soft-boiled eggs Salvatore cooked, he likes Mikey's two egg dishes, landing the men two points.
When it comes time for Chef Ramsay to try Siobhan's eggs, she must admit she only made the poached ones. After Chef Ramsay expresses his disappointment, Siobhan breaks down sobbing and explains that she's mad at herself for not pushing Autumn out of the way. Chef Ramsay has little tolerance for tears, of course, and tells her to get a grip. He only gives her a point for the poached egg, which she actually made.
The next two pairs of guys -- Ed and Jay and Andrew and Scott -- land three points each, while Autumn and Fran fall flat with just one passable dish. Holli and Jamie end on a high note, however, by landing all four points. Finally, Andrew and Jason score a couple more points to tie up the game, 10 to 10, which means it all comes down to their soft-boiled egg for the win. Chef Ramsay loves it and gives them the point -- and the win.
As a reward, the guys are sent on a helicopter tour of Los Angeles. While they fly high above the city (and are later treated to a rooftop lunch with Chef Ramsay full of guy talk), Siobhan is back in the dorms crying as Autumn tries to explain her good intentions. Then the ladies must start on their punishment: cleaning, gutting, and filleting tuna for the upcoming dinner service.
The next morning during prep, Siobhan finds herself being bossed around again by Autumn and Nilka, which she says only makes her want to move slower. Just before dinner service, Chef Ramsay announces both kitchens will also be doing a table-side tuna tartar and chooses Fran (who has never worked with tuna tartar before) for tuna duty on the Red Team, along with Scott on the Blue Team. When he gives Salvatore a quick pop quiz on the night's desserts, the Italian chef can't name even one, infuriating Chef Ramsay and prompting him to kick Salvatore out of the kitchen. Chef Ramsay later calls him back down, tests his knowledge again, and allows him to stay.
Just moments before "Hell's Kitchen" opens, Chef Ramsay does a little quality control test for the Red Team and tastes their pasta water, which is far too salty. Turns out Autumn seasoned it. Later, Chef Ramsay catches Autumn seasoning Siobhan's risotto and lets them both have it, insisting that Siobhan needs to be more independent. In the Blue Kitchen, Mikey takes more than 40 minutes to get his first risotto appetizer out, and it's then sent back for being undercooked. Chef Ramsay lets him know he's "pissed off."
In the Red Kitchen, Nilka gets overwhelmed on the garnish station, while, on the men's side, Jason takes too long getting the chicken to the pass, prompting a scolding from Chef Ramsay. After Chef Ramsay discovers Andrew's mashed potatoes are way too runny, he gives him a talking-to, but Andrew can't seem to stop talking back, which doesn't go over well with the man in charge. Chef Ramsay kicks Andrew out to the dining room, and in response, Andrew decides he's leaving for good, despite JP's attempt to talk him out of it.
Despite the drama, both teams complete dinner service, but Chef Ramsay decides that neither group deserves the win and asks both teams to nominate one person. Upstairs, some of the guys explain they want Jason out, while Jason and Mikey insist Salvatore should leave. Over on the Red Team, Jamie nominates Nilka, and while some of the ladies agree, Maria thinks know-it-all Autumn should be the one to go.
Downstairs, Maria tells Chef Ramsay that the Red Team has chosen Autumn because of the salty water incident and the fact that she's not a team player. On behalf of the Blue Team, Benjamin explains they've chosen Jason because he's difficult to work with. Autumn insists she has the skills and talent to stay and thinks the team nominated her for personal issues. Indeed, Chef Ramsay gets the rest of the team to admit that Autumn isn't the worst cook on the team, and Maria nominates Jamie as the worst chef.
But Autumn, Jamie, and Jason are safe for the time being. Chef Ramsay instead calls upon Mikey, reminds him of how he botched two dinner services in a row, and then asks him to leave "Hell's Kitchen."
Chef Ramsay tells the remaining 14 contestants that he's looking for a leader who can run the Savoy Kitchen in London and he's beginning to question if any them are actually up to the task.