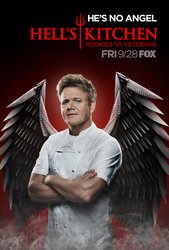 TV Info
---
Episode Premiere
October 06, 2009

Distributor
FOX

Genre
Reality

Show Period
2005 - now

Production Company
Upper Ground Enterprises, A. Smith & Co., Granada


Synopsis
---
The Final Four remaining chefs walk away from elimination excited to be so close, and aware that the stakes are getting even higher. Ariel was up for elimination, and now she feels that she must prove herself to Chef Ramsay and show him that she has what it takes to win.
The chefs enter the dining hall eager to begin their next challenge. Followed by a surprise scolding from "mini-Gordon Ramsay" the real Chef Ramsay tells the team that catering to vegetarians is an important part of crafting a fine dining menu, and for the next challenge, each chef must create a stunning vegetarian dish. To make the challenge even more difficult, they must make eighty portions of it in a single hour, which will feed eighty mystery guests.
Barely completing their task, Chef Ramsay calls time and the chefs hear a thunderous stampede and the screaming sounds of 80 hungry children lead by none other then the "mini Gordon Ramsay!" Each child votes for their favorite dish, and Chef Ramsay reports that Tennille is the winner! For her reward, Tennille will be treated with a fabulous make over in Beverly Hills, and a delicious lunch at the top rated sushi restaurant Nobu. As for Kevin, Dave, and Ariel, their punishment is clear- cleaning up after the kids. Tennille returns to Hell's Kitchen exuberant and refreshed, but soon finds that the other chefs are not as helpful as they once were - it's now every chef for themselves in the race to make it to the Final Three.
Once Chef Ramsay opens Hell's Kitchen for dinner, the chefs start cooking at break-neck speed until Tennille delivers unacceptable scallops. Her second try is perfect, but her confidence has already been shaken. Dave is on the meat station and the worst happens - when he lifts a heavy plate of lamb with his broken arm, he yells out and recoils from the excruciating pain. Dave wearily hobbles out of the kitchen, trying to regain his composure. Chef Ramsay follows after him to make sure he is okay, and after a quick check up, Dave is back in the kitchen determined as ever.
With Dave back on track, dinner service may be finished in record time. Chef Ramsay excitedly calls out for Halibut, but Tennille is still unable to deliver, and it is soon discovered that all of her fish is in appalling condition. Tennille tries again, but her exasperation soon overwhelms her confidence, sending the kitchen into a nosedive. Chef Ramsay calls Tennille into the back, and restores her confidence, Tennille is finally able to produce perfect Halibut, and the chefs complete dinner service.
After dinner service, Chef Ramsay reveals how concerned he is about Dave's broken arm, but Dave passionately pleads his case, which wins Chef Ramsay over. Chef Ramsay then addresses Tennille, criticizing her poor performance during dinner service. In a surprise twist, he decides to send her home with no nominations, and after an emotional good bye, she leaves Hell's Kitchen with her head held high.
The final three return to the dorms, excited to have made it so far. But Chef Ramsay isn't through- he calls them to return to the dining hall immediately. The final three line up, sure that something terrible is about to happen- but instead Chef Ramsay says "Congratulations" and he introduces two of each of the chefs' most beloved relatives. Dave hugs his sister and kisses his fiancee; Ariel kisses her fiancee and hugs her mom; to Kevin's utter delight he holds his wife and son. As night closes, and the chefs wave good bye to their loved ones, the final three chefs are rejuvenated, and more determined then ever to win Hells Kitchen.