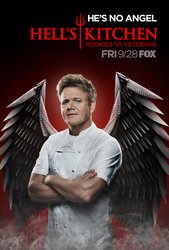 TV Info
---
Episode Premiere
September 29, 2009

Distributor
FOX

Genre
Reality

Show Period
2005 - now

Production Company
Upper Ground Enterprises, A. Smith & Co., Granada


Synopsis
---
After an intense elimination, Van has been sent packing, giving Ariel and Suzanne another chance to prove themselves to Chef Ramsay. In the dorms, Dave confronts Tennille for not sticking to the team's agreement when she nominated Van instead of Ariel during elimination. As Dave and Tennille argue with each other, Kevin stands back smiling, enjoying the fact that no one has chosen him as their next target. Meanwhile, a worried Suzanne confides in Ariel that if she doesn't pull it together then she is the next to go.
The next day, the final five are faced with their first individual challenge. The chefs are shocked when they realize that the guest judges are from the world's most popular culinary magazine, 'Bon Appetit'. For the presentation challenge, Chef Ramsay announces that each chef must create a visually stunning dish that the judges will critique based solely on its visual appeal but the best tasting dish will win. During the challenge, Kevin keeps his sea bass simple, Suzanne tries to impress with a calamari salad, Ariel prepares a complex prosciutto-wrapped John Dory, while Dave chooses to cook a rack of lamb, and finally Tennille grills an Asian-inspired red snapper. The Bon Appetit judges select Ariel's John Dory and Kevin's sea bass as the most visually appealing and when it comes to the best tasting, Chef Ramsay and the magazine's Editor in Chief, Barbara Fairchild, can't pick a loser and Ariel and Kevin both win the challenge. The two winners are rewarded by joining Chef Ramsay and Barbara Fairchild for an exclusive Bon Appetit photo shoot featuring their winning recipes for the culinary world to see.
As their punishment, Dave, Tennille, and Suzanne are sent off in a community service bus, clad in orange jumpsuits and cleaning gear to beautify a street adopted by Hell's Kitchen. Tennille loathes the punishment and complains the entire time. Later that day, Dave injures his arm while trying to steam clean the red carpet of the Hell's Kitchen entrance. At their reward, Ariel and Kevin receive the star treatment for their Bon Appetit photo shoot at Shutters on the Beach in gorgeous Santa Monica. After hair and make up, they each get a taste of the life of a celebrity chef as they toast their champagne and pose for the cameras with Chef Ramsay and Barbara Fairchild.
At dinner service the next day, the final five work as one team to serve an entire dining room. For the first order, Dave proves himself in the kitchen by pushing appetizers out despite Suzanne and Tennille's lack of communication. Tennille's problems get worse when Chef Ramsay discovers she is cooking risottos with overcooked rice, rice Kevin prepped before service. The kitchen is ground to a halt but starts moving once again when Suzanne finds better rice for Tennille. The final five finally move on to entrees but their problems continue when Ariel's raw chicken and Suzanne's raw fish are brought up to the pass. The poor performances force an angry Chef Ramsay to send incomplete orders out into the dining room. Just when the aspiring chefs begin to find their rhythm in the kitchen, Ariel disappoints once again with raggedy lamb. Despite all of the mistakes, the disastrous dinner service is completed and Chef Ramsay is left eager to send one of the final five chefs home.
Chef Ramsay gathers the aspiring chefs and tells them this was one of their worst services in a long time and they must come to a consensus and choose two chefs to put up for elimination. During elimination, Kevin announces that the team has decided to put Ariel and Suzanne up on the chopping block. Despite Ariel's poor performance during dinner service, it's Suzanne that is sent packing due to the fact that she has been up for elimination a total of four times. With only four chefs remaining, and the competition nearing the end, the game has gotten more vicious than ever.