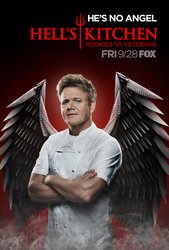 TV Info
---
Episode Premiere
September 22, 2009

Distributor
FOX

Genre
Reality

Show Period
2005 - now

Production Company
Upper Ground Enterprises, A. Smith & Co., Granada


Synopsis
---
We start with Chef Ramsay dismissing the contesting Chefs back to their dorms, including Van, who's disastrous display on the fish station put him in the hot seat of elimination, barely dodging the bullet of Ramsay's dismissal. As the Chefs all walk out through the kitchen and out onto the patio, Van vocalizes his frustration. "I hate that sh*t, man," he says.It means everything in the world for Van to be in Hell's Kitchen and he knows he can cook, but he also knows one more slip-up will put him right back into the spotlight of elimination.
The next morning, the Chefs wake up to six individually wrapped gifts; one for each contestant. Inside, is the black chef's coat. This means that all six will become one team. As everyone wakes up and opens their package, each contestant reflects on what having a black jacket means to them personally and within this competition.
The new team makes their way downstairs into the kitchen where Chef Ramsay is already cooking. He puts together one of his signature dishes and after commending them on earning a black jacket, he encourages everyone to have a taste of the dish.As each takes a bite, Chef Ramsay tells them they will be having the "Taste it, Now Make It" challenge. They will have to re-create a dish using only their senses as reference. Before beginning the challenge, Chef Ramsay pairs them in teams; Van/Ariel, Kevin/Tennille, and Dave/Suzanne.Chef Scott brings out a new signature dish from Ramsay's restaurant in London and the challenge begins. After an intense guessing game and very close judgment, Dave and Suzanne win by using the correct citrus juice in the original dish's sauce. Dave and Suzanne are told they will be going on a reward with Chef Ramsay to his restaurant, The London West Hollywood, where they will be having lunch with Christina, the Season 4 winner of Hell's Kitchen. The rest of the team is punished by having to stay back in Hell's Kitchen and set up the dining room for the night's dinner theme; "couple's night".
Dinner service for the new Black Team starts off rocky. Kevin, who is preparing tableside appetizers, has to rely on Suzanne at the appetizer station to be prompt with her orders, which she is not.Van, on the fish station, begins to have difficulty first, firing orders prematurely, then sweating in the food, and finally, continuing in a downward spiral by sending up uncooked fish.Chef Ramsay becomes furious. When Ariel burns lettuce, Chef Ramsay walks out of Hell's Kitchen, forcing the Chefs to fend for themselves. Tennille gets the kitchen back on track with her communication and Kevin does the same with his leadership at the pass. But when Kevin tells Suzanne to continue plating while he heads out to the dining room, Suzanne refuses to plate and makes Van do it on his own.When Chef Ramsay returns to the kitchen, he immediately kicks Van, Ariel and Suzanne out of the kitchen. The remainder of dinner service is completed by Dave, Kevin and Tennille.
The chefs who completed dinner service (Tennille/Dave/Kevin) are all deemed "Best-of-the-Worst" and are to decide who will be nominated for elimination.They collectively agree that Suzanne and Ariel should face dismissal, being the worst chefs that evening.But once in elimination, Tennille changes her mind and tells Chef Ramsay she believed Van actually had the worst performance. Chef Ramsay calls all of the three chefs down and after weighing everyone's argument, Chef Ramsay ultimately denies Van any more chances to win Hell's Kitchen, taking his chefs coat and ending Van's dream of ever becoming the Head Chef at Araxi Restaurant and Bar in Whistler, British Columbia.