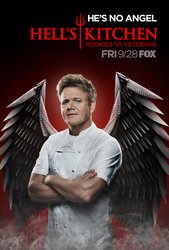 TV Info
---
Episode Premiere
September 22, 2009

Distributor
FOX

Genre
Reality

Show Period
2005 - now

Production Company
Upper Ground Enterprises, A. Smith & Co., Granada


Synopsis
---
The contestants exit the kitchen and react wildly to the news that Suzanne is switching to the blue team. Tennille literally does a dance and is overjoyed that Suzanne is off her team while Kevin is livid, saying she is not welcome and will not be allowed to mess the blue team up.
The next day, instead of introducing the challenge from the kitchen, Chef Ramsay is seen on a video screen that has descended from the ceiling. Via a live feed from Araxi Restaurant and Bar in Whistler, British Columbia, he explains that the challenge is to make three entrees with foods sourced from local farms. They must use each of the fifteen ingredients once. The blue team is confident with their menu and the red team is thrilled to be using the beautiful lamb -- actually venison, but Ariel and Tennille don't realize it.
Olympic champions Sasha Cohen and Jonny Moseley join Chef Ramsay as judges. Tennille is caught presenting the venison as lamb and tries her hardest to backpedal out of it. The blue team wins, and goes to Campanile Restaurant with renowned chef Mark Peel. The red team goes to a farm to learn how to clean out pigpens and learn what local ingredients are all about.
The next day, Chef Ramsay tells both teams they will create menus for dinner service from scratch. The diners will choose a menu from which to order, creating an inherent competition and still more pressure in Hell's Kitchen. At dinner service, Van has trouble keeping count of his scallops and Ariel sends out three orders of cold ravioli. Then, Dave's broken arm gets worse and he leaves the kitchen in extreme pain. He heroically returns to the kitchen where Van sends up a raw fish that Chef Ramsay smashes with his fist, Tennille starts nervously sweeping the floor in the middle of service, and Sabrina floundering on the fish station. Chef Ramsay is exasperated and shuts down the kitchen.
Chef Ramsay announces that neither team has won dinner service and that both must nominate someone for elimination. Van tries convince Dave and Kevin that Suzanne is the right choice. Van and Sabrina are served up to Chef Ramsay, who says that while Sabrina accepted her mistakes better than Van, he just doesn't see her as Head Chef of Araxi Restaurant and Bar. And, since Chef Ramsay can't see her as the Head Chef in Whistler, British Columbia, "... she needs to take those red lips and whistle on out of here."