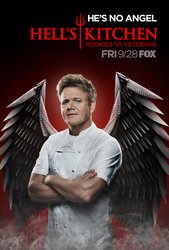 TV Info
---
Episode Premiere
September 08, 2009

Distributor
FOX

Genre
Reality

Show Period
2005 - now

Production Company
Upper Ground Enterprises, A. Smith & Co., Granada


Synopsis
---
The post-elimination fallout is all about the Red Team, Suzanne and her disastrous lack of teamwork. Ariel, Sabrina, and Tennille make it clear to Suzanne that her attitude needs to change or she will return to the chopping block, and she vows to make amends.
The next morning, Chef Ramsay outlines the importance of French cuisine in his career and its influence on the culinary arts as a whole. He introduces the crepe as a staple of French cooking, demonstrating the proper technique to crepe making. The next challenge will be for each team to prepare four crepes: breakfast, lunch, dinner and dessert, which will test the creativity, technique, and attention to detail of all eight chefs.
The challenge begins and both teams soon realize the art of crepe making is not as easy as Chef Ramsay makes it appear. The final crepes are hastened to the pass and domed with only seconds to spare. Chef Ramsay and JP judge the crepes together and agree that Ariel's smoked salmon breakfast crepe is better than Van's quail egg and bacon offering. The lunch crepe is next, and Tennille's cheese, bacon and shrimp crepe is very spicy, making Andy's ham, cheese and avocado crepe the winner. The point goes to both Kevin's seafood and goat cheese crepe and Suzanne's steak and onion dinner crepe. The entire challenge comes down to the tie-breaking dessert crepe. Dave is up first and his presentation is a dismal failure. "It looks like a plate of diarrhea," exclaims Chef Ramsay. Sabrina's tasty pear and chocolate crepe easily beats Dave and wins the challenge for the Red Team.
Chef Ramsay explains that HK will open for dinner that night and will feature some added French flavor, including escargot, frog legs, and crepes. The men's punishment will be to prep both kitchens "top to bottom." The Red Team is rewarded with a fabulous French lunch as well as a special surprise of an afternoon of mime class.
Once the Red Team gets back from their reward, they wish to carry their success into dinner service. Both kitchens are quietly focused when suddenly, Andy slices his fingertips badly and is rushed to the hospital. Meanwhile, the dinner guests arrive and Chef Ramsay tells JP to open up Hells Kitchen. Andy returns to the blue kitchen early in dinner service with bandaged fingers and rejoins the Blue Team.
In the Red kitchen, Sabrina's risotto is inconsistent and Chef Ramsay is furious. Suzanne is on the meat station, but her timing is still not in sync with the rest of the team. When she cuts her lamb much to early, Chef Ramsay's anger is beyond compare.
In the blue kitchen, Andy is painfully slow, and after his crepe is rejected by Chef Ramsay, Kevin takes over the station and is able to get appetizers out, but Chef Ramsay's patience is at an end, and he kicks Andy out of the kitchen. Suzanne completely falls apart on the meat station, and Sabrina fares no better by failing on frog legs. Chef Ramsay has had enough; he sends them both out of the kitchen, putting Tennille and Ariel in total control. With the weakest chefs gone, both kitchens are finally able to finish service and clear down.
Chef Ramsay instructs the Blue and Red to work together to nominate two people for elimination. Suzanne is a big target for the ladies, but she refuses to take responsibility. Andy mans up to his shortcoming and accepts the nomination.
At elimination, Ariel says the nominees are Suzanne and Andy. Andy is finally sent home, hands in his jacket and goes. However, Chef Ramsay isn't through. He tells Suzanne to step forward and take her jacket off. Just as she thinks her moments in Hell's Kitchen are slipping away, Chef Ramsay tells Suzanne to join the ranks of the blue team, and Suzanne's dream of becoming the Head Chef at Araxi Restaurant and Bar in Whistler, British Columbia are safe for another day.