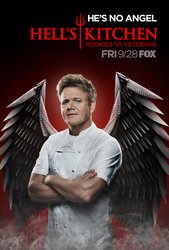 TV Info
---
Episode Premiere
August 25, 2009

Distributor
FOX

Genre
Reality

Show Period
2005 - now

Production Company
Upper Ground Enterprises, A. Smith & Co., Granada


Synopsis
---
Tonight, as the chefs are dismissed back to their dorms, Sabrina can breathe a sigh of relief as she heads to the patio. She was up to be eliminated but was spared in the end. She admits, "I totally dodged a bullet." She knows if she messes up one more time from here on out, it could be her last.
The next morning, the chefs discover that Robert is still away in the hospital, but HK continues. They will be competing in a "roll the dice challenge". Each chef will roll lettered dice onto a craps table. Whatever letter the dice lands on, the individual that rolled will have 10 seconds to choose an ingredient that begins with the letter. Once everyone on the team has rolled, they'll then have to collectively create a dish combining all of the ingredients selected. The women have a fantastic roll and chose ingredients that are more traditional and familiar of a rustic style dish. The men, however, end up with an eclectic mix of ingredients, such as figs and haddock and are left scratching their heads on what to make.
In the kitchen, the women get to work on their rabbit dish while the men finally decide to be creative with their haddock and figs and, through the process of cooking and experimenting, they find flavors that they think work surprisingly well. Chef Ramsay samples both, and decides while both are excellent, the Blue Team is the winning team and the men will take a trip to Las Vegas as a reward. The women are left back in Hell's Kitchen, punished with handling all the delivery trucks that will be dropping off product throughout the day and night along with the task of conducting an overall inventory of Hell's Kitchen.
The next day the women are exhausted but determined to win dinner service. The men return from their trip ready to go and confident. Robert still hasn't returned from the hospital, but the blue team doesn't mind. In fact, they agree they think they might be better off without him around. But when Robert does return from the hospital just moments before service, he feels the team has rejected him but uses this as motivation to prove he's a winner.
Chef Ramsay tells the teams that for the first time ever, there will be a Chef's Table in each kitchen that the teams will have to serve in addition to the usual diners. The guests will be highly respected Executive Chefs from two of Chef Ramsay's restaurants. During the service, they will be giving an overall critique of their experience and reporting to Chef Ramsay.
Dinner service starts out perfectly for the Red Team and throughout the service they only have a few minor hitches. The Blue Team also starts out well and food flies out of their kitchen...until Van begins having problems on the fish station. Not once, but twice he sends out fish with plastic wrap still attached. Chef Ramsay is far from happy. Van continues to flub, even embarrassing himself at the Chef's Table. Robert also falters during dinner service and has lots of trouble on the meat station, getting multiple orders sent back. After giving him undercooked rabbit, Chef Ramsay shuts down the Blue Kitchen, and nominates Dave Best of the Worst, telling him to choose 2 teammates to go up for elimination.
After the most heated decision, Robert pleads his case to Dave and tries to convince him to nominate Andy, whom he considers a horrible chef. Andy overhears this conversation and confronts Robert. In the end, Dave knows he will either nominate Van and Robert or Andy and Robert.
In elimination, Dave puts up Van and Robert based on the night's performance, but in a twist, Chef Ramsay calls Andy down as well. In a bitter exchange of words between Robert and Andy, both pleading their case and berating one another, Chef Ramsay ultimately sends Robert home, thus ending Robert's dream as becoming the Head Chef at Araxi Restaurant and Bar in Whistler, British Columbia.