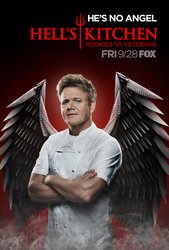 TV Info
---
Episode Premiere
July 21, 2009

Distributor
FOX

Genre
Reality

Show Period
2005 - now

Production Company
Upper Ground Enterprises, A. Smith & Co., Granada


Synopsis
---
The new crop of 16 aspiring chefs arrive and are greeted by Maitre 'd Jean-Philippe who tells them that inside the doors to Hell's Kitchen they will find a few Golden Rules -- wisdom from past seasons prepared just for them. The aspiring chefs enter Hell's Kitchen to find former contestants Bonnie (Hell's Kitchen 3), Colleen (Hell's Kitchen 5), and Aaron (Hell's Kitchen 3) each on a video monitor offering some words of advice about how to survive HK, like "There's no crying in the kitchen!" Suddenly, a familiar voice calls out "Are you ready?" The chefs whirl around to discover Chef Ramsay, who welcomes them with his first command, "Get in there and cook me your signature dishes!" The 16 aspiring chefs stampede past Chef Ramsay and get to work.
Upon completing their signature dishes, Chef Ramsay reveals this season's prize: The winner will become the Head Chef at one of the finest restaurants in Canada, Araxi Restaurant and Bar in Whistler, British Columbia, host of the 2010 Winter Olympics. The chefs also learn that, for the first time ever, signature dish is a challenge -- the men, on the Blue Team, will go head-to-head against the women on the Red Team.
The women seem to impress, taking the early lead thanks to Tek and Tennille. Tony and Jim's signature dishes pleased Chef Ramsay and the men tied up the score. The rest of the chefs' dishes were not up to Chef Ramsay's standards and all failed to earn a point. The fate of the competition comes down to the final round when Van's seared foie gras went head to head Sabrina's overly spicy chipotle wrapped pork tenderloin -- and thanks to Van, the men win the first challenge! For their reward, the Blue Team is treated to a special meal on the patio from Chef Ramsay's own London West Hollywood while the Red Team stays behind to clean the kitchens and have bologna sandwiches, then hunker down to start studying their cookbooks, vowing to win dinner service.
After a long day of prepping and getting to know the kitchens and menu, Chef Ramsay arrives and for the first time this season shouts "JP, open Hell's Kitchen!"
The Red kitchen gets off to a rocky start when Tek's scallops are sent back raw, while in the Blue kitchen, Jim sends up scallops that are well cooked, but the wrong number. While both kitchens try to get it together, out in the dining room, Robert, who left Hell's Kitchen 5 for health reasons, enters with his wife and is greeted warmly by JP. It seems Chef Ramsay has a plan to give Robert a second chance to compete in Hell's Kitchen...
The Red Team continues to struggle with appetizers, leading Chef Ramsay to discover a massive amount of pasta in the trash bin and a startled Melinda gets the blame. Then, while Lovely steps out of the Red kitchen for a self-diagnosed "hydration" break, Chef Ramsay discovers that their salmon is stone cold in the middle. Amanda confesses that earlier in the day she accidentally stored the salmon in the freezer instead of the refrigerator. Chef Ramsay is not happy.
Problems continue in the Blue kitchen when Louie delivers one mangled lamb chop after the other, leading Chef Ramsay to discover a huge pile of discarded lamb at his station. Chef Ramsay has had enough of Louie and throws him out of Hell's Kitchen, eliminating him on the spot. After a long and disastrous night, Chef Ramsay shuts down both kitchens.
After service, Chef Ramsay puts his plan into action and asks Robert to return as a chef in Hell's Kitchen, and Robert accepts. Chef Ramsay introduces the chefs to Robert. He then declares that the Red Team is the losing team and sends the women back to the dorms to nominate two individuals for elimination. The Red Team, after much argument, narrows the choices down to Amanda for putting the salmon in the freezer and both Melinda and Lovely for being a disastrous team on the appetizers station.
At elimination, the women reveal the decision to put Melinda and Amanda on the chopping block. Amanda does not agree and thinks that Lovely should take her place. Chef Ramsay calls Melinda and Amanda forward and asks them why they should stay in Hell's Kitchen. Melinda says she has passion for cooking. Amanda says she didn't get a chance to cook and can do better. Chef Ramsay eliminates Melinda, and so her dreams of becoming the Head Chef at Araxi Restaurant and Bar in Whistler, British Columbia came to an end.
After being pulled out of the dining room and into the kitchen to help save the first dinner service, returning chef Robert is a new player in this competition. Chef Ramsay assigns him to the floundering red team, the women's team. This makes the blue team feel that chef Ramsay is giving the red team a big advantage since Robert is the only chef ever to compete in Hell's Kitchen twice.
In the shrimp challenge, both teams need to clean (de-shell, de-vein, and de-head) as many shrimp as possible in ten minutes. Though both teams are confident they've done well, Tennille ends up with only one shrimp up to Chef Ramsay's standards out of ten and Robert only gets four. Jim delivers the final shrimp and the victory for the men.
The women's punishment is preparing shrimp cocktails, with deseeded lemons and cocktail sauce, for the entire dinner service. Meanwhile, the blue team spends the day in luxurious Newport Beach, lunching with Chef Ramsay, then having dessert with JP on a yacht.
At dinner service, Tennille and Van are assigned to tableside shrimp scampi duty. Both teams struggle with their dining room duties with Tennille serving raw shrimp to a pregnant woman and Van dropping pans on the floor and serving one of the opposing team's tables. A horrified JP pulls Van aside and they almost get into a fistfight in front of the customers. Chef Ramsay straightens both out and the dismal dinner service is rounded out with both sides serving up raw chicken, Tony continuing to flail on the fish station, and Robert disappointing.
Chef Ramsay shuts down dinner service and berates both teams. With no winning team, both Red and Blue have to pick two teammates for elimination. Van gets into a heated argument with Jim after Jim offers up Van for elimination because of his fight with JP. On the red side, Tennille and Lovely are discussed.
At elimination, Joseph flames out, refusing to answer Chef Ramsay's simple question of "first nominee," then goes on a rant, drawing the ire of Chef Ramsay, who confronts Joseph, who completely loses it, claiming he's "nobody's bitch." He then tears off his chef's jacket, approaching Chef Ramsay and asking him to take it outside. The episode then ends in a dramatic face-off.