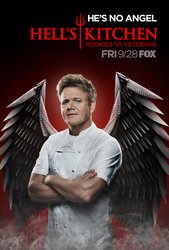 TV Info
---
Episode Premiere
May 14, 2009

Distributor
FOX

Genre
Reality

Show Period
2005 - now

Production Company
Upper Ground Enterprises, A. Smith & Co., Granada


Synopsis
---
With their team's chosen, Danny takes his team (Giovanni, Ben and Carol) to the patio, while Paula takes her team (Andrea, LA, and Lacey) to the dorms, to discuss station assignements and menus. Danny is very clear that he wants his team to call him chef, and treat him as such. Giovanni, who isn't happy to be returning, feels that Danny being his boss is difficult to do. Paula and her team are concerned with their "weak link" Lacey. Paula knows how important this dinner service will be and realizes that her disadvantage is the liability of Lacey in her kitchen. The chefs head into the kitchen to begin their respective prep.
Chef Ramsay asks each finalist to prepare their menu for him to inspect and taste. Chef Ramsay worries that Paula's halibut is dry, but is even more concerned when he sees that her creame brule has curdled. The dessert was prepared by Lacey, which concerns Paula even more. Chef Ramsay has some issues with Danny's menu as well. He feels his duck salad is tricky, his entre garnish is too phallic, and even his pear dessert is undercooked.
Next Chef Ramsay inspects each completed restaurant. Paula's restaurant Sun-ergy is has warm colors and candles to bring out the feeling of sunshine and warmth. Danny's restaurant, the Velvet Hammer, has dark floors, long velvet booths, and mounted fish. While both restaurants are completely different from each other, Chef Ramsay feels both were well done and suits the finalists tastes.
Finally the moment arrives, Chef Ramsay opens the doors of Hells Kitchen for the final time this season, and orders quickly start coming in. It's Paula vs Danny. Right away Danny's team shouts "Yes Chef" as his first ticket comes in, but Paula brigade has no response to her first ticket.
When first orders come in, Chef Ramsay is not impressed with both kitchens. Paula's appetizer salad has a burned scallop, which Lacey is trying to hide by turning it upside down. In the blue kitchen, Carol has overcooked the lobster into rubber. Chef Ramsay pulls both Paula and Danny aside and tell them that they need to "run their kitchens." At this point, it's neck and neck.
As dinner service continues, both Paula and Danny find their grove, getting out appetizers and entrances to very satisfied customers. Though Giovanni does ruin the monk fish sauce, Danny is able to recover on the fly. When Lacey has a meltdown on garnish, the entire team, including Paula, join in to help her. In the end, both kitchens do very well, serve all their customers, and finish at nearly the same time.
As dinner service winds down, Paula and Danny each get a compliment from their families, who feel it went very well. Chef Ramsay gathers the chefs together and thanks the returning chefs for their hard work. He says it will be a very difficult decision and must study the comment cards. Danny and Paula are sent to the dorms to wait anxiously.
Chef weighs the pros and cons of each chefs before calling Danny and Paula to his office. He congratulates them both and has then each stand in front of a door, hand on the door handle. The door that opens will reveal the winning chef to throngs of waiting fans in the dining room, including the returning chefs, their families and previous Hell's Kitchen winners.
Chef Ramsay counts down from three...two...one and the final 2 chefs open their doors to reveal the winner of Hells Kitchen. And the winner is.... Danny. To big celebration, all celebrate the fifth person to win Hells Kitchen. Chef Ramsay felt that Danny developed as a chef more than anyone he had ever seen in the history of Hells Kitchen.
Danny will win a head chef position at Borgata Hotel and Spa, as well as a quarter million dollars. His photo joins other winners on the wall of fame.