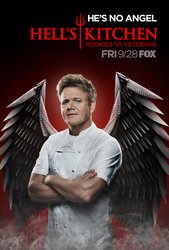 TV Info
---
Episode Premiere
May 07, 2009

Distributor
FOX

Genre
Reality

Show Period
2005 - now

Production Company
Upper Ground Enterprises, A. Smith & Co., Granada


Synopsis
---
After announcing that Paula and Danny are the final two, screens drop from the ceiling and chef Ramsay splits Hell's Kitchen in two. One half will be Paula's side and the other half will be Danny's. Chef Ramsay announces that they will be working with Hell's Kitchen architect and designer, John Janavs to design their restaurants, and Sous Chefs Scott and Gloria to come up with a great menu. Chef Ramsay dismisses Danny and Paula to the dorms and reminds them they have a lot of work to do.
Back in the dorms, Danny and Paula decide to celebrate and end up finishing a couple of bottles of champagne instead of working on the restaurants and menus. The next morning comes, and Paula is confident she will be fine, despite not working the previous night. Danny is not confident at all, upset with himself for partying all night long.
Danny meets with the designer, John Janavs, about his restaurant design. He wants a long bench against the wall. John suggest something more dimensional. Despite not truly understanding what John is saying, Danny goes along with it. Danny also wants mounted fish on the walls while John feels that the restaurant will become "Bob's Bait shack".
When Paula meets with John, she goes for a warm feel for her restaurant wanting candles on the wall, and simpler design.
Next, Danny and Paula meet with Scott and Gloria, respectively to go over their menus. Paula is keeping her menu simple, keeping her staff in mind, while Danny plans to do more original dishes like Caribbean Jerk Lobster.
Chef Ramsay comes into the kitchen and informs Danny and Paula that they will be once again returning to Borgata in Atlantic City. However, they will not be leaving their restaurants alone. Danny and Paula are worried about who they will be overseeing their visions come to life, but are pleased when Chef Ramsay brings in Paula's mother and sister to help with her restaurant, and Danny's Father and Girlfriend to help with his.
Danny and Paula take off in a private jet back to Borgata while their loved ones continue the construction back at Hell's Kitchen. John tells Paula's mother and sister that, due to fire codes, they will not be able to put candles on the walls, and they decide on fake candles instead. Over on the other side of the restaurant, Danny's girlfriends, Devon is overbearing with her suggestions. John explains his idea for Danny's bench seat, but Devon doesn't think Danny wants that at all.
After arriving at Borgata, Danny and Paula settle into their plush suite. Chef Ramsay arranges for them to have a video conference call with their families to check on the progress that has been done while they are at Borgata. Devon tells Danny about the bench seat, and Danny thinks John is doing something he doesn't by not having the bench seat against the wall. Paula speaks with her mother and sister, who ask for clarification on some of her ideas.
The next morning comes, and Danny and Paula head off to a meeting at Borgata, but instead walk into a room of 500 Borgata employees cheering. Chef Ramsay introduces the shocked Danny and Paula to the person one of them will call boss, the Creative Operations Officer, Larry Mullin. Larry looks at their new menus and chooses three dishes for them to cook. As their final challenge, Danny and Paula must cook the three dishes selected by Larry to be judged.
After changing into their new executive chef's jackets, Danny and Paula cook their three dishes in 45 minutes. They return to the stage where the first appetizers are judged by Chef Michael Schulson. Paula's Warm Wild Mushroom Salad takes the first round over Danny's less than appealing Caribbean Jerk Lobster Tail.
The second round, judged by Chef Jeffrey Zacharian, goes to Danny and the score is tied. Chef Ramsay reintroduces Borgata COO, Larry Mullin to the stage to choose the winner of the last round and final challenge. Between Danny's fillet of beef and Paula's Blacked Sea Bass, Danny's dish proves superior, and Danny wins.
The Finalists return to Hell's Kitchen where they are updated by their loved ones. Paula is happy with the progress of her restaurant, while Danny is still concerned about the progress of his, and puts his foot down that he wants the bench seat against the wall. After saying good bye to their loved ones, Danny and Paula go to sleep for their last night in Hell's Kitchen.
Danny and Paula wake with drive and determination and head down to the restaurants. There, they find Chef Ramsay, Scott and Gloria waiting behind a table of six domes. Chef Ramsay announces they have another challenge ahead of them. He lifts the domes and reveals the heads of Lacey, Carol, LA, Ben, Giovanni and Andrea. The finalists are shocked, and a little worried to see that Lacey has returned.
Danny and Paula must now choose from these six returning chefs to become their brigades in the final dinner service. Since Danny won the final challenge, he gets the first choice and goes with Ben. Paula then selects her friend, Andrea. Danny chooses Giovanni, who is not thrilled to be there. Next, Paula chooses LA, which is shocking to Carol who believes she should have picked over her and Giovanni. Danny's final choice is Carol, leaving Paula with Lacey. Paula is worried that Lacey will be bad for her final dinner service, and Danny is confident in his team. All of the chefs return to the dorm, ready to take on the biggest dinner service in Danny and Paula's lives.