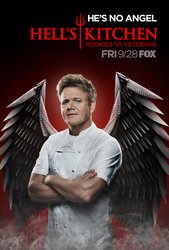 TV Info
---
Episode Premiere
April 23, 2009

Distributor
FOX

Genre
Reality

Show Period
2005 - now

Production Company
Upper Ground Enterprises, A. Smith & Co., Granada


Synopsis
---
Chef Ramsay chides Ben on taking personal responsibility, after he narrowly escapes elimination. Back in the dorms, both Ben and Andrea reflect on their arduous stays in Hell's Kitchen, while finding a new sense of resolve and determination to prevail.
The next morning, Chef Ramsay greets the aspiring chefs with a presentation, as he invites them to try 3 dishes that are served in Chef Ramsay's restaurants. After the aspiring chefs marvel about how tasty the dishes are, Chef Ramsay instructs them each to recreate the fish stew on their own.
Presented with a plethora of ingredients, it was up to the aspiring chefs to accurately identify those that were used in Chef Ramsay's stew. Andrea, who used Bay Scallops rather than the larger sea scallops, precluded herself from winning the competition. Ben, the only contestant to accurately identify the use of Pernod in the dish, was eliminated by using far too much saffron in his version. The contest came down to Danny and Paula, as Chef Ramsay asserts that both dishes taste nearly identical to his. Nevertheless, it was Paula's use of water rather than fish stock, which gave Danny the ultimate victory.
Danny and Chef Ramsay are whisked away on a limo while Paula, Ben, and Andrea are left to clean Hell's Kitchen's dining room and bar areas. Chef Ramsay gives Danny words of encouragement on his cooking career as they travel to their destination. When they arrive, they are each taken in an open-cockpit World War I Biplane, and given an aerial tour of the Southern California coastline. Despite Chef Ramsay's jitters, the two of them had an afternoon of fun and excitement, while those who remained in Hell's Kitchen were left to endure Andrea's incessant complaining due to stress and fatigue. While the others view Andrea's apparent breakdown as an added advantage, Andrea fights to not let this be her downfall.
Just before dinner service, Chef Ramsay sends the aspiring chefs back to their dorms for a surprise. Waiting for each of them is a set of Gordan Ramsay's signature line of Royal Dalton cookware. Chef Ramsay tells the final four chefs that he is wiping the slate clean, and forgetting about any of their past blunders. This angers some and excites others.
Dinner service gets off to the best start yet, as Ben and Paula excel on their stations. Diners are enjoying their appetizers and the aspiring chefs are feeling encouraged. Then, Ben gets scolded when he starts cooking pasta before the order is called. Nevertheless, the kitchen continues to get out perfectly cooked food and everyone is pleased, until Ben sends a risotto that is bland and unseasoned. Paula comes into the line of fire when she lags on the meat station, and is told that she's the "slowest" in the kitchen. Ben receives a further scolding when he adds croutons and almost adds tuna to a plain salad and Danny is also faulted for falling behind on the garnish station. Andrea continues to perform well, and helps the kitchen rebound but Ben's failure to heed Chef Ramsay's instruction, puts him in hot water.
Meanwhile, out in the dinning room one of the customers used the occasion of dining at Hell's Kitchen to propose to his girlfriend. Back in the kitchen, Andrea burns a beef wellington and miscounts the number of wellingtons in the following order to bring her near-flawless service to a crashing halt.
After dinner service, Chef Ramsay explains that they were so close to performing well, until it all went downhill at the end of dinner service. Chef Ramsay tells the final four aspiring chefs to return to the dorms and come up with one contestant to leave Hell's Kitchen.
Back in the dorms, Andrea and Ben both point the finger at one another. After going round and round, Danny sides with Ben, claiming Andrea is the inferior chef, while Paula takes Andrea's side against Ben. In the end, they are forced to return to Chef Ramsay without having made a consensus on one nominee.
Ben and Andrea are both told to step forward in during the elimination. With each one giving a plea in their own defense, Chef Ramsay sends Ben out of Hell's Kitchen. As Ben exits Hell's Kitchen, he is told by Chef Ramsay to maintain his enormous amount of energy, as it will help him in his future as a chef.
Chef Ramsay then addresses the final three, and tells the "best of the best" that his decisions will be particularly difficult from here on out. He then presents the chefs with one last surprise...