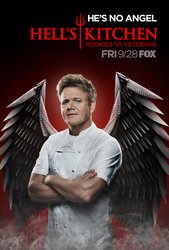 TV Info
---
Episode Premiere
April 16, 2009

Distributor
FOX

Genre
Reality

Show Period
2005 - now

Production Company
Upper Ground Enterprises, A. Smith & Co., Granada


Synopsis
---
Chef Ramsay shuts down Hell's Kitchen... to send all the chefs to Atlantic City to visit Borgata, the prize for which they are all fighting. The chefs are very excited and go up to the dorm to get ready for their trip.
The chefs are flown to Atlantic City on Borgata's private jet. When they reach Borgata, the chefs are given a tour of the facility and are taken to see the space in which they could have their restaurant should they win the competition. In addition, they are all treated like royalty with a trip to the spa, fun in the pool, ending their day by sharing a special dinner with the two heads of cuisine at the hotel.
During dinner, Robert excuses himself feeling chest pains and is rushed to the hospital. The chefs are forced to return to Hell's Kitchen without Robert, all the while wondering if he will be alright.
Back in Hell's Kitchen, Chef Ramsay welcomes the returning chefs and acknowledges Robert's absence by producing Robert himself. The chefs are excited to see Robert only to learn that Robert is dropping out of the competition due to medial concerns. In a tearful goodbye, Robert hands over his jacket and leaves Hell's Kitchen.
But, the competition must continue and the chefs rush into the kitchen to create their signature dish for their restaurant at Borgata. The chefs face off in an individual taste test for a chance to be safe from the next elimination. Chef Ramsay is very impressed with the dishes, but in the end, Andrea wins the challenge.
At the start of service, everything seems to be going well for the final four, until the first dish comes back with undercooked scallops. Despite being safe from elimination, Andrea struggles on the grill and can't seem to cook a scallop properly.
Chef Ramsay's attention soon turns to Ben who not only can't remember what is on order but also brings up cold carrot puree.
Paula, too, comes under fire for adjusting the timing for her meats to cover for Andrea's struggles on the fish station. However, once brought to the pass, Paula's meat proves to be perfectly cooked as usual.
As the evening continues, Ben still can't remember what is on order and comes under fire for cooking his garnish improperly. Chef Ramsay has had enough and sends Ben out of the kitchen. Ben tries to pull himself together and returns to his station eager to prove himself.
Andrea's night goes from bad to worse as she continues to have a hard time on the fish station. A salmon order is returned from the dining room completely raw. Chef Ramsay yells for Andrea to speed up and stop relying on being safe from elimination.
Ben and Paula prove that they are working well together and Ben has refocused himself. However, Andrea keeps sinking on the fish station until Chef Ramsay is forced to have others from the kitchen help to keep her from going under. Chef Ramsay reminds Andrea how lucky she is to be safe but Andrea feels anything but safe after her performance.
The chefs complete dinner service and are sent back to the dorm to pick two people to put up for elimination. Faced with Andrea being safe from elimination, the final four deduce that Andrea must decide who will go up on the chopping block.
At elimination, Andrea puts Ben and Paula on the chopping block. Chef Ramsay sends Paula back safe and calls for Andrea to step forward. He berates her performance but honors his word and sends her back safe. It looks as if Ben will be going home, but Chef gives him one more chance stating that he wouldn't feel right sending Ben home knowing someone who performed worse remained.