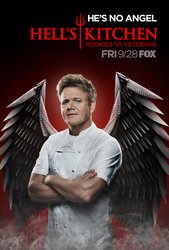 TV Info
---
Episode Premiere
April 09, 2009

Distributor
FOX

Genre
Reality

Show Period
2005 - now

Production Company
Upper Ground Enterprises, A. Smith & Co., Granada


Synopsis
---
Ben is both shocked and relieved that he escaped elimination. Robert, also escaping elimination, makes it clear that he won't go out without a fight. Robert thinks there is no room for friends here, and will step over anyone who stands in his way to the top.
The next day, Chef Ramsay asks the remaining six chefs to name the weakest chef on their team. Andrea and Ben step forward and are asked to take off their jackets, but not for the reason they think. Chef Ramsay merges the remaining six chefs into one team, and gives them all their new black chef jackets. Andrea and Ben are thankful they are not going home, and the new black team takes a moment to celebrate their achievement as the final six.
Back in the dining area, Chef Ramsay announces the chefs will compete in their first individual challenge, with the winner accompanying him on a culinary tour of San Francisco. The chefs are given the same 14 ingredients to create something unique, using every one of the ingredients. Chef Ramsay narrows the best two dishes down to Danny and Ben, but it is Ben's Stuffed Chicken Thigh that is chosen as the winning dish. Chef Ramsay tells Ben he can bring one of his teammates to San Francisco, and Ben quickly chose Robert. Chef Ramsay tells the remaining chefs that they will spend the day unloading deliveries and prepping for dinner service.
Ben's decision to bring Robert on the reward pissed off Danny, the runner up in the challenge. Robert feels a little guilty for being chosen over of Danny, while Ben feels no remorse for his decision, and leaves with Robert and Chef Ramsay for San Francisco.
During the punishment, Giovanni's whining and laziness pisses off Danny, Paula and Andrea, who have to pick up his slack.
The chefs head into their first dinner service as one team, serving the entire dining room from just one kitchen. Chef Ramsay tells the chefs to prove to him that they deserve to be his final six, and with that, it's time for Jean-Philippe to open Hell's Kitchen.
The tenth dinner service begins, and the chefs know they need to make it count. Giovanni knows only the strong will survive, and hopes he is one of the strong. However, the black team does not start off strong, thanks to rubbery scallops from Robert, and Andrea's lack of concentration on the garnish station. Luckily, Paula pleases Chef Ramsay with her appetizers, and the team moves onto entrees.
Giovanni puts up the first entree order - Ben's winning Stuffed Chicken Thigh - but is attacked by Chef Ramsay because the chicken is bloody. An hour and a half in and Chef Ramsay is losing patience with the new Black team because they can't work together.
Andrea gets completely lost and is attacked by Chef Ramsay when she fails to respond to Chef. The stress becomes too much for Andrea, and she walks out of the kitchen. Jean-Philippe stops Andrea and helps her find the strength to return to the kitchen.
Robert slips up on the fish station by cooking with bacon, neglecting to consider whether any diners are allergic to it. On the meat station, Giovanni continues to serve dishes that are not to Chef's standards, sparking a heated argument between Giovanni and Chef Ramsay. But Giovanni talks back, and Chef Ramsay threatens to kick him out of the kitchen.
Chef Ramsay has Ben step in to help out Giovanni. Unfortunately for the final six, dinner service never gets back on track, and culminates with Robert badly burning his hand, thanks to Giovanni's carelessness in the kitchen.
Afterwards, Chef Ramsay describes the dinner service as a nightmare, and delivers scolding remarks to both Andrea and Giovanni. Chef announces that the only solid performer was Paula, and tells her to go back and nominate two people.
In the dorms, Paula steps out of her shell and scolds her team for their lack of communication and follow-through, especially Giovanni and Andrea.
Back in the dining room, Paula nominates Giovanni and Andrea. Chef Ramsay adds another nominee to the chopping block, and calls out Robert. After careful consideration, Chef makes his choice, and asks Giovanni to leave Hell's Kitchen.
Chef Ramsay wants the remaining five chefs to think hard about their weaknesses and how they can improve, and sends them to the dorms.
With the chefs ready for bed, Chef Ramsay surprisingly calls everyone back to the dining room. Lamenting on what was such a terrible dinner service, Chef Ramsay shocks everyone when he announces that he is shutting down Hell's Kitchen.