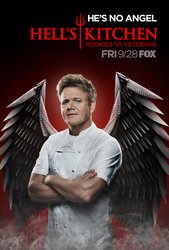 TV Info
---
Episode Premiere
March 26, 2009

Distributor
FOX

Genre
Reality

Show Period
2005 - now

Production Company
Upper Ground Enterprises, A. Smith & Co., Granada


Cast and Crew
---
Main Cast
Additional Cast
Synopsis
---
As the teams head back to the dorms, Carol and Giovanni stay back to discuss their team chemistry. Carol voices her dislike for Andrea, while Giovanni tries to keep her morale high. Meanwhile, on the balcony, Lacey is chastised about her inadequacies in the kitchen by her teammates, both new and old.
The next morning, Chef Ramsay greets the contestants with a demonstration in the kitchen. After exhibiting the steps taken to prepare both a steak and scallop tartar, Chef Ramsay passes around a finished product of each for the chefs to sample. After remarking about how "wonderful" the steak is, and that they were "the best scallops ever," the aspiring chefs were stunned to find out that they had been duped. Chef Ramsay reveals that steak was replaced by tuna in the steak tartar, and that the scallop tartar was actually prepared with sea bass. He urges the importance of chefs having an accurate palate, upon which Chef Ramsay introduces the Blind Taste Test.
LA volunteers to sit out of the challenge in order to even up the teams, and her self confidence is questioned. Ben and Andrea are the first to compete in the head-to-head competition, as they each attempt to identify four different foods, while blindfolded. Ben is able to correctly name fried egg white, beets, and romaine lettuce, while Andrea fails to identify the lettuce. Ben and Giovanni follow, though neither are able to identify any of the four foods correctly. Upon Giovanni's poor performance, LA begins to regret her decision to sit out. Carol names mushroom, calves liver, and sweet potato correctly, while Lacey can only identify sweet potato, bringing the score to 5-4 for the red team. Danny and Paula are the final pair to compete, and Chef Ramsay announces that he will change the rules for this final round. Each contestant will taste an entire prepared dish, and receive one point for each correct ingredient they can identify in the dish. They each have 10 guesses to get as many correct ingredients that they can. Each contestant is blindfolded, and given samples of Chef Ramsay's minestrone soup. Danny names three ingredients correctly when he identifies chicken stalk, carrots, and celery, although Paula secures the victory for the red team when she names beans, bacon, celery and keeps the red team ahead by one.
In the dining room, the winning team participates in a photo shoot for TV guide, for a cover story in which they'll be featured. While the red team goes through hair, makeup, and wardrobe changes, the blue team must prepare a catered lunch for Chef Ramsay and the red team to enjoy at the event. They are also instructed to prep both kitchens for a dinner service the very same night.
Hell's Kitchen opens for dinner service and with celebrities Eric McCormack and Robert Patrick in attendance, there seems to be even more pressure than usual to prepare the dishes correctly. The first appetizer is served by Paula, and she is scolded for trying to serve a salty, inedible risotto, which angers Chef Ramsay in light of him stressing the importance of tasting throughout the day. In the blue kitchen, Robert is scolded for serving portions of pasta that are too large. Ben sees Robert struggling and tries to take over his station, which angers Robert. Nevertheless, they are able to serve the appetizers. Paula then serves another risotto, and she is told that it is close to perfect. Chef Ramsay wonders how she can go from serving something so terrible, to something so wonderful.
45 minutes into dinner service and both dining rooms seem to be enjoying their appetizers. Meanwhile, Carol struggles to serve her first entrees, as her oven is not set at the correct temperature. While Carol tries to recover on the meat station, Lacey is having her own problems on the meat station for the blue kitchen. In a cloud of confusion, Lacey tries to get out Eric McCormick's wellington, and can't seem to pull it together. With pans going up in flames and her hands thrown in the air, Lacey exclaims, "I can't cook meat, chef," upon which she is thrown out of the kitchen by Chef Ramsay.
After convincing Chef Ramsay that she will make an effort in the kitchen, Chef Ramsay allows her to rejoin her team. In the Red kitchen, Carol continues to struggle with beef wellingtons. Her failure to communicate with the others lands Andrea in hot water with Chef Ramsay, as her John Dory is sent up overcooked. Nevertheless, Carol refuses to take the blame. Lacey continues to falter on the meat station, and after serving a lamb that is unacceptable, Chef Ramsay throws Lacey out of the kitchen for a second time. Chef Ramsay leaves his station at the pass in order to retrieve Lacey's jacket and insists that she depart from Hell's Kitchen. With Lacey no longer causing problems in the kitchen, the Blue team was able to recover, and start serving entrees, including Eric McCormick's.
In the Red kitchen, a lamb came back which Carol had undercooked. She then takes too long to cook a wellington, thereby causing LA's garnish to be cold. Carol's teammates question why she has been unable to perform; meanwhile, LA receives the criticism from the chef. The Blue team makes a strong push to the finish line, as Carol continues to struggle on the Red team, not able to find the chicken that Chef Ramsay calls for. The 3 member Blue team is able to complete dinner service while the Red team, with 5 members, continues to struggle. Chef Ramsay then shuts the Red kitchen down before they are able to feed all their customers.
Chef Ramsay praises the Blue team for their teamwork, and declares that the Red team was losers by a long shot. He then instructs the Red team to decide on two nominees for elimination. While everyone (including Carol) agreed that Carol was the worst on dinner service, they had conflicting ideas about who the second nominee should be. LA and Carol thought that Andrea should be the second nominee, while the others all thought that LA was the second weakest chef. Chef Ramsay was upset that they were unable to reach a consensus, and insisted that all three (LA, Carol and Andrea) step forward for elimination.
With each of the three taking the opportunity to defend themselves to Chef Ramsay, he decides that LA will be the one who leaves. Chef Ramsay states that LA worked hard, though she lacked creativity and leadership in the kitchen.