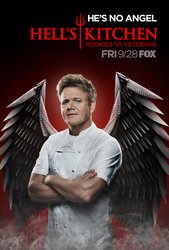 TV Info
---
Episode Premiere
February 19, 2009

Distributor
FOX

Genre
Reality

Show Period
2005 - now

Production Company
Upper Ground Enterprises, A. Smith & Co., Granada


Synopsis
---
Andrea and the red team return to the dorms furious that Lacey survived another day. The red team, led by Andrea and Coi, threaten Lacey that she had better prove herself.
After only a few hours sleep, the chefs are jarred awake with banging cow bells and are transported to a meat packing plant where Chef Scott teaches them about meat processing and where cuts of meat come from on a cow.
Upon return to Hell's Kitchen, Chef Ramsay waits with two cows. Their challenge: one team member at a time, they must correctly place name tags on eight different cuts of beef and then place those name tags where they belong on the cow. First team to get them all right wins.
After Ben and Andrea start strong, Giovanni, the steakhouse chef, and Paula both correctly identify all the cuts. It's neck and neck as the teams begin to place the cuts on their respective cows. Seth and Lacey both have miserable turns. In the end, Ben wins the challenge for the men.
The Blue Team gets on a private plane to Santa Ynez for wine tasting and a steak dinner. Robert enjoys his first reward out with Chef Ramsay. The women must carry in a delivery of 2000 pounds of beef, which they must butcher. For a meal break, the Red Team gets a tray of gross cow parts, which brings on a barrage of gagging and vomiting. Andrea suffers the worst and demands that her team get their act together.
The next morning, Chef Ramsay announces Hell's Kitchen will become a steakhouse for dinner service that night... AND... it will be a double seating. Each team will get two hours to serve as many diners as they can. The men are very confident in their success with Giovanni, the steak house chef, working the grill.
For the first service, the Blue Team cooks while the Red Team waits tables. Before the doors open, Robert dedicates the service to his fiancee whom he was supposed to be marrying that day.
As service starts, Charlie, in addition to setting his cloth on fire, slows down the kitchen as he struggles to cook shrimp.
Before the first appetizer goes out, Ben brings Chef Ramsay some brownie desserts, leaving the Chef and his team totally baffled.
When it comes to entrees it's Giovanni's time to shine. However, several steaks come back to the kitchen making Chef Ramsay irate and thankful that he's never been to Giovanni's steak house. At the same time, out in the restaurant, Lacey can't get her act together to the dismay of her customers, Jean Phillipe and Chef Ramsay.
Late into service, Chef orders Seth to cut some more filets since they are running out. Seth ruins the filet and tries to hide the remains, which Chef Ramsay promptly finds and tosses at Seth in disgust.
In the end, time runs out on the Blue Team and Chef Ramsay shuts down the kitchen before they are able to push out all their food.
At the beginning of the second service, the ladies start slowly: thanks to Colleen's inability to make a simple Caesar salad. Chef Ramsay asks her to repeat what's on order, and she can't remember.
Charlie's struggles continue in the dining room. In addition to forgetting if he's taken an order from a table, he spills bacon bits all over one of his customers.
Once the Red Team begins serving entrees, Andrea runs the grill brilliantly. The women come very close to finishing service, but Carol comes up short on steak. Chef Ramsay calls time leaving the women frustrated with an incomplete service.
During evaluation, Charlie and Lacey learn they were rated the worst servers. As a team, the women are victorious having served two more tables than the men who have to go back to the dorm and pick two people for elimination.
In the dorm, Ben promptly puts Charlie and Seth up for elimination. Charlie nominates Giovanni for failing them on the grill. Seth nominates his biggest threat, Giovanni. Giovanni is outraged wanting decisions to be based on performance.
At elimination, Seth and Charlie face the music. After an overly long plea from Seth, Chef Ramsay hands Charlie his walking papers, with the reasoning that Charlie was a good prep chef but Chef Ramsay is looking for a head chef.