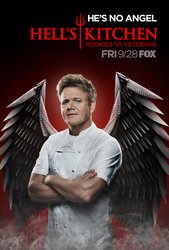 TV Info
---
Episode Premiere
May 30, 2013

Distributor
FOX

Genre
Reality

Show Period
2005 - now

Production Company
Upper Ground Enterprises, A. Smith & Co., Granada


Synopsis
---
After another intense elimination, the contestants go back to work the next day focused on the fact that black jackets will be handed out soon. Chef Ramsay calls them to the kitchen and explains that they must rely on their senses to be successful in the kitchen. He asks for two volunteers.
Chef Ramsay chooses Cyndi and Anthony, who must reach into a hole in a box and try to guess what's inside. They both correctly identify the first two items as eggs and polenta. Anthony wins the game for the Blue Team when he realizes that the third bowl is filled with oysters, which Cyndi cannot identify.
Unfortunately for Anthony, this was not a real challenge. With that, Chef Ramsay announces the Eleventh Annual Blind Taste Test. Since the men's team has only three members, Zach will go twice.
With their blindfolds on, Mary and Zach go head-to-head first. Zach takes an early lead by identifying scallions and turkey when Mary cannot. Although neither contestant can recognize papaya, they both earn a point for the zucchini. The Blue Team leads, three to one.
Next up are Anthony and Ja'Nel. She ties the score for the women by identifying broccoli and pistachio. Neither chef recognizes halibut. And the Red Team takes the lead when Ja'Nel recognizes the taste of prunes and Anthony does not.
Cyndi hopes to extend the lead against Jon. Both chefs recognize cheddar, but the men tie the score when Jon is the only one to successfully identify the flavor of duck. Cyndi pulls ahead when she pinpoints parsnips, and neither competitor recognizes the flavor of Brussels sprouts.
In the final round, it's up to Zach and Susan to win the game. Neither knows the taste of white asparagus. Zach is able to identify egg whites, but Susan is not. They both believe the garbanzo beans are peas. With the teams tied at six, it all comes down to cauliflower. Susan is correct, and Zach is not. The women are once again victorious.
For their prize, the Red Team is treated to lunch at the internationally renowned Nobu and a horseback ride in the Santa Monica Mountains. In the meantime, the men are left behind to receive delivery of the Hell's Kitchen supplies.
The next morning, Chef Ramsay calls everyone to the kitchen and tells them he will soon be awarding black jackets. In an effort to gather more information, he is giving them an individual challenge even though they are still in teams. Whoever prepares the best dish will be safe at the next elimination.
Even though she was hoping to redeem her early failure after serving Chef Ramsay raw lamb, Susan struggles to get food on a plate. She just makes it, and after 45 minutes the contestants all make their presentations to Chef Ramsay.
First up is Ja'Nel, who nervously serves a pan-seared duck breast. Chef Ramsay commends her cooking and tells her to sit in the winner's chair. Neither Anthony's overcooked rib eye nor Susan's underdone lamb are good enough to dethrone Ja'Nel.
Chef Ramsay tastes Jon's mahi-mahi next. It is good enough to nudge Ja'Nel out of the top spot. Although Mary has pan-seared a filet beautifully, her sauce is too heavy, so Jon remains on top. Zach also falls short of the mark with his twist on surf-and-turf.
After tasting Cyndi's perfectly cooked halibut, Chef Ramsay admits that it's a difficult choice between her dish and Jon's. But viewers will have to wait to see who comes out ahead when the challenge continues in Part 2 of this episode.