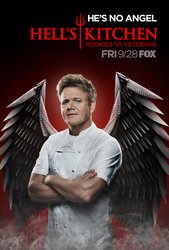 TV Info
---
Episode Premiere
July 25, 2013

Distributor
FOX

Genre
Reality

Show Period
2005 - now

Production Company
Upper Ground Enterprises, A. Smith & Co., Granada


Synopsis
---
After sending Cyndi home and putting Mary through to the finale, Chef Ramsay decides that Ja'Nel will compete for the grand prize. Calling Jon his "lone shining star" from the Blue Kitchen, Gordon asks him to stay in touch and lets him keep his jacket as he leaves Hell's Kitchen.
But the final two don't have much time to bask in the glory of the moment because they must pack their bags and get ready to board a private jet to Las Vegas. The women learn that for their final dinner service, they must prepare four stunning appetizers, four entr?es and two beautiful desserts.
When they arrive in Vegas, they meet their own personal concierge, who escorts them to their suite. They get right down to work putting their recipe ideas down on paper.
With less than 36 hours until the final dinner service, Mary and Ja'Nel get a visit from their sous chefs. Andi, who will work with Mary, and James, who is teamed with Ja'Nel, give them advice on their menu strengths and weaknesses.
Before they leave the city, they meet with Caesars Palace President Gary Selesner and last season's winner, Christina. She gives the two contestants valuable insight into how to tackle their last dinner service.
The competitors' return to Hell's Kitchen is brief, and then they are whisked off to Union Station in downtown Los Angeles. But rather than hopping a train, the contestants get a surprise visit from their families and discover that their next challenge will take place there - in front of a live audience.
As the clock begins to count down, Mary and Ja'Nel head off to the kitchen, where they have one hour to prepare five dishes. For their final challenge, they must each create one cold and one hot appetizer. They also have to cook three entr?es that feature fish, chicken and beef.
With the cooking complete, they meet Chef Sang Yoon, who critiques the cold apps. He calls Ja'Nel's deconstructed BLT beautiful. He says that Mary's ahi tuna tartare has a nice texture, but he thinks the sesame oil weighs the dish down. He gives the point to Ja'Nel.
Next up is Chef Homaru Cantu, who judges the hot apps. He prefers Mary's sweet potato gnocchi to Ja'Nel's mussels. And with that, the score is tied, one to one.
When Chef David Lefevre tastes the first entr?e, he chooses Ja'Nel's rainbow trout over Mary's Chilean sea bass. Ja'Nel takes the lead again. But Chef Douglas Keane gives Mary's seared chicken the point over Ja'Nel's oven-roasted breast.
With the score tied at two to two, Jeffrey Frederick from Caesars Entertainment declares that Ja'Nel's beef cheeks are better than Mary's New York strip. Having been awarded the final point, Ja'Nel wins the challenge and gets the advantage of choosing the first teammate for her brigade.
The two finalists are reunited with the former Hell's Kitchen contestants in front of the live audience. Ja'Nel picks Cyndi, Susan, Zach, Amanda and Ray. Mary selects Jon, Anthony, Nedra and Mike. She also ends up with Dan on her team, even though she had hoped to avoid working with him.
The competitors then receive letters from Chef Ramsay and discover that they can trade one member of each of their teams. In the end, Ja'Nel decides not to make a swap despite Mary's pleas to get rid of Dan. But after a night of strategizing with their groups, Ja'Nel decides to reconsider switching teammates. The outcome is revealed in the second half of the season finale of Hell's Kitchen.
It is the eve of the last dinner service in Hell's Kitchen, and a group of former contestants has been brought in to assist finalists Ja'Nel and Mary in the season conclusion. Although Ja'Nel briefly considers making a team member trade with Mary, she decides to keep her group intact.
The next morning, Mary, Ja'Nel and their brigades are focused on prepping their menus and getting sample dishes ready for Chef Ramsay's input and approval. The ever-confident Zach says he and Ray are the secret weapons that are going to take Ja'Nel to victory - but Susan is concerned that they're bad apples who are going to spoil the whole bunch. In the Red Kitchen, Mary worries that Dan's questionable attitude and skill level are going to slow down her team.
With 15 minutes remaining until Chef Ramsay arrives, Mary and Ja'Nel push their teams to complete their dishes. Although Dan isn't exactly being cooperative, Mary decides to keep forging ahead but will keep an eye on him at dinner service.
When Ja'Nel presents her menu to Chef Ramsay, she explains that she's taken a few Southern dishes with classic flavors and added some elements to elevate them a bit. He praises her BLT salad, roasted veal cheeks and oven-roasted chicken. He also compliments Mary on her sweet potato gnocchi, Chilean sea bass and short rib tortellini.
Before the guests arrive, Chef Ramsay gathers the entire group for a pep talk. He tells them there will be two VIP tables for the first time in a Hell's Kitchen finale. Ja'Nel will be serving actor Anthony Anderson, and Mary will welcome both actress Kat Graham and skateboard legend Tony Hawk.
As the doors to the restaurant open, Mary and Ja'Nel prepare for their final head-to-head battle. In the Blue Kitchen, Ja'Nel gets her team up and running with some extra support from Cyndi. Over on Mary's side, she's counting on Jon on fish and Nedra on appetizers to get off to a strong start.
On the Red Team, Mary is disturbed that Nedra doesn't taste her salad and is slow and noncommunicative. The head chef even goes as far as threatening to throw Nedra out of the kitchen.
Meanwhile, in the Blue Kitchen, Ray slows down the team when he fails to deliver a salad to Ja'Nel's standards. But despite waiting for their food, the diners are pleased with the final outcome.
After a bit of a slipup on scallops, the Red Kitchen moves on to entr?es. Mary's team kicks into high gear to push plates out to her guests, but Dan has to refire his cold and undercooked meat. After multiple attempts to get him on track, Mary finally throws him out of the kitchen.
Hoping that Nedra will quickly rectify the problem on the meat station, Mary sends the completed dishes from that table's order out to the hungry diners. But Nedra soon discovers that Dan has now overcooked almost all of the steaks. She finally finds a perfectly prepared piece and completes the ticket.
In the meantime, the Blue Kitchen has completely fallen apart over a lack of communication, but Ja'Nel manages to take control and rally back.
With dinner service complete, Chef Ramsay must make a difficult decision. In his office, he tells them Mary and Ja'Nel to step up to a set of doors. The contestant whose door opens will win the Hell's Kitchen competition to become the Head Chef at Gordon Ramsay Pub & Grill at Caesars Palace in Las Vegas, along with a salary of $250,000.
In the end, Ja'Nel emerges to a waiting crowd of friends, family and former competitors to celebrate her victory.