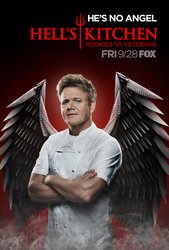 TV Info
---
Episode Premiere
September 04, 2012

Distributor
FOX

Genre
Reality

Show Period
2005 - now

Production Company
Upper Ground Enterprises, A. Smith & Co., Granada


Synopsis
---
The latest installment begins mid-elimination. Chef Ramsay has just let Barbie go, but while Dana, Christina and Justin remain in the competition, only two of them can continue to the finals. Chef Ramsay tells Christina she's made the cut but asks Dana to take off her chef's jacket and leave Hell's Kitchen for good.
With 48 hours left in the competition, Chef Ramsay tells Christina and Justin to spend the night thinking of a winning menu. They must each come up with four appetizers, four entrees and three desserts. With the biggest dinner service of their lives ahead of them, they get straight to work.
After a late night of preparation, both chefs are up early and eager to get into the kitchen. But Chef Ramsay has other plans for them. He calls them down to his office, where he tells them they'll be meeting with their sous-chefs poolside in Las Vegas. After a private jet whisks them off to Sin City, they'll conduct their meetings there.
Christina reflects back on her journey up to this point, including getting past the Red Team's drama and putting her heart on each plate she served. Justin looks back on how he built his confidence and found his voice throughout the competition. Chef Ramsay gives them each a gift -- a new chef's jacket.
When they arrive at the Paris Las Vegas Hotel and Casino, the two contestants enjoy some pampering by the pool until their sous-chefs arrive. In their private cabanas, Justin and Christina switch gears from relaxation to preparation. Each team carefully calculates where to play it safe and where to take risks.
Once their menus are in order, Chef Ramsay has one more surprise for the finalists. He pulls a curtain back to reveal Justin's and Christina's families. Reinvigorated after a meal with loved ones, both groups head out to meet Gordon for VIP seating at the Penn & Teller show.
When the world-famous magicians start to entertain, Justin and Christina are hit with yet another shocker. Chef Ramsay takes over the spotlight and calls the final two competitors up to the stage to begin their next challenge.
Gordon explains the rules. He has assembled an esteemed panel to judge Justin and Christina on five stunning dishes. The competitors retreat to the kitchen, where they dive into their work. They must each put their own unique stamp on five types of items that might appear on the Gordon Ramsay Steak menu -- a salad, a seafood appetizer, a rib-eye, a filet and a fish entree for the new restaurant.
The two cooks could not approach the final challenge more differently. Christina decides to keep it simple and stick to the dishes that are close to her heart. Justin chooses to go with more elaborate flavor profiles.
The Penn & Teller crowd gets fired up watching the action in the kitchen unfold on big screens in the theater. Both contestants push hard. Christina focuses on creating a rich filet, while Justin believes his strongest dish will be the charred rib-eye.
With the cooking complete, Chef Ramsay welcomes Christina and Justin back to the main stage. It's now time for their steakhouse menus to go head to head.
Gordon calls out the renowned Chef Francois Payard to judge the salad round. Justin presents charred heirloom tomatoes with feta cheese, compressed watermelon and vinaigrette. Christina serves a grilled-asparagus-and-fried-egg salad and baby arugula with freshly shaved Pecorino. Chef Payard praises Justin's dish but finds that Christina's has too much vinegar. Justin scores the first point.
In round two, Chef Michel Richard samples the seafood appetizers. Christina describes the components of her coconut shrimp ceviche with cilantro and is nervous to discover that Chef Richard hates that particular herb. Luckily he finds it to be well-seasoned and calls her a great chef. He also dubs Justin's Ecuadorian-style ceviche sans cilantro delicious, and Justin is subsequently awarded the second point.
For the third course, Chef Julian Serrano steps forward to taste the fish entrees. Christina's pan-seared halibut with potato puree gets marks for good balance and flavor. Justin presents Dover sole meuniere with fingerling potatoes and wild asparagus, but his fish is a little overcooked. Christina stays in the race by earning her first point.
In the rib-eye round, Chef Stuart Gillies will be making the call. He'll also be overseeing the opening of the Gordon Ramsay Steak restaurant in Las Vegas. First he samples Christina's port-wine rib-eye, and then he tastes Justin's charred rib-eye with grits and onion rings. He awards the point to Christina, tying the score.
Finally, Justin and Christina present their filet to the legendary Chef Wolfgang Puck. Christina's pan-roasted filet with Gorgonzola mashed potatoes appeals to the judge more than Justin's charred filet mignon with butter-poached lobster. And with Wolfgang's vote, Christina wins the battle. While victory tastes sweet, she knows the real challenge still lies ahead -- the final dinner service in Hell's Kitchen.
With the competition complete, Christina and Justin are eager to head back to Los Angeles. But Chef Ramsay announces that first they must choose their brigade from among their former competitors. Christina picks Dana, Patrick, Kimmie and Robyn. Justin selects Barbie, Brian, Royce and Clemenza.
Upon returning to the dorms, the two teams get straight to work coordinating a plan for the final dinner service. Christina's group is nervous about her challenging menu. And when Justin implores Clemenza to focus, his teammate storms out, threatening that he's done. TO BE CONTINUED.