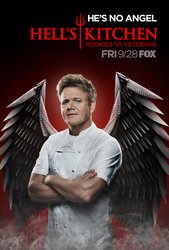 TV Info
---
Episode Premiere
August 20, 2012

Distributor
FOX

Genre
Reality

Show Period
2005 - now

Production Company
Upper Ground Enterprises, A. Smith & Co., Granada


Synopsis
---
The final five meet Chef Ramsay in Hell's Kitchen, where he graciously offers to prepare them some comfort food - chicken parmigiana. The contestants are savvy enough to know they should watch his every move closely, anticipating that they'll be asked to re-create his dish.
And it seems as if they're right. At first Gordon tells them they'll need to prepare an exact duplicate of his dish, but then jokes about that being way too easy. Instead, they'll have to teach someone else how to make the entree.
The new students in "Hell's Kitchen Cooking School" are former Miss Teen U.S.A. winners Kamie Crawford, Stevi Perry, Hilary Cruz, Katie Blair and Allie LaForce. Although Chef Ramsay thanks the newcomers for making the kitchen look glamorous, their teachers worry about their pageant-style high heels.
The Hell's Kitchen contestants cannot touch any of the ingredients and are only allowed to supervise and instruct their partners - a policy that tests their abilities to communicate, lead and teach. The clock is set to 30 minutes.
Barbie's student, Hilary, gets off to a slow start with the task of mincing an onion. Justin does his best to walk Kamie through the challenge of breaking down a whole chicken. Meanwhile, Christina is instantly impressed with her beauty queen, Katie, and her knife skills.
While most of the teams quickly start cooking their marinara sauce and prepping their chicken, Barbie and Hilary begin to fall behind. As time ticks down, all of the teams manage to get their dishes together.
First up to the judge's table are Katie and Christina. Chef Ramsay finds that their chicken is cooked perfectly, although the balance of marinara and cheese is slightly off. Next come Justin and Kamie with their entrée. Chef Ramsay is immediately impressed with its visual impact and dubs the sauce "delicious." His only criticism is that the chicken is slightly too thick.
When Dana and Ali step up with their dish, Chef Ramsay is thrilled with the crispiness of the chicken but finds the overloaded pile of cheese to be obtrusive; still, he raves about their sauce. Despite their early problems in the kitchen, Barbie and Hillary present a more-than-satisfying dish, and they are told they've raised the bar yet again in the challenge.
Last up is the expert in Italian cooking, Clemenza, with his student Stevi. Although the poultry is perfectly cooked, the sauce is too chunky for Gordon's taste. Deeming the competition too close to make an initial call, Chef Ramsay asks to taste two dishes for a second time. Ultimately he declares Barbie and Hilary the winners above Dana and Allie.
For her prize, Barbie will have lunch at Ado Ristorante and go kayaking in the canals of Venice, California. Plus she'll get to ride in Chef Ramsay's own brand-new Maserati. She picks Justin to accompany her. The other competitors will stay behind to prep for Italian night at Hell's Kitchen.
As Barbie and Justin get flirty over their meal, Clemenza is having a love affair with the dough he's prepping back in the kitchen. Unfortunately, he's the only one who knows his way around a pasta machine, and the contestants start to get cranky.
When they awaken the next day, the challengers get ready for the night's dinner - the first to be served out of one kitchen. Self-proclaimed Italian Stallion Clemenza starts pounding out the chicken breasts, but sous chef Scott is frustrated to see how big he's made them. Dana is forced to remove the chicken that is too large.
When Chef Ramsay arrives, he tells the contestants that there's nowhere to hide and begs them to each prove they have the heart of a champion. The night's special menu will include crab capellini, butternut squash risotto and filet of beef with handmade cavatelli pasta.
As orders are called from the pass, Clemenza immediately forgets the appetizer order. But despite his chaotic start, his flatbread is perfectly prepared. Barbie, too, pleases Chef Ramsay with her risotto.
But despite their burst of early success, Clemenza continues to lack focus, and Barbie seems to switch off. As Barbie repeatedly serves unacceptable risotto, Gordon's temper flares. He gives her a warning - one more dish like that and she'll be sent back to the dorms. His "pep talk" seems to work, and Barbie finally delivers a satisfactory product.
With food steadily making its way to the dining room, the final five move to entrees. But when Dana burns her first filets, Chef Ramsay tells her to get a grip and turns to Justin to take control of the kitchen. With that, the kitchen gets back on track.
With one set of appetizers left, Chef Ramsay bets Clemenza and Barbie $100 that they can't get the last table right. When Barbie predictably fumbles the crab capellini, Gordon begs her to go home. But she manages to deliver the last plate and make it through the entire service.
When all of their guests have gone home, Chef Ramsay gathers the five remaining cooks and informs them their performance that evening was "on the verge of embarrassment." Bitterly disappointed, he tells them to pick just one person they want to get rid of.
After deliberating back in the dorms, Barbie and Clemenza cancel out each other's votes. With the decision in Christina's, Justin's and Dana's hands, they are unable to come to a final nomination. Chef Ramsay asks Barbie and Clemenza to justify why they should stay in Hell's Kitchen, but in the end he sends Clemenza home.