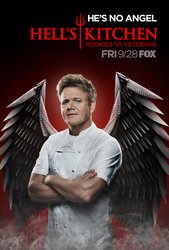 TV Info
---
Episode Premiere
July 17, 2012

Distributor
FOX

Genre
Reality

Show Period
2005 - now

Production Company
Upper Ground Enterprises, A. Smith & Co., Granada


Synopsis
---
Tonight's dinner service is the biggest test that both teams have faced so far. It's the Red Menu versus the Blue Menu. Chef Ramsay's critique of the Blue Team's dishes is a major setback for them when he finds that Clemenza has left bones in the fish. This dangerous mistake has left Chef Ramsay fuming and threatening to send the Clemenza home.
With only 30 minutes until the doors open, the Blue Team members have their work cut out for them. Before service begins, Chef Ramsay gathers all the competitors and tells them that they can make no excuses tonight: it's the contestants' menus, but it's his standards they must meet.
The Red Kitchen's menu will feature Christina's flatbread and Kimmie's rib-eye with Tiffany's potato gratin. The Blue Team's menu will feature Justin's scallop-stuffed squash blossoms, Justin's steak and fried onions, and Brian's sea bass. Chef Ramsay will be using diner comment cards to help him determine the winner of the night's dinner service.
Right off the bat, Christina has nine flatbreads fired but fails to answer when Chef Ramsay calls out orders from the pass. As she starts to fall behind, Barbie jumps in and lends a hand. With the flatbread crisis averted, Christina sends her appetizers to the pass.
In the Blue Kitchen, Robyn is hoping to get her team off to a good start by perfectly preparing Justin's squash blossom appetizers. But when she delivers them to Chef Ramsay, they are mushy and raw. The next batch is overcooked. Robyn and Justin get into an argument over who's responsible for the miscalculations in timing.
While the Blue Team struggles to get started, the Red Team is blazing along, having sent out more than half their appetizers. They are now ready for their first entrees: halibut that Chef Ramsay declares is perfectly cooked. But when Kimmie prepares dry duck, Chef Ramsay gives the women a dressing down.
Robyn has finally figured out the cooking time for the squash blossoms, but her team runs out of scallops before they can serve the last table's order. She is forced to go into the dining room to explain the error to their guests. She comes up with a satisfactory plan B, and the Blue Team finally moves on to entrees.
In the women's kitchen, Kimmie's second attempt at duck is successful, but her rib-eye is overcooked. This inconsistency causes Chef Ramsay to lose faith in the team's ability to get entrees out. Kimmie, however, refuses to give up and pushes through to deliver beautifully cooked beef.
Meanwhile in the Blue Kitchen, Justin on meat and Clemenza on fish have come together to complete their first table's entrees. Although Brian initially stumbles on garnish, he quickly recovers, and the Blue Team delivers the food.
The women continue to push out entrees, but when diners complain about raw lobster, Dana must answer to Chef Ramsay. She realizes that she needs to redeem herself for thinking that the claws were precooked and just needed to be reheated.
On the Blue Team's fish station, Clemenza is making Brian nervous with his laid-back attitude and lack of communication. But the quality of his cooking is a hit with Chef Ramsay. On the flip side, Tiffany catches Chef Ramsay's ire when she uses a dirty pan to cook her garnish.
However, Justin and Clemenza can't seem to get their act together. Clemenza can't keep the count right on what he needs to cook on the fish station. When he tells Chef Ramsay that he's already fired another sea bass, he gets caught in his lie.
Ninety minutes into dinner service, half of the Blue Team's guests are still waiting for entrees. Due to Clemenza's confusion, they will stay hungry for a bit longer.
The Red Team has a ton of momentum and are almost done with their entrees when yet again raw food is sent back to the kitchen. Tiffany's undercooked potatoes mark the first time that Chef Ramsay has heard of a raw gratin dish.
Hoping to get his team back on track, Justin kicks into high gear in the Blue Kitchen. However, his slightly overcooked beef does not get past Chef Ramsay, and the diners are growing more hungry and less happy.
Even Sous Chef Andi can't hide her frustration with Tiffany's bad attitude. She throws her out of the kitchen and tells Dana to take over the garnish station. But no matter how much Dana cooks the potatoes for the last ticket, they're still crunchy.
By some miracle, the Blue Team has almost made it to the finish line, but they're missing the sea bass for their last table. Yet even though they are so close, Chef Ramsay has reached his limit. Angry about Brian's raw fish, he throws them all out of the kitchen.
In the dorms, the Blue Team plays the blame game, while back in their kitchen, Chef Ramsay and Sous Chef Scott complete the dishes for the last tables. "Potato-gate" wraps up in the Red Kitchen, and the women's work is also done for the night.
Although originally the comment cards were supposed to determine the winning team, Chef Ramsay tears them up. Although only the women completed service, he says there will be no winning team. Both teams must nominate two people for elimination.
The men put Robyn and Clemenza on the chopping block, while the women choose Tiffany and Barbie. After letting each contestant plead his or her case, Chef Ramsay asks Tiffany to turn in her chef's jacket and leave Hell's Kitchen.