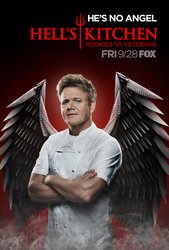 TV Info
---
Episode Premiere
July 02, 2012

Distributor
FOX

Genre
Reality

Show Period
2005 - now

Production Company
Upper Ground Enterprises, A. Smith & Co., Granada


Synopsis
---
The remaining 11 competitors meet Chef Gordon Ramsay in Hell's Kitchen, where they discover a gold curtain and await the details of their next challenge. Chef Ramsay explains that since this season's winner will be running Gordon Ramsay Steak in Las Vegas, they need to realize that it's a city where having luck on your side is invaluable. Then he reveals a giant slot machine that will determine the ingredients and will test the competitors' creativity in this "High Steaks" Challenge.
Two at a time, a member from each team will pull the slot machine's handle to reveal one cut of steak and four complementary ingredients. The chefs will create that dish and go head-to-head when presenting their offerings. Since the Red Team has one extra member, they must pick someone to sit out. All the women want to compete; Kimmie finally volunteers to skip the challenge.
Dana and Patrick are first up to the Hell's Kitchen slot machine. They get a flatiron steak, potatoes, mushrooms, spinach, and blue cheese. Next up are Christina and Royce, who will again face off against each other. The slot machine gives them hanger steak, yams, eggplant, asparagus, and crab.
Barbie and Brian then step forward to face the one-armed bandit. Fate hands them the New York strip, celery root, tomatoes, cauliflower, and shrimp. When Tiffany and Justin test their luck, they wind up with filet, beets, carrots, zucchini, and chorizo.
Finally, Robyn and Clemenza are hoping their steak and ingredients will hit the jackpot. Although her dish won't count in the judging, Kimmie decides to prepare a dish using the same components as Robyn's.
All the competitors will have 30 minutes to complete their dishes. Christina isn't comfortable with her ingredients but plows ahead, while Royce is feeling confident in his abilities. As time ticks down, Clemenza is nervous that his cut of meat, which is the thickest in the competition, may not be fully cooked in the allotted time.
When the cooking is over, the women are given the opportunity to decide whether they want to present Robyn or Kimmie's rib-eye to Chef Ramsay. After just one minute of deliberation, they choose Robyn's steak.
Chef Ramsay is the only judge for the High Steaks Challenge. He begins with the battle of the filets between Tiffany and Justin. Chef Ramsay applauds Justin's dish but says that Tiffany's stuffed filet was too big of a risk. The Blue Team gets the point.
Next up are Christina and Royce's hanger steaks. Chef Ramsay loves everything about Christina's dish except the yams, which he calls "a clump of dull mess." Even though Royce's presentation has finesse, Chef Ramsay spits out the undercooked, spongy eggplant. The women win the round.
With the score tied, it's time for Dana and Patrick to show what they were able to do with their flatiron steaks. Dana's grilled beef looks like a mess to Chef Ramsay, and he pours off the excess liquid. He tells her that it's her worst dish so far. Patrick doesn't fare much better with his over-salted offering. Disappointed, Chef Ramsay refuses to award a point to either group.
After poor performances from both teams, Barbie and Brian are each hoping that their New York strip steaks will give their side the lead. Barbie's surf and turf garners praise from Chef Ramsay, but he also loves Brian's dish. They each earn a point.
In the final round, Robyn and Clemenza step forward with their rib-eye steaks. As expected, Clemenza's beef is slightly underdone but Chef Ramsay says it's delicious. Robyn's steak, however, is overcooked, and Chef Ramsay finds the rub disgusting. With that, the Blue Team wins the challenge.
Chef Ramsay then tastes Kimmie's dish. He has all the women step forward to taste her steak and tells the ladies that they made the wrong choice because the dish would have given Clemenza a run for his money.
For their reward the men win a shopping spree at the culinary supply store Sur La Table before dining at French brasserie Comme Ca. For their punishment the Red Team must unload a special delivery: a beef carcass, which they must prep for dinner service. The men enjoy a relaxing day, while tensions flare among the women, as everyone is yet again losing patience with Robyn.
The next day is Steak Night at Hell's Kitchen, and the women hope to pull ahead. Justin says he won't settle for less than perfection from his team; he's feeling extra pressure to perform well with the steak because the grand prize is a job at Chef Ramsay's Las Vegas steakhouse.
With less than 30 minutes before guests are scheduled to arrive, Justin is getting the Blue Team ready for battle, while Barbie and Tiffany fight each other. Kimmie and Robyn are also still at odds.
Chef Ramsay arrives and gathers both teams. He tells Justin that his filet mignon was so delicious at the High Steaks Challenge that he's added it to the night's menu. He also reminds everyone that it's Family Night and they'll be offering a special kids menu.
As the chefs go to their stations, Patrick plans to get back on track with a strong service. Kimmie feels added pressure because steak is her specialty and she believes she must achieve perfection every time. But her hopes are derailed when she badly burns her hand and arms. As a teary Kimmie is told that she cannot return to the kitchen, viewers learn that the story will be continued in the next episode.