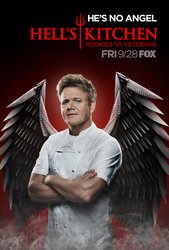 TV Info
---
Episode Premiere
June 26, 2012

Distributor
FOX

Genre
Reality

Show Period
2005 - now

Production Company
Upper Ground Enterprises, A. Smith & Co., Granada


Synopsis
---
As a new day dawns in Hell's Kitchen, the competitors learn that they're about to be tested on their ability to adapt. On the counters in front of each team are four domes. At different times throughout the challenge the ingredients under each dome will be revealed, including a protein, a starch, a vegetable, and a wild card item.
Chef Ramsay tells the competitors that during the 30-minute challenge they will select a protein and then an additional ingredient at each stage that they feel goes best with that main component. The teammates must work together to coordinate the ingredients so that everyone is capable of producing a great dish.
When cooking is complete, Chef Ramsay introduces the judges. They are all executive chefs who have received Michelin stars during their careers: Anita Lo from Annisa, Douglas Keane from Cyrus, and Michael Cimarusti from Providence. Each acclaimed chef will award between one and three stars to a given dish. The team with the highest total will win the challenge.
First up is the monkfish. Tiffany serves hers in a tarragon couscous with brown butter sauce and a quail egg. Justin presents five-spice roasted monkfish and chive ravioli with a poached quail egg and heirloom salad. Both chefs earn six points, and the teams are tied.
Next up is the battle of the hen. Barbie's pan-roasted guinea hen with shrimp and potato hash earns five stars for the women's team. Clemenza surprises Chef Cimarusti with his elegant herb-roasted hen with zucchini and potatoes, but he too only earns five stars. The score remains tied at 11.
Roshni hopes to take the lead for the Blue Team against Kimmie in the turkey round. But Roshni's herb-stuffed roulade with a celeriac and carrot slaw is too dry, and Kimmie's turkey breast pasta is under-spiced. Both chefs only earn three points for their teams.
Dana hopes to help the Red Team pull ahead, putting her lemon herb veal chop against Brian's ethnic-fusion veal chop. But again both teams get a matching score of six stars, and the competition remains tied.
When Patrick and Robyn go head-to-head, she makes a major blunder, admitting to the judges that she doesn't like beets but had to incorporate them in her pork dish. She earns a total of just three stars. On the flip side, Patrick has embraced his ingredients, and his spice-rubbed pork tenderloin is a hit, garnering six stars. The men finally pull ahead with a three-star advantage heading into the final round.In the lobster challenge, Royce's whole poached lobster in saffron and thyme crashes and burns when Chef Keane discovers an undesirable extra ingredient in his dish - a hair. Royce is awarded just three points. Christina now must earn at least six points to tie. Her steamed lobster tail with heirloom tomatoes is very well received. She earns a total of seven stars, including three from Chef Lo, making her the only contestant to earn the highest possible score for a dish. As a result, her winning lobster dish will be on the upcoming Hell's Kitchen dinner menu as a special entree.
For their reward, the women's team is sent for a day of pampering at a spa, and each wins a set of Meyer cookware. The Blue Team is left behind to prep both kitchens for the next service and clean the dorms.
Two hours before dinner service, the women have returned from a relaxing day at the spa. But when they go to the kitchen for prep, tensions between Robyn and Barbie flare again.
Despite all the ups and downs at previous services, Chef Ramsay is expecting the evening to run more smoothly. So he has a little surprise for the contestants: he's invited two world-class athletes to sit at the chefs' tables in the kitchen during dinner. The Blue Team will be catering to Tito Ortiz, and the women will be hosting Sugar Ray Leonard. He assigns Robyn and Justin to focus their attention on their special guests.
Once again, Clemenza gets the men off to a slow start on appetizers. In the Red Team kitchen, Christina moves her group forward with her delicious risotto. As Clemenza gets on track and the Blue Team starts pushing out apps, Chef Ramsay's VIP guests arrive.
Both kitchens lose ground when Brian and Christina make unsatisfactory risottos. However, the teams quickly recover and start pushing out apps and soon move on to entrees.
Chef Ramsay is appalled to see that Tiffany is touching a utensil to her lip and then touching the beef. The Blue Team also stumbles when Roshni brings undercooked Wellingtons to the pass.
At the Red Team chef's table Robyn gets too chatty with Sugar Ray Leonard and his wife. Then she gets called away by Chef Ramsay, who tries to whip the women back into shape. His pep talk works, and Tiffany delivers a perfect Wellington. Entrees are now steadily leaving the Red Kitchen.
But the Blue Team can't seem to get their act together, and when Patrick serves a second plate of cold lobster, Chef Ramsay throws them all out of the kitchen. After seeing them finish their service successfully, the chef moves the women over to the Blue Kitchen to push out entrees to the Blue Team's diners.
The men and Roshni are the obvious losers of the night, and they must pick two team members for elimination. They choose Clemenza and Brian, much to Chef Ramsay's surprise. He declares that Roshni and Patrick were the two worst performers. Ultimately, he sends Roshni home.