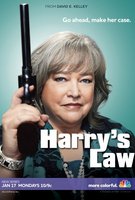 TV Info
---
Episode Premiere
May 13, 2012

Distributor
NBC

Genre
Drama

Show Period
2011 - 2012

Production Company
Bonanza Productions Inc., Warner Bros. Television


Cast and Crew
---
Director
Ron Underwood
Screenwriter
Amanda Johns, David E. Kelley
Main Cast
Synopsis
---
Adam calls Harry early in the morning to get her out of bed. The jury for their latest case is rendering their decision at 8:00 a.m. Harry groans about waking up early. She misses the days of being between 18-49 years old. Harry and Adam meet their client, Colin Danes, at court. He's being tried for the murder and rape of a 20-year-old woman, Sarah Trassino. Harry feels the prosecution has failed to deliver the burden of proof, yet when a woman is murdered, people want someone to blame. If it's not Colin, it's no one.
Cassie receives a call from a family friend, Ethan Kearns. Ethan and his brother Jared have had a serious car accident. Cassie and Oliver rush to the hospital to help. Ethan learns Jared needs a blood transfusion. Due to the rare nature of his brother's blood type, it'll be hours before the hospital receives the necessary blood - hours Jared doesn't have. Since he's got the same rare blood type, Ethan volunteers to give his own blood on the spot; he knows his blood is clean, since he was recently tested for STDs. Questioned about why he took such a test, Ethan admits he's gay and has an annual test as a matter of course. The doctor stops him right there. It's illegal for a gay person to donate blood.
The jury finds Colin not guilty. The victim's brother, Steven, calls out. Colin killed his sister and this isn't right! The judge asks Steven to calm down, but things go from bad to worse as Steven pulls a gun on the judge. The bailiffs pull their firearms on Steven, unaware that the victim's father, Arthur, is pulling another gun and pointing it at the lead detective on the case. The judge asks the bailiffs to drop their weapons. Deafening fear creeps in as Harry and the rest of the courtroom realize they've been taken hostage.
Steven declares they're going to start a second trial for Colin. This time the jury will hear all of the evidence. Steven asks Harry to make an opening statement and she makes a typical Harry-style comment: can she go to her office to get it? Steven jumps on her for making a joke about what happened to his sister and holds the gun closer to her face. Harry maintains her composure and conviction. What happened to Steven's sister is tragic, what's about to happen to him is tragic, and the fact he would drag his father into this so he could lose both of his children is appalling.
Oliver, Cassie and Ethan seek out the hospital attorney, Mark Wells, for an explanation as to why Ethan isn't allowed to donate blood. Mark asks the group not to get emotional over this as Ethan loudly reminds him that his brother's life is in jeopardy. Cassie offers to sign any waivers required for the hospital to move forward with the procedure. Mark reminds her that the primary signature they'd need is from the unconscious patient, Jared. Regardless, even with a waiver it wouldn't matter. Federal law prohibits gay people from donating blood, not hospital policy. Knowing time is of the essence, Oliver takes Mark downtown to seek a court order.
Acting as prosecuting attorney, Steven puts the lead detective on the stand. Steven inquires if the detective told the whole truth during Colin's first trial. The detective reveals he told all the truth he could legally tell. There were two topics he was forbidden from addressing, due to the court's ruling they were inadmissible. Harry tries to object, but winds up with Steven's gun in her face. Objection withdrawn. The detective proceeds to explain which two factors were previously withheld: Colin had been arraigned on rape charges once before; and he actually confessed to committing Sarah's murder during his interrogation. The jury gasps, believing they delivered the wrong verdict in the first trial. Steven tells Harry the detective is her witness now.
During Harry's cross-examination, the detective admits the first rape allegation against Colin was kind of a "he said, she said" date rape case. Felony charges were never filed as the female witness was deemed unreliable. The detective concurs with Harry's theory; he went into the interrogation with Colin already believing he was guilty. When Harry asks why Colin's confession was ruled inadmissible, the detective explains that the judge ruled Colin's confession coerced, since his interrogation lasted 14 hours. Harry rattles off questions like "Who else did you question?" and "Could you find any other witnesses or suspects?" The detective has no answer. Clearly, his investigation wasn't very thorough.
Oliver and Mark begin debating the issue of gay blood donation in front of a judge in his chambers. Oliver lobbies against the archaic nature of this law while Mark defends the basis of the rules - they have been created to safeguard the health of all patients. If it was as easy as signing a waiver, everyone would be doing experimental treatments at hospitals instead of relying on research and evidence. Mark concludes by emphasizing that the rules exist to protect people... even from themselves. The judge agrees to allow both sides make to their case in his courtroom and then he'll decide.
Harry makes the gutsy call to put Colin on the stand. Steven can't help fidgeting with his gun as he swears Colin in. Colin dismisses the previous rape allegation. Colin did see Sarah on the night of her murder, trying to win her back, but he denies having sex with her, thus explaining the lack of any DNA evidence. As for the interrogation and his confession, Colin had been awake for 36 hours straight. Being forced to drink coffee without being allowed to use the bathroom, Colin acknowledges there was a point he was delirious and thought he may have actually committed the crime and signed the confession - but he didn't do it!
As Oliver and Mark further their debate in the courtroom, Ethan decides he's had enough. He makes an impassioned plea to the judge. After listing numerous ways current state and federal laws have done nothing to prevent discrimination against the gay community, Ethan is appalled that this law is preventing him from saving his brother's life. The judge reminds Ethan the law is the law. Oliver points out that if there's a law saying a gay, H.I.V.-free man in a long-term monogamous relationship is in the same risk category as a straight man having unprotected sex with hookers and intravenous drug users, that law needs to change. And for the sake of Ethan's brother, now!
Steven delivers his closing argument. Complaining the jury never heard the whole truth during the first trial, he wonders if the jury can arrive at the same verdict a second time. This is a case where the law protected Colin, but it didn't protect his sister Sarah. Claiming he'll make peace no matter what the jury finds, Steven only seeks an honest answer now that they know all of the facts. Sarah deserves justice.
Harry begins her closing statement by saying Steven has two things wrong. One, a courtroom is about justice for the defendant and ensuring a fair trial. Two, it's not about the truth; it's about what the prosecution can prove. Harry contends the prosecution failed to provide enough evidence in the first trial and nothing has changed. Addressing the "new" evidence Steven introduced, the reason it wasn't allowed the first time around is because it wasn't valid. All it would have done was prompt the jury to speculate on Colin's guilt, just like the detective, despite not a single piece of physical evidence. Since Steven asked for a fair verdict, Harry urges the jury to give it to him.
Ethan, Cassie and Oliver are in the waiting chamber as the judge enters. The judge holds a court order in his hand and tells Ethan to go save his brother. They euphorically rush to the hospital where Ethan is able to able to give the transfusion, putting Jared back on the road to recovery. Later, Cassie asks Oliver who is gay in his life. She felt his arguments were far too personal to be mere rhetoric. Oliver admits his teenaged nephew is gay. It's difficult seeing him get marginalized and picked on. Cassie gives Oliver a big hug to thank him for all he did today.
Steven and Harry prepare for the jury to deliver their second verdict of the day. They find the defendant, Colin Danes, not guilty. Arthur flips out, screaming about killing everyone in the room. Crestfallen, Steven still has the wherewithal to ask his father to put his gun down. Realizing he and his son have lost everything and gained nothing by today's display, Arthur turns the gun on himself. Steven quickly shoots Arthur in the leg to prevent his suicide. Hearing the shot, the SWAT team barges in and subdues both Steven and Arthur. At a bar afterwards, unable to say what she feels, Harry grabs the hands of her friends to show her gratitude for helping her make it through the day.