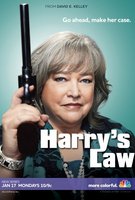 TV Info
---
Episode Premiere
April 08, 2012

Distributor
NBC

Genre
Drama

Show Period
2011 - 2012

Production Company
Bonanza Productions Inc., Warner Bros. Television


Cast and Crew
---
Director
Tom Verica
Screenwriter
David E. Kelley
Main Cast
Synopsis
---
Cassie and Oliver are at trial representing Chloe who is accused of murdering her ex-husband by rigging a shotgun to go off when her front door was opened. Prosecuting the case is A.D.A. Cruickshank who adamantly tells the jury that Chloe is guilty of premeditated murder by purposely rigging the shotgun, but Cassie and Chloe know the truth that Chloe's young daughter really loaded the gun to go off. In order to hide the daughter's participation, Cassie's line of defense is telling the jury that Chloe's ex-husband was psychologically terrorizing her client, and in a desperate last resort, Chloe rigged the shotgun in self-defense.
"Harry! Harry! Harry!" Attorney Sam Berman calls out like a 1950s salesman as he enters the firm. He walks up to Harry with a kind smile and threatening words. He feels she took advantage of his diminished mental capacity when he accidently fired a nail into his head and then coerced a three million dollar settlement out of him and the cigarette company he represented. Harry denies his accusations, even though it is true. He demands with a smile that Harry return the money or he'll sue and bring her up for disbarment. Harry fights back and tells him the settlement was legitimate, and she'll see him in hell before she even thinks about returning the money.
Chunhua confides to Adam that Lisa has been bothering her ever since she fired her from the shoe store for rubbing the customer's feet inappropriately. Lisa denies the charges, but is really playing a mind game with Chunhua to get even with her. Later, Lisa continues her mind games on Chunhua by apologizing for making her feel uncomfortable. Lisa then takes Chunhua's finger and begins sucking on it, saying she is part Indian and sucking on fingers is a traditional way to settle disputes. Chunhua is in shock as Lisa offers her finger to be sucked in return.
Cassie and Oliver tell Chloe that the case is not going as well as they hoped, and it's time to make a plea. "I will not allow Shelby to be put in a facility, I will not even risk it," Chloe adamantly says as she refuses the idea of a plea bargain. She tells them to put her on the stand, and she'll argue it was self-defense; but Oliver refuses. "A lawyer cannot knowingly put a client on the stand to lie," he says. Chloe fights with Cassie and Oliver on how they want to proceed with her defense and demands to speak with Harry.
Cassie and Oliver bring Harry up to speed on Chloe's case and the details about protecting the daughter. Harry recommends that Chloe should testify in the narrative but Oliver and Cassie are reluctant to do so. "Juries today are savvy," Cassie says. "They watch 'Law & Order,' they know any witness testifying in the narrative is lying." Suddenly Harry has a brainstorm; she meets with the judge and Cruickshank and tells them she wants to put Chloe on the stand knowing that she will give false testimony. The judge is speechless, but Harry says trials are rarely about the truth. The D.A. and the defense distort the truth to suit their needs; "why shouldn't the client be allowed to put in her version?" The judge reluctantly allows Harry to proceed, but if he feels they suborned perjury in any way, they will be arrested.
Phoebe Blake, a cute blond lawyer, enters the office and hands Adam a summons. She is representing Sam Berman who has moved forward with suing Harry and the firm. "What are you, 17?" Harry asks Phoebe about her youthful appearance. Phoebe tells Harry the whole case is way above her pay grade, so she's hoping to settle quickly by having the money returned in exchange for dropping the disbarment charges. Harry and Tommy give each other a wily smile and tell Phoebe that under no circumstances are they returning the three million dollar settlement.
Harry, Cassie and Oliver sit down with Chloe and tell her the hard truth about the case. They got her the chance to testify in her own words, but her best line of defense is to tell the whole truth about her daughter. Chloe adamantly tells them no, but Harry is steadfast. The chances of them winning are a long shot, and the truth about the daughter will eventually come out. If they make a plea deal now they can get Shelby the help she obviously needs. Harry is going to meet with the D.A. for dinner and tell him the truth about the daughter's participation in the murder. If he offers a deal, they need to take it.
Harry meets with Cruickshank for dinner and tells him the truth about Chloe covering for her daughter. Harry would like the charges dismissed on Chloe and would like to get Shelby put into a hospital for treatment. Cruickshank laughs off the idea of a complete settlement; he'll offer Chloe aggravated manslaughter only if she testifies against Shelby. He says a man has been murdered, and someone needs to be held accountable. Harry doesn't want the daughter to be charged with murder and decides to take her chances with the jury trial.
Sam Berman and Phoebe show up at the office to depose Adam. Phoebe asks Adam what his thoughts were when he saw Berman show up at the office with a nail sticking out of his head. "It struck me as nuts!" Adam excitedly answers before realizing he is helping their case. Adam then admits under questioning that he thought Berman was of not sound mind when executed the three million dollar settlement, officially validating their lawsuit and putting his firm in jeopardy.
Chloe testifies under oath in the narrative and explains how her husband psychologically abused her and Shelby for months. That is why she rigged the shotgun at her front door, to scare off her husband. She even put a sign out front warning him, but obviously, he didn't follow it. Chloe then lies on the stand and says she loaded the gun, even though in truth it was her daughter. Harry treats Chloe as a hostile witness in order to get her out of the lie and implicate the daughter, but Chloe repeats that she loaded the gun. Harry tells Chloe and the jury that the daughter really loaded the gun, and unless Chloe admits the truth, she will be going to jail for perjury. Chloe swallows her tears and reluctantly tells the truth; she didn't load the gun, her daughter did.
Adam apologizes to Harry and Tommy for his answers at the deposition that greatly hurt the firm. "I was under oath," Adam explains. "I couldn't commit perjury." Now that the lawsuit will continue, Tommy recommends there is only one ethical way to proceed; they need to put the three million dollars in an offshore account in the Caymans where they can't get at it. Then Tommy offers Adam some hard advice; "In this business, the truth is not always your friend. Often it is the enemy, and to be a good lawyer you need to pick up a dagger and stab the enemy in the heart."
"She told you what happened, and I expect you believe her," Harry tells the jury as she begins her closing arguments. Harry says that Chloe does bear some responsibility for rigging the shotgun, but she did not load it; this is a murder trial, and Chloe is not guilty of murder. Cruickshank calls Harry a Houdini lawyer, capable of manufacturing miraculous last minute defenses. At first Chloe said she loaded the gun, then she said her daughter loaded the gun; Harry's magic trick was creating reasonable doubt in your mind, not sure who to believe even though there is substance physical evidence all pointing to Chloe. Cruickshank challenges the jury to see past the Houdini magic and trust the evidence.
The jury has reached a verdict. "Some of the jurors are looking this way; sometimes that's a good sign," Cassie says. "But only sometimes," Harry replies back. The jury foreman reads the verdict of not guilty on all charges for Chloe. "As 'ta-das' go, that's one of the better ones," Harry's says with a sigh of relief. Chloe may now be free, but Harry tells her the hard truth that the law will be coming after Shelby now, and she'll have to be placed in a hospital to get help.
Adam sits at bar contemplating his future with the firm since he dealt them a devastating blow with his deposition. Phoebe sits next to him and offers to buy Adam a beer. He flat out refuses as he doesn't trust her and figures she probably has an ulterior motive in buying him a beer. "Come work with me," Phoebe asks Adam. She wants him to stop being the punching bag in Harry's firm who's basically regulated to solving office disputes and small cases. "We'll have a lot of fun," Phoebe tells him with a wink as she leaves the idea percolating in his mind.