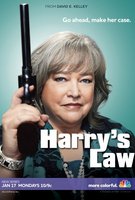 TV Info
---
Episode Premiere
March 25, 2012

Distributor
NBC

Genre
Drama

Show Period
2011 - 2012

Production Company
Bonanza Productions Inc., Warner Bros. Television


Cast and Crew
---
Director
Jonathan Pontell
Screenwriter
Lawrence Broch, Christopher Ambrose, David E. Kelley
Main Cast
Synopsis
---
It's a dark night as Oliver and private detectives wait in a van for their suspect. The suspect pulls up and Oliver and his posse slowly surround their man, a 16-year-old teenager. They throw the teenager to the ground and tie his hands as he screams, "What gives you the right to do this?" A man steps up and answers, "I'm your father. It's time to come home, son." The next day at the firm, Adam lambasts Oliver for kidnapping the 16-year-old boy. Oliver tells Adam it's not kidnapping because the teenager is a minor, and he's now home under his parent's supervision.
Harry is walking to her car when her next-door neighbor Margaret walks up and introduces herself. Margaret seems nice, but Harry is suddenly concerned she's living next to a quack when Margaret admits to seeing a UFO flying around last night. Harry quickly gets in her car and drives away. "It's not enough I gotta deal with nut jobs all day long, turns out I live next to one." That night, Harry relaxes at home when she hears a suspicious sound. She walks outside and stares up at the night sky and suddenly sees a UFO staring back at her. She quickly grabs her shotgun and shoots down the UFO, having it crash and explode in her back yard. Suddenly the police arrive; it seems the UFO was the Cincinnati police department's spy drone, and Harry just destroyed it.
Adam walks into the shoe store to discover the employees have gone on strike. They love the store, but they can't stand working for Chunhua. The employees find her abusive and think she enforces unreasonable work practices. "She's a fascist terrorist," one of the workers tells Adam. Later, Adam confronts Chunhua on these accusations, and she admits being hard to work for but not unreasonable. "I'm not asking the girls to do anything but fulfill their job responsibilities," Chunhua says. When Adam has mediation with the workers and Chunhua, they rile up a culture war of Chinese work practices vs. American. The workers feel Chunhua is treating the employees like Chinese citizens with no rights while Chunhua retaliates by calling them lazy Americans who want all the benefits but are afraid of the hard work it takes to earn them.
Oliver walks up to a sexy blond woman in the office and meets Phoebe Blake. At first, she seems lost and out of place, but then Oliver discovers she is the attorney representing Scott, the 16 year old that his clients kidnapped and brought home. Oliver, caught off guard, fights back saying it wasn't a kidnapping but an intervention. Phoebe demands that Scott's parents release him, or she will have to get the police involved.
"What the hell is the Cincinnati police department doing with a drone?" Harry asks. The police were spying on Harry's neighbor, Margaret, who is a schoolteacher suspected of being a sex offender. The next day, Margaret comes to the office in tears asking for Harry's help. "I am not a sex offender," Margaret adamantly tells Harry. She teaches third grade; she had some medical issues with her family, so she had to take a second job to pay the bills. The job is for an adult website that pays lots of money to full-bodied women who record themselves in sexual positions. "Oh boy," Harry sighs. Margaret says she never sent the tapes in; but her computer was hacked, and her videos ended up on the internet. Margaret's been fired by the school because they think she's a sexual deviant. Teaching is her life, and she begs Harry to help get her job back.
Oliver defends his clients against Phoebe to a judge. "This is all because Scott doesn't want to go to college," Phoebe tells the judge. Oliver counters and says it's about Scott dropping out of high school when he was 16 then running away from home; his clients were trying to safeguard the welfare of their minor child. Phoebe tells the judge that Scott ran away to a high paying job at an Internet startup and lives in a nice apartment. He's not a drug addict acting unreasonable; her 16-year-old client is acting like an adult. Scott ran away from home because his parents forced him to go to school, which undermines his rights.
Harry meets with Margaret and tells her the school will not hire her back; they do not want any of their teachers moonlighting in anything porn related. "What I did was stupid, but it wasn't illegal... and I did it in the privacy of my own home," Margaret tells Harry. Harry advises that Margaret can't sue the school to hire her back, but she can sue the police for invading her privacy. Margaret decides that she wants Harry to thump her chest and fight for her rights. Later, Harry meets with Tommy and Cassie to decide that the best strategy for their case would be to use the Fourth Amendment's right to privacy as their guide; the police willfully used a drone to invade Margaret's privacy in her home.
Harry finds out about the turmoil in the shoe store and demands Adam solve it ASAP; she does not like crossing picket lines to enter her own office. Chunhua promises to hire a new staff right away, but Adam tells her being a boss takes more than making a profit; it takes human resources as well. "I do not bully," Chunhua says. "Life was a party here with Jenna; now we're a profit center."
"All they care about is that I go to Harvard or Yale," Scott testifies in the courtroom. He does not feel school has anything to offer him as he already has a full-time job that pays $72,000 a year. He feels school may be a good option for other kids, but he just wants to work. "I want to think. I want to create NOW, not waste my time in SAT prep classes or go to college to read Homer in between keg parties." Oliver puts Scott's mother on the stand as she fights for her parental rights to decide what's best for her child. "He's 16 years old," the mother says; he is too young to know what he wants to do with his future. She feels Scott may think he'll be the next Mark Zuckerberg, but for every Internet success story, there are thousands of failures; and without a college degree, Scott will have no safety net.
"The expectation of privacy in this country is all but dead," Attorney White says in defending the CPD and the school. There are cameras recording people everywhere throughout the day; "life is rapidly becoming one big YouTube moment." He tells the judge that the government was spying on Margaret for the public's safety; they have to air on the side of caution, for if she did end up being a sex offender, then the outrage for her right to privacy would be nullified. Harry stands up to defend the importance of the Bill of Rights and the Fourth Amendment. "The government used technology to go right into a person's bedroom and spy on that person's private life," Harry says. "That's George Orwell's nightmare."
The judge asks Attorney White if there have ever been any complaints about Margaret's behavior in the classroom or her interactions with the children, to which he answers no. The judge then rules that he has no authority to order the school to hire Harry's client back; but "his anticipatory judgment is that the discharge was unlawful against public policy," and he strongly suggests the school returns Margaret to her classroom. Later, Tommy and Harry share a beer as they celebrate their victory. "You made me proud, Harry," Tommy tells her.
The judge in Oliver's case brings everyone involved into his chambers. "I won't tell you how to parent," the judge says as he lays into both sides of the argument. He tells Scott that if he were his son, he would make him at least finish high school before taking his current job. He then tells the parents that they need to work on listening to their son and find out what he wants out of life, not what they want for him. The judge decides to let the family have a week to reasonably settle their difference, and if they still can't come to some type of agreement by the week's end, then he will send their case to child services. "Let's agree to work on your life together," the mother tells Scott as they leave the courtroom as a family. In the courthouse hallway, Oliver gives Phoebe a congratulatory nod; he's certain they'll meet again in a courtroom very soon.