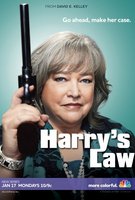 TV Info
---
Episode Premiere
November 09, 2011

Distributor
NBC

Genre
Drama

Show Period
2011 - 2012

Production Company
Bonanza Productions Inc., Warner Bros. Television


Cast and Crew
---
Director
Ron Underwood
Screenwriter
David E. Kelley, Lawrence Broch
Main Cast
Synopsis
---
Harry hurriedly says goodbye; she's headed out on a bird-hunting vacation. She instructs the staff that in case of emergency, they're not to call. As she leaves, Chunhua leads a young Chinese couple into the office. Adam greets them cordially. The couple needs a lawyer: their government in China took their two-year-old child from them as part of their one child only policy. The girl was sold to a couple in Ohio - and they'd like Adam to help get her back.
Harry drives her Mercedes SUV upstate, belting along to Tom Petty's "American Girl" on the stereo. Her idyll is interrupted by a local cop who pulls her over and explains that she's violated a local ordinance prohibiting the driving of imported cars. Her ride is going to be impounded. Harry makes a veiled and facetious threat to the cop about mistaking him for a quail. She's arrested.
The Chins meet with Cassie and Adam who explain how complicated their case is. The American parents adopted their daughter in good faith four years before; the child has now been with them longer than with her biological parents. Vinnie, the firm's private investigator, has turned up some details on the couple, the child and the adoption. It appears to be legitimate.
Ollie drives up to Langford to help spring Harry. He suggests she simply pay the fine and get on with her hunting trip, but Harry's adamant: it's a bad law, and she's not paying. The city attorney, 23-year-old Connor Bertram, stops by to persuade Harry to pay the fine. He's fresh out of law school and would prefer not to take Harry on in his first case.
Adam and Cassie approach the Thomases, the adopted girl's parents, and explain the situation. They're shocked. Cassie and Adam wanted to give them some advance warning that they'll be filing a motion to return the girl to their clients the next day. When they all meet with a family law judge the next day, the judge expects that the four parents and their lawyers all try to meet with the child before returning to court. The parents walk awkwardly out of court.
The four parents and the little girl meet. Her biological parents are overwhelmed with happiness - and shock that their daughter does not appear to recognize them. As the girl's biological mother begins breaking down and lamenting to her husband in Chinese, the little girl speaks - in Chinese. She does remember them.
Harry's case goes to trial. Under examination by Ollie, she explains that the ordinance is unconstitutional. She starts with article 1, regarding the federal authority of congress to regulate trade. She moves on to the first amendment and its protections about free speech and the freedom to choose. She points out that the ordinance is a form of protectionism and, ultimately, bigotry.
City Attorney Bertram cross-examines. He explains that the government limits our choices as to what we can buy all the time: pharmaceuticals, fireworks and the like. He challenges Harry to explain why her right to drive a $100,000 SUV is more important than a person's right to get a job. He then invokes the heroic efforts of FDR during the depression, with his encouragements to buy American. "Would the history books be wrong, ma'am?" he asks Harry.
Back in her office, Harry's furious. She calls Ollie on the carpet for not objecting to the runaway rookie prosecutor who made her look foolish. Ollie protests, but it's clear they'll have to do better.
The heartbreaking hearing of the adopted girl gets underway. Her biological mother tells a tearful tale of how local government officials confiscated her child and took her to an orphanage. The orphanage must have arranged the adoption for money in the U.S. The girl's adoptive mother testifies that Lee, as she's known, is now a part of their family. "She has a sister," she cries. "She's our daughter." The judge brings the girl in for a talk. The girl explains how scared she is of having to leave her family. The judge dismisses the family members and in private asks the lawyers if they're encouraging their clients to seek psychological counseling. Neither is. The judge explains that she'll hear from experts the following day, and then she'll rule.
The judge listens to a bevy of experts, all with somewhat conflicting accounts of the effects of uprooting or not uprooting the girl. Both sets of parents look on in anguish. The testimony concludes; the judge's ruling awaits. In the meantime, Lee has invited her biological parents to come see her sing at a choir performance. Little Lee stands apart from all the other kids; they're all African American. But the kids are all of one voice and mind, singing "This Little Light of Mine" in a unified, spirited performance. Both sets of parents look on with pride and sadness and consternation.
Mayor Chickory takes the stand. He tells the court that tough economic times have hit his community hard. Congress wouldn't act, so I had to, he tells the jury. He goes on to say that the economy would turn around if people would just buy American products. Cars are a perfect example. Three million people's jobs depend on them in this country, he says. He explains that his Buy American policy is just his way of lending them a hand. The jury applauds.
Harry cross-examines. She asks the mayor if he's opposed to American firms taking their manufacturing overseas. Absolutely, he tells her. Harry brings up that that is exactly what Apple does, manufacturing its iPhone and iPads in China. She goes on to mention that Toyota builds most of its cars right here in the U.S. She explains that the exclusionary policy he's put in place would be catastrophic for the country if it were widely adopted. America needs foreign markets if it's to expand and prosper. She sums up by saying the policy not only is in violation of the U.S. Constitution's clauses regarding commerce, but overall it is simply anti-American because it contradicts one's right to choose.
City Attorney Bertram steps up next. He carefully explains that the U.S. Constitution does allow local communities to pass laws in their own interest. The needs of one community can be remarkably different from another. The city of Langford has a tire plant. The more people buy American cars, the more tires that plant will sell and the more local people will have jobs. 'It's just that simple," he explains.
Tommy doesn't understand why Harry is giving up her entire vacation to fight something that could be solved by simply paying a $1000 fine. Harry tells Tommy a story from her youth: she and her father were avid quail hunters. They had been invited to an exclusive club to go shooting. But when they arrived at the club, they were turned away because they were Jewish. He father was incensed, and as they drove home, she heard him repeat that this is not how America is supposed to be.
Harry, City Attorney Bertram and Mayor Chickory are back in court, anxiously awaiting Judge Snoot's ruling. The judge makes a speech, decrying how selfish Americans have become, unwilling to sacrifice despite two wars and a terrible economy. But ultimately, he must side with Harry; the last thing we need to do is start sacrificing our principles. He overturns the ordinance.
The court assembles to hear closing arguments in the custody case. Adam's plea is very simple: there's an international treaty in place to prevent just this sort of child-napping and it must be honored. He invokes a scary image: imagine if an American child had been snatched away and taken to another country - we would absolutely be mortified if that child could not be returned to the U.S. and its parents. He explains that his clients have spent the last four years searching for their child, spending all their money. And now they're looking only for justice.
Attorney Sharon Neil rises to speak on behalf of the Thomases, Lee's adoptive parents. She explains it's not about what either set of parents wants. It's about what is best for the child. The judge takes it all in. She explains that she was adopted by a white family at birth. But she never questioned that her parents were her parents. She couldn't imagine the horrible notion that anyone could take her away from them. But, she is also a mother. And if someone had ever taken her child, she would hunt them down to the ends of the earth, no matter how long it took.
The judge makes her ruling. She is awarding custody of the child to the Thomases - the adoptive parents. To Mr. and Mrs. Chin, Lee's natural parents, she offers a sincere apology. She will publish details of their visitation rights later. The Chins are crushed.