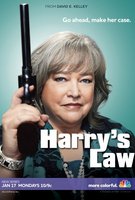 TV Info
---
Episode Premiere
February 28, 2011

Distributor
NBC

Genre
Drama

Show Period
2011 - 2012

Production Company
Bonanza Productions Inc., Warner Bros. Television


Cast and Crew
---
Director
Steve Robin
Screenwriter
Lawrence Broch, David E. Kelley
Main Cast
Synopsis
---
The tranquility of an otherwise normal day is destroyed when Jenna steps outside of the office to discover that her beloved car, a Malibu with an iPod dock, among other things, has been stolen. Jenna's frustrated with the apathy of the police and hurt by Harry's insensitivity to her predicament. Their discussion is interrupted by the arrival of Tommy Jefferson, who needs Harry's help. Tommy wants Harry to be his co-counsel in representing four African albinos who are facing deportation. Tommy explains that he's come to Harry because sympathy is her wheelhouse. The two-day trial in Cleveland involves a difficult law, a tough U.S. Attorney, and nausea, since Tommy can't look at his albino clients without feeling ill. Harry agrees to help. Meanwhile, Jenna hires Damien to find her car.
Harry and Tommy meet with their clients, two men and two women, in an ICE (Immigration and Customs Enforcement) cell. Their de facto leader, Samuel, explains that they fled their country two years ago, and were trying to make their way to a Tanzanian community in Dallas, but ran out of money in Cincinnati. They were caught in an ICE raid at an abandoned house where they'd been staying. Harry explains that this is a particularly difficult moment to be an immigrant in America. Being granted asylum is challenging enough in general, let alone getting asylum after being arrested.
Back at the shop, Harry asks Adam and Malcolm to help her with research on the immigration case. Damien returns to inform Jenna that he has located her car, but getting it back is another story. He has set up a meeting with the person who took the car, but he wants Harry or Adam present. Much to Jenna's dismay, Harry has to be back in Cleveland. Harry advises Jenna not to attend the meeting herself because she's too emotional. Certain she's being mocked, Jenna accuses Harry of being a "pretty bigot" before stomping off to the storage room.
Tommy interrupts the tension to report that they must get to Cleveland to answer a motion to seal the courtroom, which has just been filed by the U.S. Attorney, Liam Flynn. In Cleveland, the lawyers argue before Judge Talbot. Flynn points out that Tommy has a penchant for grandstanding, and Tommy argues for transparency, the kind of transparency the President has mandated. Judge Talbot rules against him. Later, Harry and Tommy share a drink at the hotel bar. Harry is concerned - this case is going to be a tough one.
The deportation trial has begun. ICE Agent Markham testifies about the raid in which the four defendants were apprehended and detained as illegal immigrants - and attempted to flee. On cross-examination, Harry establishes that the defendants likely ran out of fear, given that armed men had barged into their house in the middle of the night. Tommy attempts to interject his signature flavor by repeating the words "melting pot" to the judge, then admits to Harry that he feels a little "off," agreeing that she should do this one alone.
Damien, Jenna, Malcolm and Adam meet with Jamaal Raines about Jenna's car. Jamaal explains that he has been charged with stealing TVs with a guy named Dwayne, and in exchange for revealing the location of Jenna's car, he wants representation in that case. He claims he's innocent of the charge of stealing TVs, but he can't prove it, because his alibi is stealing Dwayne's car (which he has since returned). Jenna repeatedly accuses Jamaal of stealing her car, and spoils his location-for-representation trade when she reveals that she has recorded his confession to stealing Dwayne's car on her cell phone.
ack at the trial, Samuel, the de facto leader of the defendants, testifies to the fact that albinos fear for their lives in Tanzania because they're hunted. When caught, their limbs are severed because some believe that those limbs have supernatural powers, which bring prosperity, wealth and luck when made into potions. Natalie, one of the defendants, testifies that the night they fled Tanzania, her 13-year-old brother was captured and his arms and legs were cut off. At the end of the day, Harry and Tommy share another drink. Tommy tells Harry that he feels a futility with regard to helping those who are suffering in the world. Harry urges him to concentrate on what they can do - help their clients. Tommy remarks that cases always come down to what a judge or jury want.
At the shop, Damien lights into Jenna for her stunt with Jamaal. Damien's word is his currency in the neighborhood, and now no one will trust him anymore. Just then, Denise Raines, Jamaal's older sister, comes into the office. She flirts with Malcolm and promises to make sure Jenna's car is returned. The next day, Flynn cross-examines Samuel. He questions the legitimacy of Samuel's asylum claim, since Samuel waited until after he was arrested to make it. Samuel was in the United States before, studying at Boston University. Flynn wonders why Samuel would choose to go back to Tanzania after his studies, musing that perhaps he's overstating the persecution there.
Meanwhile, Denise returns Jenna's car to her at the shop. She explains that Jamaal was afraid to bring it himself because the last time he was at the shop, he was set up. Denise asks Malcolm if the firm will represent Jamaal on the stolen TVs charge, playing up the similarities of Jamaal's predicament to Malcolm's history and arguing that everyone deserves a second chance. She invites Malcolm to dinner. Malcolm accepts and sparks fly over dinner. Malcolm asks Denise how she's found such success in real estate at the age of 20. Denise explains that she parlayed a gig cleaning homes in a condominium building into selling units in the same building. Her secret sales weapon is flirting. She's an example of the American dream, and she just wants to be able to help Jamaal find it, thus her determination to get him back on the straight and narrow.
Flynn calls Emmanuel Salim, the Tanzanian cultural attaché, to the stand. He testifies that the Tanzanian government doesn't condone the persecution of Albinos and tries to prevent it. On cross, Harry shows that Tanzania doesn't try or convict those who commit atrocities against albinos. Salim pushes back, pointing out that the United States can't keep its citizens completely safe from, for example, gang violence. Salim insists that albinos need not flee Tanzania to be safe, stating that if the court is going to bestow the American dream on the defendants, it should do so without bigotry and prejudice. Harry returns to the shop to prepare her closing. Jenna continues to insist that Harry's behavior demonstrates that she neither respects nor values Jenna. Harry tells Jenna that her "pretty bigot" remark hurt. Jenna storms off to the storage room once again.
A phone call interrupts Denise and Malcolm's dinner - Jamaal has been arrested again, for stealing a car. Denise is beside herself. The next day, Adam, Jamaal, Malcom and Denise meet at the shop as Adam, who's now representing Jamaal, explains that Jamaal hasn't been arraigned yet because the DA is holding out for the name of Jamaal's boss, code named "Dick Cheney," who runs a car-theft ring. The DA thinks Jamaal is Dick Cheney's first lieutenant. Jamaal has one day to decide if he's going to take a three to six month sentence or give up the name of his boss. Denise comments that since the cops can't protect Jamaal if his boss is dangerous, Jamaal might be better off doing the time.
In Flynn's closing, he argues that there are bad criminals and danger everywhere in the world, but America simply can't take everyone, especially when we can't even take care of our own right now. Harry appeals to Judge Talbot's sense of justice. She argues that just because a government is savvy enough to use the language of deniability, it doesn't mean the defendants should be sent back to Tanzania to be butchered. Harry closes by asking the judge to make a deal with her: if it feels right to send the defendants back, do it. If it doesn't feel right, don't send them back.
Malcolm and Damien follow a car to a warehouse to find out the identity of Jamaal's boss and have a word with him. It turns out that Denise is the boss. Back at the office, Malcolm vents, angry at Denise for playing him. Harry reminds Malcolm that Denise came from a horrible neighborhood and has had it tough. Harry then clears the air with Jenna, assuring her that she keeps her around because she does, in fact, value her and all that she's done and continues to do to keep Harry's law practice running.
Judge Talbot renders his ruling, stating that because the case is a toss-up, the Supreme Court dictates that he must look to the national consensus. Humbled and humiliated as he is by it, Judge Talbot notes that America's mood is one of fear, anxiety and selfishness right now. As a result, Judge Talbot can't help the defendants. Denise stops by the shop to try and make peace with Malcolm. She's still interested in dating him. But Malcolm wants nothing to do with her; he'll be applying to law school someday and his associations matter. Stung, Denise leaves.
As the defendants board a bus to be transported to a detention facility, Harry and Tommy urge them not to give up, promising to file appeals. Tommy looks Samuel in the eye and shakes his hand. Harry tells Tommy that it's time for him to make some noise. She's so frustrated with the outcome that she wants to quit, but Tommy reminds her that outcomes like this are exactly why she can never quit. Harry muses that the biggest misperception about justice is that it's fair, when in fact it's not. But what Harry clings to, because she has to, is that justice has a conscience - thus she and Tommy will go forward, and try to help their clients.