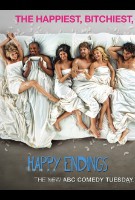 TV Info
---
Episode Premiere
March 28, 2012

Distributor
ABC

Genre
Comedy

Show Period
2011 - 2013

Production Company
Sony Pictures Television, FanFare Productions


Cast and Crew
---
Director
Gail Mancuso
Screenwriter
Gail Lerner
Main Cast
Synopsis
---
Penny has been avoiding her old friend Daphne for years. She has a habit, make that a standard practice, of telling creative lies to avoid any kind of social interaction with this woman. Now that Daphne is back in Chicago, the dishonesty must continue. Penny claims to be heading out of town for a few days. She'll be staying at Brad and Jane's lake house-the one they don't have.
Brad gets roped into Penny's web of deception. He claims the reason they came home from the lake house is because Jane was sick from her pregnancy-the one she doesn't have. Daphne insists on co-hosting the baby shower with Alex, who assumes the role of a lesbian so she doesn't come off as a person who broke Dave's heart. Speaking of Dave, Alex tells Daphne he's dying so she won't want to date him.
The only way Penny could keep all her fibs straight as a kid was to record them in a "Lie Bible." She called it her "Libel." This makes Penny the perfect person to organize everyone's wild fabrications for the fake baby shower. She even hires a bunch of professional seat-fillers to pose as party guests. They all get 20 bucks and first dibs on centerpieces.
Dave and Max's landlord, Darren, has been looking for a reason to toss them out of their place. The guy just doesn't like them. Darren also refuses to fix their oven. That's cool. Max has invented a trash can stove to cook up briskets in a mere 18 hours.
To help get Darren off his back, Max convinces his lonely landlord that Alex is interested in him. This could be a problem since she's been channeling her inner-Ellen at the fake baby shower for her portrayal of an A-list lesbian. Penny convinces Alex to play it straight for 10 minutes to flirt with the landlord. It's all very Three's Company.
As you may have guessed, all the lies and deception are finally exposed. Penny comes clean to Daphne, who makes a love connection with landlord Darren. Penny finally realizes that no good ever comes from deception except for the fact that this experience has inspired Brad and Jane to make a life-changing decision. They're going to have a real lake house of their own. It's a place where all their friends will surely "come and knock on their door" every weekend.