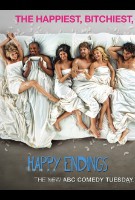 TV Info
---
Episode Premiere
March 14, 2012

Distributor
ABC

Genre
Comedy

Show Period
2011 - 2013

Production Company
Sony Pictures Television, FanFare Productions


Cast and Crew
---
Director
Fred Goss
Screenwriter
Lon Zimmet, Dan Rubin
Main Cast
Additional Cast
Mikaela Hoover
Brian Thomas Smith
Synopsis
---
It's Penny's birthday! Traditionally, this has been a terribly cursed time of the year. The gang vows to do better this time around. The only problem is that Penny isn't allowed to dine at the restaurant where they have reservations. That particular hangout now belongs to her ex-boyfriend, Nick. She gave him dibs on it as part of their breakup settlement.
The gang eventually decides on a new restaurant after weeding out all the ones where Brad and Jane have been caught having sex. It happens to be a place where Jackie, the young hottie Dave brought to Penny's last b-day bash, now works as a waitress. Still angry at Dave, Jackie promises to make sure their food gets extra-special attention.
It is suggested that they find a new place to eat, but the restaurant that's mentioned happens to be the one Brad used as his standard breakup place. This is news to Jane, who remembers that her hubby took her there once while they were dating. Uh-oh.
Alex tries to smooth things over with Jackie, while Brad attempts to make up with his wife. He tells Jane that he did intend to break up with her but couldn't do it once he realized he'd found a woman who was so sure of what she wanted. Brad was grateful that one of the things she wanted was him. Aww.
As it turns out, Jackie didn't do anything to the food. She did, however, slash all four of the tires to Dave's Altima. That's what you get when you don't call a girl back after taking her to the prom. Yes, Dave went to Jackie's prom. But it was only because his boss, Garry Marshall, was on his case about writing a newspaper article. Actually, that's just the plot of Never Been Kissed. It sounded good though.
The gang is asked to leave the restaurant after the manager catches Jane and Brad having sex in the bathroom. The valet pulls up in Dave's Altima with the four flat tires. Wait, Dave doesn't drive an Altima. Penny does. She's starting to believe the curse is real.
Alex channels her inner-Kurt Russell to give a rousing motivational speech she lifted from Miracle. She mixes a little Goonies dialogue in for good measure but gets back on track with a chant of U.S.A., U.S.A.! The gang then heads off to their original restaurant choice. Penny hides under the table when she catches sight of her ex, Nick. But she ultimately declares that she can go wherever she wants. Way to go, Penny!
Now that Penny has stood up for herself, she believes the birthday curse is broken. That thought disappears when she literally stands up for herself. Her dress gets caught on a table leg causing it to tear away from her body. The gang is then asked to leave the family restaurant. They don't go quietly though. Chants of U.S.A., U.S.A. echo throughout the dining room.