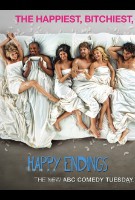 TV Info
---
Episode Premiere
March 07, 2012

Distributor
ABC

Genre
Comedy

Show Period
2011 - 2013

Production Company
Sony Pictures Television, FanFare Productions


Cast and Crew
---
Director
Steven Sprung
Screenwriter
Todd Linden
Main Cast
Additional Cast
Jonathan Gabrus
Johnny Kostrey
Morgan Walsh
Synopsis
---
When we last left Dave and Alex, they were in bed together. Oops! Alex avoids Dave for the next two days. When they finally do meet face-to-face, it's as if nothing ever happened. No, really. Dave is baffled by Alex's refusal to acknowledge they slept together. She claims she was watching a certain Meryl Streep movie musical with Jane and Brad on the night in question. Mamma Mia, here we go again.
Jane confirms the Mamma Mia story, as her hubby was jonesing for some Streep that night. Brad loves the three-time Oscar winner in her lighter roles, so it's possible he watched the movie and forgot about it. In truth, Alex and Jane have created an alternate reality by flooding their targets with specific details until they question their own memories. Soon they accept the stories as truth. It's the Kerkovich way.
Jane doctored the bear-cam in Dave's truck to erase any footage of a late-night hookup. Brad is desperate to prove his wife is lying, but all evidence seems to indicate that he's losing it. Only the fact that Alex forgot to backdate the video rental causes their plan to unravel. Alex confesses to Dave that she didn't want to ruin their friendship. That's why he confesses that they didn't have sex, even though they did.
Penny is desperate to take first place in Rosalita's Run, an urban scavenger hunt that is typically won by her nemesis, Julie, and her husband, Justin. That's probably not going to happen this year, as Julie is pregnant. Penny convinces Max to be her partner. Hopefully it'll help him get over the heartache of losing Grant. This year's theme for the scavenger hunt: Chicago movies. Let the games begin!
Penny believes they will coast through Rosalita's Run until Julie and Justin show up. This last-minute curveball doesn't break her spirit. She and Max race to the first stop where they meet a parking attendant named Richard. This guy happens to be same valet who took Cameron's dad's car for a joyride in Ferris Bueller's Day Off. Thankfully, they don't ask him if he speaks English.
After navigating some Risky Business at the supermarket, Penny and Max head off to a diner to find a Breakfast Club sandwich. Too bad Julie and Justin sabotage their efforts. Penny's bummed, but Max says this is their John Hughes film. They can still win this thing.
The final leg of the race occurs via baby carriage as a tribute to the train station scene in The Untouchables. That's the Chicago way! Team Penny and her partner win the race, prompting Max to speak directly into the camera. He says, "Life moves pretty fast. You don't stop and look around once in awhile, you could miss it." Yes, all of life's most important lessons can be found in John Hughes movies.