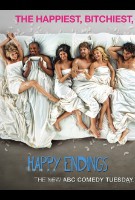 TV Info
---
Episode Premiere
February 22, 2012

Distributor
ABC

Genre
Comedy

Show Period
2011 - 2013

Production Company
Sony Pictures Television, FanFare Productions


Cast and Crew
---
Director
Victor Nelli
Screenwriter
Jonathan Groff, Sierra Teller Ornelas
Main Cast
Synopsis
---
Sometimes Max can be a real bear. By that, we mean he hibernates in the winter, grows a furry beard and communicates through grunts. Only winter's end can bring a stop to this phenomenon. Unfortunately, the super-chilly season will continue until one event takes place. Punxatawney has a groundhog festival, but Chicago has Brad and Jane's annual big fight known as the "Spring Smackdown."
The couple of the season shows no signs of animosity toward each other. That's a problem. Dave is so looking forward to a week where Brad works through his anger by buying everyone steak dinners. Penny loves it when Jane stays with her so they can drink wine and try on new flowy pants. Finally, there's the disturbing issue of Max/Bear. Say, wasn't he the guy from The Beverly Hillbillies?
Dave and Penny try to elicit a fight to get the smackdown ball rolling. Their plan works to perfection, or so they think. Brad and Jane fake a big brouhaha for the benefit of their friends. They know they need the "Spring Smackdown" in their lives. Far be it for them to disappoint.
Penny needs to feel like she's navigating her friend through these difficult times. Jane, however, is more interested in watching Clueless with Alex to kick off an old-fashioned sleepover. That's bad news for Penny, who becomes the victim of some annoying pranks pulled by her sister's friends. She must now thaw all of her bras from the freezer, also known as "the ice chest."
Dave isn't having much luck with his smackdown agenda either. Brad just doesn't feel like recklessly spending his money this year. He'd rather chill than rage. Brad also enjoys playing with the bear currently residing in Dave's place. Hey, who wouldn't?
Brad and Jane's deception turns to reality when they accuse one another of leaving the terrace doors open. Their apartment is freezing and more than a few birds have moved in. Brad and Jane get into a huge fight. Spring Smackdown is on! For real!
Jane fesses up that she and Brad faked a fight for their friends. Sounds like it's time for Dr. Penny to perform some open Hartz surgery. She closes the terrace doors because they belong together just like Brad and Jane. Believe it or not, Penny dispenses some great relationship advice. Brad and Jane make nice. Everyone is happy and Max the Bear comes out of hibernation. Spring is on the way!