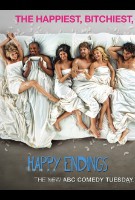 TV Info
---
Episode Premiere
May 18, 2011

Distributor
ABC

Genre
Comedy

Show Period
2011 - 2013

Production Company
Sony Pictures Television, FanFare Productions


Cast and Crew
---
Director
Anthony Russo
Screenwriter
Gail Lerner
Main Cast
Additional Cast
Ian Roberts
Jon Daly
Greg Magnuson
Nick Thune
Synopsis
---
Barefoot Pedaler is a 90s hippie jam band that everyone but Max loves. Penny used to have a thing with the group's electric fiddler. They made love like warrior poets. Then the group went on tour and Penny's Pedaler days were no more. But Tommy did write a song about her called Jenny. Obviously, he took some creative license with the title.
Dave wants to see the band play. So does Alex. That's a problem for the rest of the group, as they can't stand the fights that take place when the exes are together. They've been doing things separately with each of them so worlds won't collide.
To prove that they are fine, Dave and Alex want to go to the Pedaler concert together. Sounds like a plan. A bad plan according to Brad, Jane, Penny and Max. They all bail, so Dave and Alex hit the concert without them. Guess who they run into in line? The six friends decide to make the most of the night by hitting the club together. It'll be just like old times. Maybe.
An old pal named Brody is shocked to see that Dave is still hanging out with Alex after what she did to him. To help her ex save face, Alex says they are actually back together. It's a nice gesture, but Dave doesn't see it that way. It doesn't change what she did. A video of his ultimate humiliation is even on YouTube!
Alex makes her way to the stage to make a big apologetic speech as if they were in a romantic comedy. Too bad the security guard tasers her before she can say a word. Dave rushes to her side, but he gets tasered, too. Looks like YouTube is about to get another video sent its way!
When Penny sees Tommy walk by, she's crushed to learn that the guy doesn't remember her. Max sneaks into the band's dressing room to tell off Tommy. In truth, he's a huge Barefoot Pedaler fan. At least, he was until he saw what Tommy did to his friend. Of course, that doesn't stop him from trying to steal the shirt off the bass player. Sadly for Max, security still has their tasers set for stun.
As Alex and Dave recover from taser pain, they realize that they'll always care about each other no matter what happens between them. The evening's not a total loss as Tommy rushes outside to tell Penny that he did remember her. That's pretty impressive considering he's slept with thousands of women.
The truth is, Penny broke Tommy's heart. She does it again after turning down his request for her to come to Wisconsin with him and the band. It could be because he's married. Or maybe it's because he slept with thousands of ladies. Or maybe she just doesn't like Wisconsin. Nah, Wisconsin rocks.