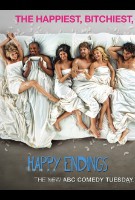 TV Info
---
Episode Premiere
May 11, 2011

Distributor
ABC

Genre
Comedy

Show Period
2011 - 2013

Production Company
Sony Pictures Television, FanFare Productions


Cast and Crew
---
Director
Jay Chandrasekhar
Screenwriter
Prentice Penny
Main Cast
Additional Cast
O-T Fagbenle
Alex Moore
April Wade
Justin Dray
Brian Huskey
Synopsis
---
Dave has a tattoo of Alex's name on his shoulder. He often tells his dates it's a tribute to either Alex Trebek or Alexander Hamilton. It's a wonder more people don't pay homage to the host of Jeopardy! and/or the author of the Federalist Papers. Anyway, Dave opts to have the inked artwork removed when he hears Alex ditched the tattoo of his name a while ago.
A trip to the dermatologist has Dave recalling the night he got the tattoo. The doc wants him to make sure he has all his feelings in check before undergoing something as serious as tattoo removal. Dave asks Alex how long it took after their breakup before she erased the Dave from her body. It took about a week. This has Dave thinking it's definitely time to undo this deed he did back when they were together.
A snow globe Alex got from Dave years ago with a key to his apartment attached to its bottom sparks memories of the good times they both shared. Alex beelines it down to the dermatologist to show Dave that she never actually got rid of her tattoo. They agree it's time though. Then they decide to keep the tattoos as a symbol of their friendship. Also, it's a lot less painful to just leave them as is.
Brad is upset because the gang's steady waiter, Randy, always gets his order wrong. That's because he never writes anything down. Randy uses a mnemonic device that needs a little tweaking. A complaint that's overheard by the restaurant manager results in Randy getting fired from his job.
Brad and Penny bring a gift basket to Randy's place to apologize. When the ex-waiter's girlfriend realizes what's happened, she kicks him out of the apartment. Apparently, she's missed out on more than a few phone messages. Brad offers to get Randy a job at his office. But when the guy refuses to write down his number, Brad and Penny sneak off to allow him more time to hone his mnemonic skills.
Max blows off a cute, British guy named Adrian for trivial reasons. Jane thinks this is just another example of her friend dismissing someone before even giving him a chance. Max agrees to go on a date with the guy but then stands him up. Jane suggests the possibility that perhaps Adrian stood up Max.
Max and Jane head down to the place where the date was supposed to take place. The bartender knows Adrian, but says he hasn't seen him this evening. He suggests they check out a nearby theater that specializes in showing good bad movies. Showgirls is playing at the moment, so Adrian may be there catching one of the best truly bad movies of all time.
As it turns out, Adrian didn't stand up Max. He waited outside the restaurant like a gentleman. When his date didn't show, Adrian opted for a bad movie night. This has Max thinking that maybe he should get to know people better before blowing them off. Of course, when his next date shows off his brand new braided belt, Max heads for the hills. Maybe he and his friends can still catch the last screening of Showgirls.