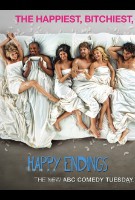 TV Info
---
Episode Premiere
April 27, 2011

Distributor
ABC

Genre
Comedy

Show Period
2011 - 2013

Production Company
Sony Pictures Television, FanFare Productions


Cast and Crew
---
Director
Tristram Shapeero
Screenwriter
Daniel Libman, Matthew Libman
Main Cast
Additional Cast
Paul Scheer
Nelson Mashita
Elimu Helson
Alex Valente
Synopsis
---
Brad's dad, Francis (guest star Damon Wayans), is in town for some medical tests. Jane thinks there may be something serious going on. She wants her hubby to express his true feelings. She wants Brad to tell his dad that he loves him, so he does. Big mistake.
CODE RED! CODE RED! A freaked out Francis thinks he's dying. Why else would his son say he loves him? Truth be told, the guy's in fine health. It was just a panic attack. This incident serves as a wake-up call for Francis, who wants start living life to the fullest. As for Brad, he's still waiting for his dad to say "I love you."
Francis is dropping L-bombs all over the place, but not one lands on his baby boy. This inspires Brad to plan a Dad Date. CUE THE FATHER-SON MONTAGE SET TO HARRY CHAPIN'S "CAT'S IN THE CRADLE." Francis finally tells Brad he loves him. This external display of emotion was set up by father and son solely for Jane's benefit. After all, these two guys don't need to say something that's always been understood.
Penny is bummed when she gets a pext message from guy she thought was amahhhzing. BTW-"pexting" is sending a penis text, and amahhhzing is how our favorite desperate dater pronounces "amazing." Penny and Alex hit the bars looking for love. They invent a drinking game. They do shots whenever a conversation with a guy gets weird. Needless to say, they get real drunk real quick.
Penny and Alex finally meet a couple of good-looking, normal guys. Too bad they only speak Italian. Penny also speaks the world's most romantic language, though only when she's drunk. Guess that's why she's having trouble deciphering the foreign language text message she receives the next day. At least it wasn't a pext!
Alex orders a string of mimosas so her friend can crack the Italian code. She also devours a full slab of ribs. Alex can't speak a foreign language when she drinks, but she sure can down those baby backs. The one thing she can't do is hang out with non-English-speaking men. Penny will have to fly solo.
Penny spends the night with one of the Italian men. He tells the tragic tale of his youth to which a sober Penny can only laugh. She does some morning drinking in an attempt to keep up foreign relations. It doesn't work. Italian guy thinks she's a total drunk. Time to say arrivederci!
Max brings home a couple of high-powered, semi-automatic, foam-friendly weapons of mass distraction. Alex initially believes the toy guns are childish until she eyes up a target. It's the slimy vitamin salesman in the next building who is putting the moves on a lovely lady. Max sneaks into vitamin guy's apartment to open a window. Sniper Dave has one foam bullet left. Take the shot, Dave. TAKE THE SHOT!
It's a direct hit! And by that we mean it directly hits a lit candle causing a huge apartment fire. No one is hurt except for an elderly woman who shattered her pelvis six days ago. If the firefighters hadn't found her, she would have starved to death. Thank goodness they still make toys that promote senseless violence!