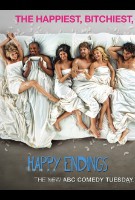 TV Info
---
Episode Premiere
April 20, 2011

Distributor
ABC

Genre
Comedy

Show Period
2011 - 2013

Production Company
Sony Pictures Television, FanFare Productions


Cast and Crew
---
Director
Fred Savage
Screenwriter
Josh Bycel
Main Cast
Additional Cast
Brett Gelman
Jim Hazelton
Danielle Schneider
Michael Mosley
Synopsis
---
Someone has been eating all of Max's leftovers. Dave swears he didn't do it. At least, he didn't do it consciously. Alex says her ex sleepwalks, though he would never admit to it. Dave does all sorts of crazy things in his catatonic state, so swiping stuff from the fridge isn't out of the realm.
In order to catch his new roomie in the act of theft; Max borrows Jane's Nanny-Cam. Actually, it's a Teddy-Cam. The recording device is hidden inside a cuddly brown bear. The Teddy-Cam does, indeed, capture footage of Dave sleepwalking, though he never actually takes Max's food. That act is done by the guy living inside the crawlspace of their ceiling.
Penny springs a surprise double date on Alex, who isn't sure if she's ready to see people. Her attitude changes when she learns Dave has been dating up a storm. Max says, "He's on fire. Like John Mayer on-fire." That's even better than being "DiCaprio on-fire." So, Alex makes a date with Malcolm, a guy who claims to be Dave and Max's new upstairs neighbor. You know, the guy living in the crawlspace.
Malcolm is a painter, so he invites Alex to his art opening. When Dave and Max learn about the date, they crash the art show. Alex thinks Dave is upset because she's dating someone, but it's actually because the guy's a scruffy squatter who keeps stealing Max's Apple Smacks cereal.
Malcolm has been hearing about Dave's heartache for months. He says he can't date Alex because of the unwritten bro-code. Hey, for a thief, this guy's pretty cool. Guess that's why Max is now stocking the fridge with Malcolm's favorite drinks. You can't choose your neighbors, but you can always feed your squatters.
Jane wants Brad to buddy-up to coworker Carl so she can hang with his wife, Dianne. She wants them to be their couple-buddies. Brad reluctantly agrees, but gets upset when Carl says he knows about the couples therapy he attended with Jane. The problem is Brad didn't go to couples therapy. Jane went solo. Doesn't that make it singles therapy?
Jane freaked when Alex and Dave split, so she auditioned five different therapists. She never mentioned it because she knew Brad would never do therapy. He does, however, open up to Carl about his situation with his wife. It feels good to talk things out.
Carl then shares something with Brad. He and Dianne have been desperately trying to find someone to share their bed with them. Yes, things get real weird, real fast. Jane and Brad agree that the next time they feel the need to open up to someone; it'll be with each other.