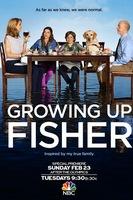 TV Info
---
Episode Premiere
June 11, 2014

Distributor
NBC

Genre
Comedy

Show Period
2014 - 2014

Production Company
Aggregate Films, Universal Television


Cast and Crew
---
Main Cast
Additional Cast
Synopsis
---
Despite the fact Mel and Joyce are two signatures away from their official divorce, the Fishers take their annual vacation to Catalina Island together, with one minor addition: Jenny, since her mom's out of town. Mel also vows to keep calm in the face of any strife in an effort to tone down the possibility of aggravating the whole family (which is what usually happens on vacation). So when the hotel clerk sees Elvis and lies about losing their reservation, Mel shocks everyone by allowing it slide. But Joyce refuses to stay in the alternative hotel and, by working together, she and Mel manage to trick the hotel clerk into making a new reservation. The ruse pays dividends after the clerk realizes they know plenty of rooms exist at the hotel - not only does the clerk upgrade them to a suite, but she comps them drinks, food and massages.
Henry, Katie and Jenny opt for a more adventurous route - horseback riding, one of Henry's biggest fears. The girls insist he give it a try and he does... only to immediately slip off and fall face first into a trough. He complains to his parents and eventually convinces himself to try one last time.
With the kids occupied, Mel and Joyce enjoy the relaxation long enough for a bittersweet revelation - they should probably sign those divorce papers. Their calm feeling of moving on morphs into total terror when they find the hotel room trashed by Elvis. Unable to face the desk clerk's inevitable wrath, they sneak out of the hotel and snag the kids along the way - except for Henry, that is. He picks that very moment to pull himself onto the horse... and ride it right up to Jenny! His confidence soars and he makes his boldest move yet - Henry kisses Jenny, and she kisses him back! Mel and Joyce grin with pride - looks like everyone's entering a new phase.