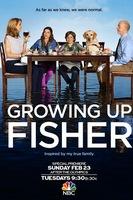 TV Info
---
Episode Premiere
May 06, 2014

Distributor
NBC

Genre
Comedy

Show Period
2014 - 2014

Production Company
Aggregate Films, Universal Television


Cast and Crew
---
Director
Linda Mendoza
Screenwriter
Tucker Cawley, Laura Chinn
Main Cast
Synopsis
---
Joyce receives her first report card and is stunned to see she achieved straight A's! However, the afterglow of the moment fades as she envisions her future as a therapist. Does she really want to devote her life to other people's problems? Panicked, she drops out of college, but, unwilling to admit her move to the others, pretends to continue going to class... by going to the movies.
Meanwhile, Katie goes against her father's wishes and snags a job working next to her boyfriend Anthony at the yogurt shop. She keeps it from Mel but quickly discovers the relationship with Anthony as her boss way too frustrating - he's a total tyrant in the store and refuses to mix business with pleasure. Rather than quit, she breaks up with Anthony. Again.
In their ongoing quest to be cool at school, Henry and Runyen try to schmooze with eighth graders only to discover that the older students consider Henry's mom a MILF. Wanting to defend Joyce's honor, Henry prepares to fight the much bigger bullies and enlists Runyen as his trainer. When Henry fails to bulk up, Runyen moves to his next suggestion - fight like a girl. But during a quick practice, Runyen nails Henry and gives him a black eye.
Mel struggles with a similar spat of annoying pain, only his centers on his back. A particularly intense flare-up sends him to the one place he manages to find temporary respite: the bathtub at Joyce's house. He visits there in secret... until Joyce comes home early one day. She ends up in the bathroom giving Mel an impromptu hydrotherapy session to help figure out the source of stress. Talking out his problems eases the back pain and Mel praises Joyce's talent for counseling... which makes her rethink her decision to drop out.
When the whole family runs into each other at Joyce's house, however, the secrets come out - and Mel wakes up from his pain-free slumber to ground Katie for getting a job without his consent and to ban Henry from playing video games for trying to hang with eighth-grade knuckleheads. As for Joyce, he demands that she figure out her future.
With the air cleared, Joyce saves Henry from the bullies by picking him up from school in her most hideous sweats (scaring away the eighth graders), Mel decides to live with occasional back pain and Katie quits her job and gets back together with Anthony... Again.