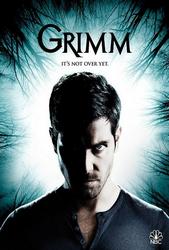 TV Info
---
Episode Premiere
October 19, 2012

Distributor
NBC

Genre
Drama, Fantasy

Show Period
2011 - Now

Production Company
Hazy Mills Productions, Universal Media Studios


Cast and Crew
---
Director
Eric Laneuville
Screenwriter
William Bigelow
Main Cast
David Giuntoli as Nick Burkhardt
Russell Hornsby as Hank Green
Reggie Lee
Silas Weir Mitchell
Sasha Roiz
Bitsie Tulloch
Bree Turner
Claire Coffee
Kate Burton
Additional Cast
Synopsis
---
A handful of students and parents watch a high school academic decathlon practice session. Six smart kids are on stage, and all are vying to be the school representative for the state competition. The kids are clearly all brilliant, but Pierce stands out beyond the others as the true star. His overbearing mother watches on attentively, cringing every time Pierce missteps. After the competition, Brandon, Jenny, Pierce and Stan head out to the local diner to grab a bite to eat; even though they're competitors, they're still friends after all. But on his walk home, Brandon gets viciously attacked by an unknown creature!
Slowly falling back into old habits, Juliette dutifully acts the part of Nick's girlfriend and attends a police academy ceremony honoring the captain. Juliette and Renard can't keep their eyes off each other, both confused about their inexplicable chemistry. When Nick and Hank get called to a crime scene, Renard offers to drive Juliette home from the function. Nothing happens on the drive home, but you could cut the tension with a knife. When Juliette gets home, she jumps into the shower, while Renard slowly sneaks up the stairs and walks towards her bedroom, in almost a trance-like state, unable to control the pull she has on him. When he breaks a picture frame, he breaks his trance and sprints out of the house, driving off in a rage.
Nick and Hank arrive on the scene, and at the sight of Brandon's ripped-open neck, they can't help but wonder if something Grimm is afoot. When they go to interview Brandon's fellow decathletes, everyone's very torn up about his death, especially Jenny. When the coach gets particularly enraged, Nick sees him morph into a Lowen (lion creature). A Lowen with serious anger issues could definitely do that kind of damage to a kid like Brandon.
Renard pays a visit to the Spice Shop looking for a cure for his complete obsession with Juliette. (He and Monroe are completely unaware of each other's identities). Monroe says he'll look for a cure, but he comes up empty-handed. Unless Renard can bring the women of his affections in with him, he's unable to properly diagnose the situation and find the proper cure. A dissatisfied Renard leaves the shop empty-handed.
Jenny calls Pierce, looking for comfort in the wake of their devastating loss. Pierce is chained to the books by his helicopter mom, but he finally caves and says he can probably escape to hang out for a bit. He agrees to meet Jenny at the bleachers of their high school. Jenny waits for Peirce, and follows a noise to the storage shed, only to be viciously attacked!
When Nick and Hank arrive on the scene, they find none other than Pierce's watch in the hand of Jenny's dead and mangled body. All signs point to Pierce; clearly he's killing off the competition so his win is guaranteed. Chances are he's a Lowen as well, but there's only one way to find out. Nick and Hank make their way to Pierce's place, his watch in hand, and interrogate Pierce and his mother about his whereabouts this afternoon. Both deny his involvement, and in their frightened state, they morph into creatures that Nick's never seen before.
Nick and Hank head to the trailer to do some research and discover the identity of the creature: a turtle-like Genio Innocuo. The creature is harmless; there's no way a timid turtle-creature could be responsible for that level of damage. Perhaps the Lowen teacher is setting Pierce up? Meanwhile, Pierce discovers the water in the washing machine blood-red, and his mother quickly shoos him away. What exactly is going on here?
Nick and Hank arrive at the teacher's house to discover that their assumption was wrong; the teacher is dead and likely not responsible for the killings. At that moment, Nick gets a frantic call from Pierce, saying that he thinks he knows who the killer is (his mother). His mother grabs the phone away from Pierce before he has a chance to reveal any further details. Nick and Hank hightail it to Pierce's house, but by the time they've arrived, it's too late. But it looks like Pierce was wrong: it's his mother they find bloody and injured in the hallway. A Lowen attacks Nick, and they wrestle on the floor until Nick manages to subdue him. Imagine Nick's surprise when the Lowen de-morphs and it's Pierce!
Pierce's ailing mother explains: it's not his fault! Pierce is both a Lowen and a Genio Innocuo; she performed a procedure on him in-utero hoping to give him the strength and brilliance of both creatures. But the procedure had a Jekyll and Hyde effect; the Lowen is a completely different person that Pierce has no control over. In fact, he doesn't even know when the Lowen presents itself. Before they have a chance to look to Pierce for further explanation, he's gone!
Nick and Hank find Pierce standing on a bridge, ready to jump. It's the only way out, he claims; the only way that no one else will get hurt. Pierce struggles violently as he morphs between the Genio and the Lowen uncontrollably. He finally jumps, but Nick catches him just in time, latching him to his own wrist by a handcuff. Later, in jail, Pierce is having a rough time with his cellmates. Little do they know what the Lowen has in store for them...