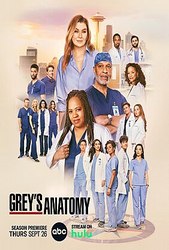 TV Info
---
Episode Premiere
January 25, 2007

Distributor
ABC

Genre
Drama, Comedy, Romance

Show Period
2005 - now

Production Company
Mark Gordon Co., Touchstone TV, ShondaLand


Cast and Crew
---
Director
Michael Grossman
Screenwriter
Eric Buchman
Main Cast
Additional Cast
Joe Holt
Rachel Boston
Loretta Devine
Kathleen Mary Carthy
Michael P. Byrne
Synopsis
---
Burke and Cristina still aren't speaking, which makes it very awkward when he cooks dinner for Meredith and Derek but not for Cristina. Meredith urges them to speak to each other, but they insist they're fine.
Derek changes the subject to Richard's stepping down and Cristina reveals that he first asked Burke to be the next Chief of Surgery. Derek is hurt that he was passed over and that Burke never told him.
[COLLAPSETEXT]
Mark had been preparing to leave Seattle Grace but when he hears from Meredith that the Chief is retiring, he joins Derek, Addison and Burke in jockeying to be his replacement. Derek yells at Meredith for telling Mark the news because now he's staying and she says she didn't realize it was a secret. He storms out, still mad.
Alex finally corners Addison and says she doesn't need to avoid him after that kiss since he's not interested in her; he just wants back in on her surgeries.
Callie is worn out from nonstop sex with George but he won't take the hint from her or anyone else that there are other ways to cope with the death of his father.
Miranda tells the Chief she wants to start a free clinic but he says she needs the department heads' support and funding first.
A young woman, Jilly, comes in for a pelvic exam and her best friend Rachel is there to lend her support. They find a large cervical tumor, but when they open Jilly up, they realize it's spread too far and it's inoperable. It's too similar to his father's case for George, who has to leave the o.r. before the surgery is done.
Now that they know Jilly is dying, Izzie wants to call Jilly's parents but Rachel says that she's Jilly's only family. But the Amish couple who wander into Seattle Grace turns out to be the parents. Jilly and Rachel both left their community together, swearing they'd be friends "cradle to the grave." Since Rachel had already been baptized, the other Amish must shun her, but not Jilly, who hadn't been baptized yet.
Izzie realizes that it was Jilly who called her own parents and that she'd rather die at home, among her Amish family. She convinces Rachel the best way to be her friend is to let her go.
Jilly's tumor might have been caught earlier at a free clinic, so Miranda is more determined than ever to make it happen. She convinces the other surgeons to sign off on the idea. She's so busy with her task, she doesn't realize that the Chief is retiring until she sees the other surgeons all lined up outside his office to argue their case to be the next Chief. She's the only who doesn't ask for the job, and the only one who seems sorry to see him go. And she's not expecting it when he selects her.
Miranda tells Izzie she has everything now but the funding for the Seattle Grace Free Clinic. "The Denny Duquette Memorial Clinic," says Izzie, offering up the $8 million that Denny left her.
Richard hurries to see his wife, Adele so he can tell her that he's retired, as she had demanded in her ultimatum a few months before. But when he arrives, he realizes she has someone else already. "It's too late," she tells him sadly.
Meredith is surprised to see Derek show up at her house after he yelled at her. He realizes she's never had a relationship that survived past the first argument, so he assures her that even if they fight, he's not going anywhere.
Cristina finally talks to Burke: She says that she's still convinced she did the right thing, so she doesn't need him to forgive her. What he says in response takes her by surprise. "Marry me, Cristina Yang."
George tells Callie he's realized something with his father's death, that he loves her and he wants to be with her. He drops to one knee and asks her to marry him.