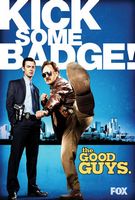 TV Info
---
Episode Premiere
October 08, 2010

Distributor
Fox

Genre
Comedy, Drama

Show Period
2010 - 2010

Production Company
Fox Television Studios


Cast and Crew
---
Director
Jeremiah Chechik
Screenwriter
Greg Hart
Main Cast
Additional Cast
Wayne Knight
Silas Wier Mitchell
Jacob Vargas
Synopsis
---
Lt. Ruiz tells Jack and Dan that they've been assigned to the Junior Officers program - teaching 10-year-olds about careers in law enforcement - noting that Dan has had great success in inspiring future officers.
While Dan tells kids that being a cop allows you to drive fast, shoot for fun, and see movies for free and Jack says there's actually more paperwork involved, we see a nervous clerk named Perry take a phone call from Vic.
Having heard that Jack is doing well with the kids, Assistant D.A. Liz Traynor tells him that she's impressed. Meanwhile, a kid named Terry informs Dan that he saw a mullet-headed man drinking beer in public, littering, and stealing mail. Jack suspects that this man may be involved in identify theft, so they get a police sketch made from the kid's description.
The kid also fished the man's credit card statement out of a trash can, which enables Jack and Dan to I.D. him as Jeffrey Easton, who's been buying drugs from overseas and is on the DEA's watch list.
When Jack and Dan arrive at Easton's home, he runs. Dan tackles him, but it's not Easton. It's Perry, who says that he ran because he thought they were bill collectors, claiming he's owes money since he's been a victim of identity theft.
Dan and Jack show the police sketch of the mullet-headed Easton to the manager of a local pizza joint, where he's rung up $1,000 in charges, and obtain Easton's address.
Meanwhile, Easton calls a man named Alfredo, who's offering $20,000 for two identities. Alfredo tells his sidekick, Tico, that they'll kill their bodyguards, so that the other Mexican drug cartel members will believe they've been kidnapped and killed. With these new identities, the two can start new lives of crime in the U.S.
When Dan and Jack arrive at the mullet-head's home, he fires through the door, jumps out a window, and drives away. Finding several break-up letters from angry girlfriends, Jack determines that Easton's real name is Vic, who has multiple identities and skin mags that were printed locally.
Vic arrives at Perry's and forces him to pick up Vic's latest printing order. Meanwhile, Dan's planted a listening device at the printer's, and they move in - only to find that Perry's already left. But Dan had ten-year-old Terry serving as a lookout. Using Terry's directions, they trail Perry to his house.
Vic is angry that Perry didn't come back with passports and social security cards. Perry explains that those are federal documents, and as a Dallas city employee, he doesn't have the ability to deliver them. Vic threatens Perry, who runs and is captured by Dan and Jack.
Perry tells Dan and Jack that he needed money and took a $500 bribe to supply Vic with false paperwork. Then Vic returned and wanted more fake I.D.s for a pair of Mexicans, who - after killing the truck driver who smuggled them into the U.S. - are on their way to pick them up.
When Lt. Ruiz asks Jack and Dan why they didn't arrest Vic, Jack explains that there's a bigger case brewing. Once they get Perry to convince Vic that Jack and Dan are disgruntled federal clerks who'll provide the paperwork he needs, they'll get to the bottom of this. Vic buys their story. Meanwhile, once they've received their new identities, Alfredo and Tico reveal their plan to kill the people who supplied them.
After Jack and Dan have Perry address the kids on the perils of a life of crime, Jack bonds with Terry, who learns that Jack, too, felt ostracized as a kid for wanting to be a cop.
When Jack, Dan, Vic, and Perry give Alfredo and Tico the fake I.D.s, Perry asks the two Mexicans for their fingerprints, explaining they need to be sure their fingerprints - which can't be falsified - aren't already in a federal database. After Alfredo and Tico admit that they're drug dealers, they become suspicious, and shoot Vic.
Jack, Dan, and Perry jump out of a second-story window into a swimming pool, staying submerged to avoid the gunfire from above. Eventually, they have to surface and make a run for Dan's car, in which they escape. Alfredo and Tico hop into an SUV and give chase with guns blazing. (Jack and Dan, fearing a pat-down search, had arrived at the meeting unarmed.)
But Dan had the Junior Officers loosen the lug nuts on one of the SUV's rear tires, so when Alfredo and Tico take a sharp turn, that wheel falls off, causing the vehicle to crash. Incapacitated by injuries, Alfredo and Tico are easily arrested.
Lt. Ruiz praises Jack and Dan for arresting two Mexican drug cartel members for attempted murder and identify fraud as well as Vic and Perry for identity theft and forgery. But involving the Junior Officers means that Alfredo and Tico will be sent back to Mexico and the Dallas police will pretend this never happened.
Jack tells Liz that he's sorry he lost this big case, but she's happy to have learned that he'd developed such a rapport with the Junior Officers - whom she interviewed as part of the investigation - because she never knew he liked kids. But just as things are getting warm between them, Dan shows up, spoils the mood, and Liz take off. "How do you do that?," wonders Jack. Dan replies, "I can smell lust . . ."