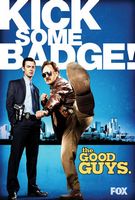 TV Info
---
Episode Premiere
July 26, 2010

Distributor
Fox

Genre
Comedy, Drama

Show Period
2010 - 2010

Production Company
Fox Television Studios


Cast and Crew
---
Director
Dennie Gordon
Screenwriter
Zack Estrin
Main Cast
Additional Cast
Nicole Dalton
Alex Solowitz
Mike Starr
Al Dias
Chris Caldovino
Synopsis
---
Stark and Bailey arrive at Sparktown Electronics to investigate an act of vandalism. Someone threw the store mascot into the window, and the store's owner is worried. He says that he's got a shipment of new smart phones coming in, and his customers will go elsewhere if they don't feel safe shopping at Sparktown.
Meanwhile, we meet Sid and Alex, a couple robbing Garrick's Drugs. Unfortunately for Sid, Alex doesn't steal anything useful, and she's wondering how he'll support her if he can't even rob a pharmacy.
The detectives try to get Lt. Ruiz to let them work both cases. Ruiz tells them to solve the Sparktown case "without sparking an international incident," and she'll think about letting them take on more than one case at a time.
The detectives hold a stakeout at Sparktown. Stark pulls out a camcorder and persuades Bailey to have one beer, which turns into several. Stark tells Bailey about the code words that he and his old partner, Frank, used back in the day. "Theresa" meant "Let's get out of here!"
A bar patron, Bobby Kneecaps, recognizes Stark, greeting him as "Silvio." Stark plays along and learns that Bobby and his crew are meeting at Mamma Mia's to discuss new business.
Stark explains that he'd once gone undercover as "Silvio" to arrest these guys, but he slept through the sting, and the mobsters got away with $400,000. Stark persuades Bailey to jump on this unfinished case instead of working the Sparktown vandalism one.
The next morning, drugstore robbers Sid and Alex try to hold up Raven's Pharmacy, but the elderly clerk pulls a shotgun on them, running them off.
After seven years, Stark as "Silvio" is back in town and giving money to girls on the block as he heads to Mamma Mia's. Inside, Bobby and two of his associates argue over Silvio's credibility. Bobby supports him, while the other two are wondering how he vanished and why he has come back.
Stark and Bailey persuade Ruiz to sign off on the operation, and "Silvio" meets up with his old crew. Worried that Bobby Kneecaps would see Bailey and make Stark as a cop, Ruiz asks Bailey to stay back. Much to Ruiz's embarrassment, the boxes the crew were unloading were only filled with fish.
At the Fair Park, Stark says to Bailey that "just because those mob guys didn't commit a crime yesterday, doesn't mean they're not bad guys." Stark explains his plan: using the electronics store shipment as bait, they'll "bring the crime to the mobsters."
Back at Mamma Mia's, "Silvio" lets the crew know about the smart phone delivery. After the cops show up at the docks, Bobby's crew is a little apprehensive, especially because it's been seven years since the cops bothered them.
At the adjoining table, Sid is lamenting to Alex that life is passing her by, and she hasn't gotten anything to show for her three years with him.
With "Silvio" gone, one mobster wonders why he's the only one who thinks it's strange that Silvio shows up after seven years -- and so do the police. But because they were able to get away with the $400,000, Bobby argues that Silvio is not a cop. He says the job is on.
At the next table, the couple has overheard them, and they plan to rob the mobsters when the job goes down.
Bailey explains the plan to Stark: there's a truck parked outside the electronics store filled with empty boxes, just in case something goes wrong with the operation. All they need is for Bobby Kneecaps and company to admit that they plan on stealing the smart phones. Despite a minor protest, "Silvio" agrees to wear a wire.
Bobby and his cohorts spot Bailey, who is waiting in the car. Bailey unsuccessfully attempts to pass himself off as "Paulie the Duck." To prove he isn't a cop, Stark strips, and its revealed that a moment prior to arriving at Mamma Mia's, he tossed the wire.
While discussing how to handle Bailey, he yells out, "Theresa!," which Stark plays off as Bailey screaming for his mother. Then Stark-as-Silvio locks his partner in the meat locker.
Bobby Kneecaps then explains to "Silvio" that in the years since their last job, they all went legit and that with the money made from that heist, Bobby was able to save his sick daughter's life. But because they felt indebted to Silvio, they were going to go through with the electronics job.
The drugstore-robbing couple barges into Mamma Mia's, and Sid demands that they take them to the score they've set up. The crew agrees, and as they leave, Bailey is trying to untie himself in the freezer. Bailey, while still bound to a chair, uses his mouth to open the door. In a fit of panic, he knocks his chair over, breaking it and freeing himself.
Sid, Alex, and the mobsters arrive at Sparktown. As Bobby questions why the boxes are empty, Bailey arrives to arrest everyone. Stark tells Bobby that he's a cop and was calling the operation off when he realized that the crew weren't bad guys. Alex then realizes he kidnapped a cop to hijack a heist that doesn't exist.
Stark tries to let Bailey know which person to take out, but Bailey forgot the code words. Meanwhile, a fired Sparktown employee hurls the mascot into the window, startling Sid and mayhem begins to ensue.
Sid shoots her gun into the air, Bailey fights off Alex, while Stark grabs Sid. She fights off Stark, but Bailey arrests her. As he cuffs her, Stark motions to Bobby and company to leave. As he lets the mobsters go, he tells them, "forget about it."