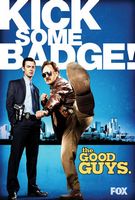 TV Info
---
Episode Premiere
June 07, 2010

Distributor
Fox

Genre
Comedy, Drama

Show Period
2010 - 2010

Production Company
Fox Television Studios


Cast and Crew
---
Director
Matt Shakman
Screenwriter
Rick Muirragui
Main Cast
Additional Cast
RonReaco Lee
Joel Spence
Lauren Stamile
Steve Valentine
Oliver Trevena
David Hickey
Scott Jeffries
Mario Mims
Kelley Johnson
Melissa Odom
Synopsis
---
Dallas Property Crimes Unit Detectives Dan Stark and Jack Bailey begin their day with Case #4374: a broken window. Stark investigates by flirting with the victims, even getting into bed with one of them. His unorthodox style pays off as the former hero cop notices a broken street lamp. Jack does some research and learns that wherever there's a broken street lamp, there's usually a stolen vintage car.
Unfortunately, he's unable to persuade new task force member Kiersten to let the boys use a bait car for the thieves to steal. However, Bailey is successful in getting a begrudging Dan to use his recently bought Trans Am as bait. Stark then coerces Julius (the pawn shop employee from the pilot episode) to stay in the trunk of the Trans Am because he has a tracking device clamped on his leg. In exchange, he'll get the device taken off. Fearing for his life, Julius escapes the trunk, climbs over barbed wire, and hides out while waiting for the detectives to track him down. Julius leads Jack and Dan to a warehouse filled with stolen vintage cars. Bailey researches the license plates to find out if they're stolen. Upon learning that they are, the task force cops move in, raiding the warehouse as Dan and Jack tag along, joined by Jack's new possible love interest, Kiersten.
Unbeknownst to the Dallas Police Department, Kiersten is secretly working for and sleeping with Nigel, one of the car thieves. She tips him off, and the cars are cleaned out, leaving Jack and Dan trying to figure out who tipped off the thieves. Unbeknownst to the detectives, Kiersten is trying to find out how Jack and Dan found the garage in the first place, since no one signed off on any conventional means to find the car. To do this, she asks Jack out for a lunch date.
Meanwhile, Nigel and his partner, Alec, look into a way to get the cars out of the country. They negotiate a deal with two locals, Mackey and Grimes, to help move the cars out. The detectives initially believe that Julius is the rat, and the search is on for him and Dan's Trans Am. Jack goes to lunch with Kiersten the mole, while Dan tracks down Julius.
Grimes and Mackey discuss how to make even more money off of their deal and how they'd be patriotic by keeping the stolen American-made cars in the U.S.
As Julius re-creates his trunk ordeal for Stark, he remembers Nigel and Kiersten's names. Putting two and two together, Stark races to Jack's apartment to warn him.
Kiersten and Jack meet at Trattoria Patricio, which, according to the Dallas Daily News, is the "city's most romantic lunch spot." After persuading Bailey that they should go back to his place, Kiersten takes him hostage.
Stark gets to Jack's apartment 22 minutes after Kiersten has fought with, shot mace at, and kidnapped Jack. She drives him to Nigel where, according to Kiersten, the two "will not hit it off." Jack, thinking quickly, distracts Kiersten by kicking the grate of her truck. He re-activates Julius' tracking device in order for Stark and Julius to find him.
Meanwhile, Grimes voices his concerns about killing Alec and Nigel. Mackey explains that he can shoot them in the back of their heads, and they are doing this for their country. Jack saves himself by exploiting Nigel's jealousy over Kiersten by convincing him that she's slept with half of the Dallas police force. Nigel, in a fit of green-eyed rage, decides to hold Kiersten at gunpoint as well. She tries to apologize to Jack, but he's already declared their time together to be the "worst date ever."
Before Nigel and Alec can kill Jack and Kiersten, Mackey and Grimes show up, wanting their $400,000 and looking to keep the stolen cars in the country. While Stark can't figure out how to use a computer or, for that matter, the Dallas Police Department's tracking system, Julius helps out and the pair is able to locate Bailey.
Stark, using the computer as a makeshift gas pedal, sends Bailey's car on automatic pilot through the warehouse, surprising everyone inside. He then runs in after the car, guns blazing. During the skirmish, Grimes and Mackey lament having to shoot up one of the vintage American classics, Kiersten kills her now ex-boyfriend Nigel for his double-cross, and Stark saves his beloved Trans Am while seemingly blowing up Grimes and Mackey in the process. Bailey, with Julius' continued help, finally apprehends Kiersten. After stating that Jack just had one of the worst first dates in the history of first dates, Assistant District Attorney Liz Traynor, Bailey's ex-girlfriend, admits she was a little jealous and asks him out to the Rangers-Yankees game to celebrate. Jack regretfully declines. He instead joins Stark in his and his old partner Frank Savage's traditional post-case celebration: oysters and beer...'til they puke.