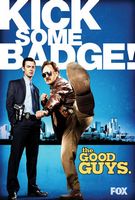 TV Info
---
Episode Premiere
May 19, 2010

Distributor
Fox

Genre
Comedy, Drama

Show Period
2010 - 2010

Production Company
Fox Television Studios


Cast and Crew
---
Director
Tim Matheson
Screenwriter
Matt Nix
Main Cast
Additional Cast
RonReaco Lee
Tom Amandes
Luis Antonio Ramos
Alex Fernandez
Ramon Frano
Marucs Maudlin
Titus Menchaca
Miguel Garcia
Jessica Garlette Williams
James Lentzsch
Edgar Arreola
Roland Ruiz
Deven Modi
Les Snyder
Synopsis
---
Women, wild action, and witty banter: it's all in a day's work for Dallas Property Crime Detectives Dan Stark and Jack Bailey.
Along with his old partner, Stark saved the governor's son 25 years ago. This act of heroism is actually what keeps the seemingly always drunk Stark employed these days. Charged with being his babysitter and new partner, Bailey is a young and ambitious go-getter who plays by the rules and wants to move to the homicide division. Unfortunately, Bailey's bad habit of correcting fellow officers' grammar and penmanship is not winning him any friends among the higher-ups, such as Lieutenant Ana Ruiz.
While Bailey and Stark try to get along, there's a small-time caper they're investigating that's actually part of a full-fledged drug-smuggling vendetta. Julius Grant is a petty thief who stole a humidifier from a woman named Eileen. Eileen is infatuated with Stark for his previous acts of heroism. Bailey and Stark investigate the case.
For the past five years, Javier Escalante has been smuggling cocaine into the country for his cousin Romero. Feeling unappreciated and underpaid, Escalante decides to help himself to a golf bag filled with $4 million. Escalante demands that plastic surgeon Dr. Brad Kalfuss make him look like Erik Estrada. After an accident during surgery causes the room to blow up, Kalfuss, believing Escalante to be dead, pays Julius Grant $10,000 -- plus the locked golf bag -- in exchange for dumping the body and the car in Mexico. Already wise to the Escalante's scheme, Romero hires the world's second-best assassin, Pedro, to find Escalante and retrieve the bag.
Thanks to Bailey's charm and persistence, he's able to persuade his ex-girlfriend, Dallas Assistant District Attorney Liz Traynor, to get forensic lab results on the humidifier case. The results lead them to a thrift store and to Julius Grant. The cops arrive just in time to take cover from the shootout happening inside, involving Julius and Pedro, who arrived minutes earlier. Bailey and Stark manage to allow Grant to escape with Pedro chasing him.
Julius and Pedro arrange a meeting at a strip club to exchange the golf bag for a finder's fee. Meanwhile, Lt. Ana Ruiz takes Stark and Bailey off the case so that homicide can take over. But according to Stark, a good cop never walks away from a case like this, and he suggests to Bailey that they keep at it.
After staging an inventive way to get Ruiz and her team away from the crime scene, Bailey finds a piece of paper that leads them Dr. Kalfuss' house, where they are again shot at by Pedro, whose attempted stabbing of Stark is prevented by the hard-drinking detective's own flask. The elusive Pedro gives our heroes the slip again, but this time he leaves behind a tied-up Dr. Kalfuss, who tells them about the directions the assassin looked up on his computer.
The tip leads the cops to the strip club, where they finally apprehend Julius Grant and retrieve the golf bag. But the still-living Javier Escalante is heading back to Dallas for revenge.
On Stark's request, Dr. Kalfuss had offered Eileen a free augmentation; thinking she's Stark's "girlfriend," a rage-filled Escalante takes her hostage. Meanwhile, Pedro goes to the airport to pick up Romero and the world's #1 assassin, who are coming to town to make sure the job gets done.
Instead of being praised for their arrest and recovery of the money, Lt. Ruiz pulls Stark off the case, but Bailey is still on. Bailey and Ruiz fit Julius with a wire and a bullet-proof vest to get him ready for his deal with Pedro. At a gas station by the strip joint, Stark is buying alcohol as he sees Escalante and Eileen drive by.
Every great cop duo needs a sweet car, so Stark buys a 1979 Pontiac Trans Am to pursue Escalante and save Eileen. Back at the strip club, with the police listening in on the deal, Julius gets shot while asking for his finder's fee. Ruiz and Bailey move into action against Romero, Pedro, and the world's best assassin. As Romero tries to escape, Escalante, who's driving a truck, runs him down.
During the shootout at the club, Bailey spots Eileen and goes after her, getting picked up by Stark in the Trans Am, and now the unlikely team is in hot pursuit. They rescue Eileen during a harrowing chase sequence, featuring Bailey jumping out of their vehicle and into Escalante's in order to stop him.
Because he let Bailey go, Pedro squares off with the #1 assassin in a "samurai shootout," while Ruiz and Grant look on. Yearning to go back to Peru, Pedro kills the assassin and surrenders. Since he has a deal with the CIA, Pedro gets his wish and is allowed to go home to his sons.
One week later, Assistant D.A. Traynor and Ruiz chew out Stark and Bailey for the egregious breaking of more than 30 policies and procedures in their arrest of Escalante. Still allowed to keep their jobs, Stark and Bailey drive off to "bust some punks."