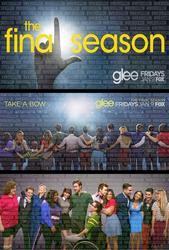 TV Info
---
Episode Premiere
February 15, 2011

Distributor
FOX

Genre
Comedy, Musical

Show Period
2009 - 2015

Production Company
Ryan Murphy Productions


Cast and Crew
---
Director
Bradley Buecker
Screenwriter
Ryan Murphy
Main Cast
Additional Cast
Synopsis
---
Will believes that he's in the midst of a personal comeback, as everything finally seems to be going his way: glee club has been given the Cheerios' funding, he's moved past Terri, and he feels like he's over Emma. But Will is shocked when Emma calls him out of class for an emergency. An entry Sue's notebook suggests that she's decided to commit "Sue-icide."
Will and Emma rush to Sue's home and find her sprawled on her bed without a pulse - but Sue suddenly sits up, having stopped her own heart after a failed overdose attempt using gummy vitamins. Sue says that life's not living after failing to qualify for nationals. She and her Cheerios have nothing to do for the rest of the school year - except, as Emma suggests, cheer for the school's teams. "Yeah, like that's gonna happen," says Sue. Exasperated, Will refuses to participate in Sue's pity party.
Sam is concerned that he's losing Quinn after her bout with mono, though she's told him she didn't get it from kissing Finn (a lie: her cover story is that she saved his life when he almost choked on a gum ball). Sam is determined to keep her by adopting a new rock 'n' roll image, complete with a Justin Bieber hairstyle and a one-man band, The Justin Bieber Experience. He performs at a bat mitzvah, and after an enthusiastic response, he believes he's on track to be the blond Bieber.
Rachel reminds Brittany of their new deal: without relationships to distract her, Rachel's going full-force in her bid for fame and wants to inspire some water cooler buzz. She's paid Brittany to adopt one of her looks and credit her for the influence. But she is annoyed when Brittany wears Rachel's leg warmers on her arms instead of her legs (Brittany's defense: it was cold and she had thought it was summer, having never learned to read a calendar).
The depressed Sue rampages through the hallways, proclaiming that she has nothing but time on her hands to torment the glee kids. Will worries with Emma that Sue will soon turn all her attention to disrupting New Directions, and Sue enters Emma's office, asking to use one of his rafter to hang herself (her own office rafters have asbestos, which could kill a person). Will tries to tough-love Sue into recalling a moment since her "epic decline" in which she felt good about something. Sue admits that while driving in her Le Car she heard Charlene's song "I've Never Been to Me" on the radio and she couldn't help but join in.
Emma suggests that Sue should join the glee club - the healing power of music could help her. Sue and Will both resist at first, but they ultimately agree. Then the glee club objects, but Will thinks that, along with pulling Sue out her funk, her proven championship attitude could actually help their efforts.
He informs the students that they'll not only be facing Kurt and the Warblers at regionals, but they're also up against Oral Intensity, who beat them last year. There's also a theme for regionals: the anthem, an epic song. Sam suggests a Justin Bieber song, performing "Baby" and getting a surprisingly positive response from his skeptical friends. Sue's reaction: "We've got to get that girl on the Cheerios."
Puck, Artie, and Mike corner Sam in the bathroom, wanting in on The Justin Bieber Experience, having "underestimated the power of the Biebs." Their post-Valentine's Day relationships are sputtering, and they need, as Mike puts it, "a sugary-sweet jolt of the Biebs to get us some action again." Finn mocks their plan, but Sam lets other the guys join him.
Rachel is upset to see other students adopting Brittany's "arm warmers" look and demands her allowance back, but Brittany has given it away, so Rachel insists that Brittany come to school the next day dressed in Rachel's signature look: sexy schoolgirl/librarian chic.
Sue feels a renewed lust for life, as she's now poised to destroy the glee club from within: her suicide stunt was a ploy to get inside and pit the students against one another until the club explodes. Sue asks Mercedes for advice on how to be a diva, and she also consults with Rachel, subtly poisoning them against each other. Rachel and Mercedes confront each other and plan to have an old-fashioned "diva-off" to settle their issues.
As Finn tries to persuade an undecided Quinn to meet him for a date, the "new and improved" Justin Bieber Experience debuts in the choir room, and Sam dedicates their latest performance, "Somebody to Love," to Quinn. The guys' ploy works: Quinn turns down Finn's offer, telling Finn that Sam's shameless performance and artistry really turned her on.
Meanwhile, Santana offers a not-so-subtle come-on to Sam. Even Lauren is affected by Puck's efforts: he begs her to tell him what he needs to do to get with her, and she says that she may have a proposition for him soon.
After wrestling practice, Lauren asks for Puck's advice for her first solo glee performance - she's nervous but wants to do as well as Rachel. Puck tells her to do what he does and picture the audience in their underwear.
Brittany comes to school in Rachel-wear, and Finn surprisingly adopts a Bieber-esque look after learning about the singer's YouTube popularity. Mercedes and Rachel stage their diva-off, throwing down on a Broadway staple, "Take Me As I Am" from "Rent," but Sue's plan backfires - the sheer joy of their singing "competition" actually brings them closer together.
Noticing Sue's attitude in class, Will insists that she join him on an outing to a hospital, where they visit the pediatric cancer ward to share music with the sick kids. Sue resists, but after joining in a group singalong with the children on Will's ukulele version of "This Little Light of Mine," Sue can't help but be moved. "I'll never forgive you for this," she tells Will. "Deal," he replies.
Quinn, Santana, and Tina have all enthusiastically adopted Rachel's look - but to Rachel's dismay they believe that Brittany provided the inspiration and call her sad for trying to take the credit. Now getting attention as a high school fashionista, Brittany tells Rachel that she'll never be a trendsetter.
Lauren makes her glee solo debut singing what, if she were a country, would be her national anthem: The Waitresses' "I Know What Boys Like." She starts out a little restrained, but after picturing her audience in their underwear (including Sue in full dominatrix fetish gear), she comes alive and sells the song spectacularly.
Santana offers to become Sam's mistress, explaining that Quinn and Finn did actually kiss and that this is his chance for revenge.
Sue tells Will that his students have missed the "anthem" aspect of their assignment: she'll offer a song to demonstrate, with their backup - as long any Bieber-inspired elements are done away with - and Will agrees. Sue participates in a lumberjack-plaid-shirt-dominated production of My Chemical Romance's "Sing" (Sue in a plaid track suit, of course).
Sam breaks off his romance with a stunned Quinn. He says that she can't look him in the eye and tell him she didn't make out with Finn. And he's with Santana now.
Meanwhile, Will thinks that Sue's given the glee club a killer song for regionals, but Rachel argues that they need something even more epic and unique: an original song to set them apart from the competition. Will puts it to a vote, and the glee club sides against Rachel's suggestion. Will tells Sue that it's actually been good to have her in the glee club, and she seems back to her old self, but he learns to be careful what he wishes for.
Sue informs him that she's been inspired by the music and has more to offer the world than spectacular, life-threatening Cheerios tumbling routines. She's taken a new part-time gig: she's the new coach of Oral Intensity. "I've got my mojo back, and I still get to dedicate my life to destroying yours," she says. "Life's good."
Finn tells Rachel that he thinks she's right, and that she should be the one to write the original song and prove it to the glee club - he believes in her. "I really liked the Rachel I saw in there," he tells her. "It reminded me of the old you: focused and take no prisoners. I think you might be making a comeback."